Plant of the Month Catalpa speciosa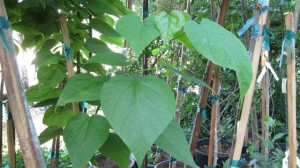 Catalpas are well adapted to our area as they are not particular about soil and will take both extreme heat and cold. The large heart shaped leaves of this tree give it a tropical appearance as do the large clusters of trumpet shaped white flowers that grace the tree in late spring and early summer. Flowers are followed by long bean shaped seed pods.
Catalpa speciosa can grow up to 60 ft tall and up to 40 ft wide. It makes a wonderful shade tree and grows faifly fast with moderate water. Plant in sun or light shade and prune to shape when young.
June Specials
GreenAll 2 c.f. Firmulch- Buy 3 get 4th free.
No excuse not to mulch. It contains 15% chicken manure and makes a great top dressing for all your plants
Cloud Cover Anti-transpirant cuts down on plant moisture loss 20% OFF all sizes
GreenAll 2 cf Organic Potting and 1.5 cf Formula 420 Buy 3, 4th FREE
Catalpa speciosa Our plant of the month 20% OFF regular price
June 2014 News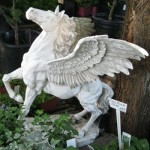 I have picked some of my first Romanesco zucchini. This is memorable because so many years I am so busy in spring that I probably have not even planted my own garden. This year I risked planting on Easter Sunday when we were closed and now I have squash. Fantastic. It is magic. It is why we love to garden.
We always get lots of questions on what is the best tomato to grow, what's eating my plant, how come I have lots of flowers but no produce, etc. Well one thing that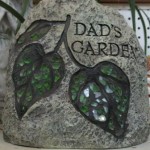 helps is warm nightime temps. I know I suffer from cool nights down here- (try down to 38 degrees last night) and that alone inhibits fruit set. I am positive I have pollinators so I do not think that is why some years I have few tomatoes or few zucchini. Last year my eggplant didn't produce but other years I have left a lot rooting on the plant. It is trail and error and every year is different. We still have a good selection of vegetable starts and it is wise to do some succesion planting so everything doesn't peter out all at once.
Speaking of eating, birds can be a pest and often eat your seedlings before you know they popped. Earwigs and those diabolical diabrotica beetles (AKA the yellow/green ladybug) are showing up in force. They will eat lots of holes in your plants and even more. We had a few strawberry baskets that hatched a little caterpilar to eat the leaves and a customer found a horn worm on the guara. There is no end to critters and don't forget the 4 legged kind, from mice up to deer that also want in on the harvest. Some amount of damage is acceptable but when it becomes intolerable come on in and we will try to hook you up with what we think would be the best natural product for the job. Always remember to spray early or late in the day so as not to harm benificials. Once the product has dried it should not harm them. This holds true for neem, spinosad, and pyrethrums.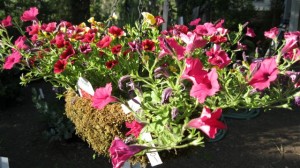 So June is here and that means those great summer sun loving plants are starting to become available. I am talking about annual vinca, portulaca, tall zinnias and lantana for the most part but we are also getting in dahlias, colorful threadleaf coreopsis, agastache, and echinacea. English style lavender is starting to bloom and our salvia table is loaded with different colors to chose from.
Hang those coddling moth traps in your apple trees- 2 per tree to cut down on the damage or spray with neem when the fruit is dime, nickle and quarter sized. Thin those fruit clusters down to only one or two if you want decent sized pickings. Mulch, mulch, mulch to conserve water.
Feed your roses after the first bloom flush. Spray this month with Cloud Cover anti transpirant to slow the evapo-transpiration rate down. 'Deadhead' those spent flower blossoms to keep your flowers looking better and blooming longer.
Happy Gardening,
Tanya