Plant of the Month
Helleborus species and hybrids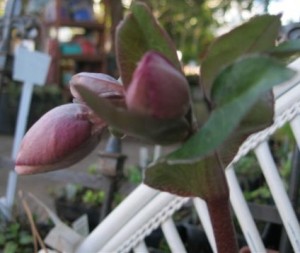 Hellebores are one of the few perennials that are in their full glory and bloom this time of year. Some species are called Lenten and Christmas Rose and those common names are often used as the generic term for all. These beauties prefer a shady spot, are deer and rodent resistant (poisonous) and very long lived. Plant in well drained soil out of hot afternoon sun. Even those these are shade plants they prefer a slightly alkaline soil so consider mixing a little lime in the planting hole. They will tolerate neutral to slightly acid soil for the most part, but do not like to be disturbed once planted. Some of the species hellebore like H. argutifolius and H. foetidus self-sow nicely. They can withstand little water in their summer dormant period once established.
The flowers vary with variety but range from pure white, speckles, light pink, roses to almost red and purple. Most are cup or bell shaped and droop and face downward and last for months going through subtle color change as they age. They do make good cut flowers if you slice the stems lengthwise or float the blooms in a bowl of water. The foliage is leathery, often toothed with leaflets arranged like fingers on a hand. Some varieties like H. argutifolius grow tall flower stalks with grey green foliage, but most have a medium green color and flowers low to the ground. Some of the newer hybrids have very sturdy, structural looking blue-green foliage, adding to the year round interest.
Our regular price for 1 gal. Hellebores is $16.99 but they are on offer for $11.99 thru February.
Specials thru February
HALF OFF
All potted '2014' Fruit Trees
DOES NOT INCLUDE 2015 BARE-ROOT
HALF OFF
Spring Blooming Bulbs and 2014 seeds
HELLEBORES
$11.99 ($5.00 off regular price)
January / February News 2015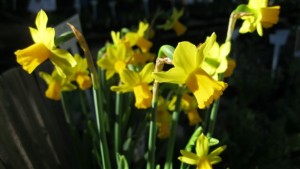 Happy New Year to all our readers. It is always nice to get a break from the day to day operations but during that time we are closed not all of us are off. With the (now normal?) dry spell we were still watering, pruning, cutting back, cleaning and getting ready for bare root season.
Our Dave Wilson tree order is due to arrive today and L.E.Cooke came yesterday so by the time you get this we should have our orders. It will take us a couple of days to get everything priced and tagged but we should have your special orders ready for pick up this weekend. See our attached lists which are also on the website. The pecans and birches are all sold but we have plenty to offer. Roses will not be here till the first week of February and with this warm weather we will have to pot them up right away. If you want to purchase roses bare root you had better reserve them now. See the list for what we ordered.
At times you will hear me say 'put to can', 'can them up', 'straight to can' or a like term. When California nurserymen first thought of growing in containers (other than heavy, breakable terrcotta pots) they used metal cans from the industrial and commercial food industry. Remember this was before plastics were available and the norm. The CA. Assoc of Nurserymen was nicknamed 'Canners.' So if I say 'can' that means pot. The advent of plastics made it possible for more women to enter the field of horticulture because before that nursery work was a lot of heavy lifting.
It is not too late to plant spring blooming bulbs if you get them in in the next couple of weeks. We still have a lot of daffodils and tulips left and they are now half off while supplies last. I have asked for a March ship date for summer bulbs like glads, lilies, dahlias, cannas, caladiums and the like.
Our full line of 2015 seeds have been shipped and will be here the last week of January. February is the time to start your tomatoes, eggplants and peppers and some other annuals from seed. Peppers are hard to germinate and need temps like 75 degrees to be successful. Things like squashes and sunflowers grow very fast and I would not start them myself till the end of March to plant out after all danger of killing frost is past and the soil has warmed up enough to encourage rooting. The Renee's Garden website has plenty of good info on seed starting. Our 2014 cool season vegetable and flower seeds for planting now are half off while supply lasts.
Have you been procrastinating on pruning and spraying? Time is running out. It would be a good idea to dormant spray now and then copper again on peaches, nectarines and pears at 2/3 petal drop. All spraying should be done early or late in the day before bees are active. If your new fruit trees break dormancy early (and with 70 degrees expected this week-end that is not a stretch) you should consider covering them with frost cloth or spraying anti-transpirant. We carry the sprays and cloth at the nursery. Many a young tree have been killed when the inside juices freeze causing the cell walls to rupture. Have you had borer issues? Now would be a good time to get beneficial nematodes into the soil to attack the borers pupating in the soil. You can find these in the refrigerator at the nursery.
Now is an excellent time to plant hardy perennials and shrubs. The busy spring and summer will be here before you know it so consider getting that early start on things like top dressing with Firmulch with 15% chicken to amend your soil and keep weeds This is the recommended soil conditioner for planting trees and shrubs also. Do not forget your Surestart, now available in re-closeable 4# bags.
Happy Gardening,
Tanya