Plant of the Month
Spring Blooming Shrubs- Forsythia cultivars, Spiraea prunifolia and Spiraea x vanhouttei
I do not know why this is always a challenge to decide but Deb and I have chosen 3 different awesome spring blooming shrubs- Forsythia cultivars, Spiraea prunifolia and Spiraea x vanhouttei. Shrubs require less maintenance and generally less water and one of the ways to still have a great yard in spite of the drought is to have plenty of flowering shrubs. There is no shortage of spring bloomers and these are just a few.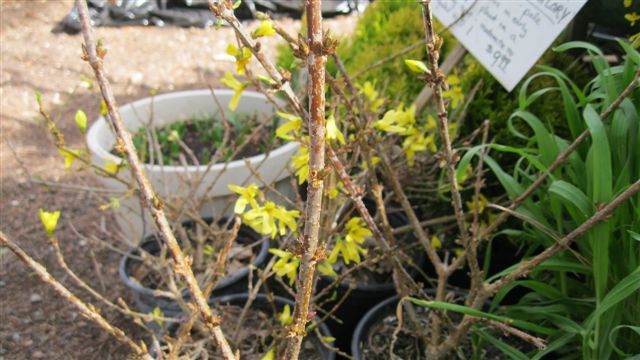 Forsythia- We have both the dwarf variety to 3ft and the 6-8 ft growers. This is a very hardy deciduous shrub with bright yellow flowers that emerge before the foliage in early spring. Cut flower growers can also force the branches inside as it makes for a lovely bouquet. They grow in full sun but half a day is okay. Once established moderate water will be okay. I know of one that does not get any summer water in Calistoga in a shady spot but it still blooms just fine in spring.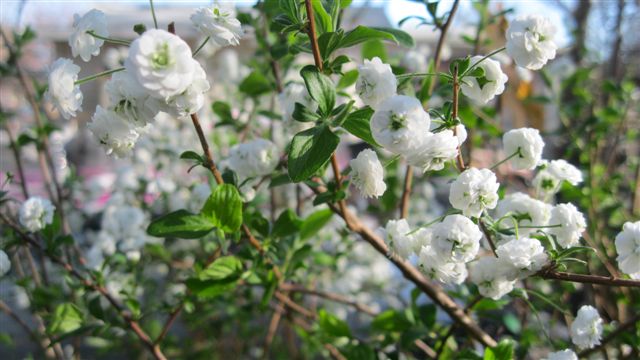 Spiraea prunifolia- Shoe Button Spirea- Small pure white buttons of blooms in early spring adorn this 6-7 ft shrub in spring. The leaves are small, dark green in summer but turn colors in fall before dropping off.
Spiraea x vanhouttei- Bridal Wreath Spirea– Arching shrub to 6 ft or more with small flat pure white flowers in mid spring. Diamond shaped toothed leaves are dark green and turn purplish in fall. Spireas are on the deer resistant list. Plant in full sun or light shade. Moderate water once established.
Specials
Spring is here
Green-All Organic 2 c. f. Potting Soil Buy 3 – 4th FREE
On going quantity discounts-
Buy 9 bags of one kind of soil or bark- 10th free Fill-a-flat-Buy 7 6 packs, 8th FREE
Bakers Dozen
Buy 12 inch perennials or annuals-13th FREE
Pant of the month- 20% OFF regular price
Newsletter March 2015
What a warm winter we have had. I was worried we did not get the required amount of chill hours for some of the fruit we sell. I was just searching on line for data and could not easily find Lake County. However Bennett Valley in Sonoma County has 1500 hrs so far so I am assuming we are good. Santa Rosa has 815. Places in Napa County were less. Winters has 633 so far. Chill hours are temps below 45 and different fruit and their varieties have different requirements. Some of the Northern Highbush Blueberries, Currants, Gooseberries, European Plums and some apples are up in the 800-1000 hr range to get proper fruit set and production. It looks like I have been worried needlessly.
I am a little surprised that it takes a drought to have people wake up to climate appropriate landscaping. I have always discouraged lawn and hope by now those of you with big expanses of it are downsizing if not removing altogether. Low growing shrubs like Cistus 'Sunset', Manzanita uva-ursi, Cotoneaster 'Lowfast', Rosmary 'Prostratus', Salvia chamaedryiodes and Teucrium majoricum are good choices for here. Plant expanses of ornamental grasses like low growing festcue or carex. Paver stones with thyme planted between is another option. Large ground covering shrubs like Elaeagnus pungens, Cistus purpurea and Rosemary 'Tuscan Blue' work for around the perimeter. Much less work too.The sod companies sell drought resistant 'meadow grasses' and there are other grasses like Zoisya and Lippia to consider.
Our first order of Supertunia and Calibrochoa plugs are due to arrive this week. With this weather I should have gotten an earlier start but they should be ready for sale around mid April. Emerisa Gardens is starting to deliver to us and we got our first order this week. They will also be another source for organically grown vegetable starts to augment what our local Golden Rocks is supplying. Speaking of vegetables with this warm weather we have been fielding requests for tomatoes, peppers and the like. I just cringe but we did get in a few flats. It is just too difficult for us to protect a lot and here at the nursery we get cold at night. For those of you who can not wait we do sell the 'Wall o Water' (which people swear by)and frost cloth or grow in containers in your own greenhouse.
Some of you come in asking about organic seeds. Our Renee's Line of seed has always had a high standard of getting organic, open pollinated seed as her first option and fills in with other so her seeds can be consistent. She has started a certified organic line but I do not feel the extra dollar a seed pack is worth it. I do have a few varieties that were only available in the organic seed pack so you will see them. Many growers grow organically but do not bother with the costly and paperwork intensive organic certification program. Organic seed potatoes and walla walla onion starts are available now.
This is the last month to get in on bareroot trees and roses as the month long process of potting them up begins. Most of the roses have been done already but you can still get some bareroot if you hurry. I am beginning to see some evidence of botrytis on my roses and will have to spray with a fungicide like copper or Serenade. Botrytis causes the newly emerging leaf buds to shrivel. Downy mildew can be a bother this time of year also and both the products I mentioned will help with that also.
We are stocking up and expect good spring. Summer blooming bulbs will come this month. We have great perennials in 6 packs and just got in our first petunias. It is time to fertilize your entire yard. Spring is the most important time as the plants growth rate is the most in spring.
Please welcome our new employees Jahi and Chelsea.  Spring hours start March 1st- open 9-5 seven days a week. Rain days 10-4.
Happy Spring Gardening,
Tanya