Plants of the Month
Stachys hybrid 'Lilac Falls'
Betony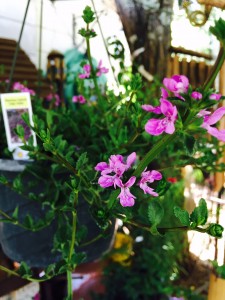 I am very intrigued and a little excited about this plant. One of our local suppliers is growing this in 4 inch pots. It is touted to be deer resistant (yes), butterfly attracting (yes) and long blooming (yes). It is has a trailing habit so would be great in hanging baskets and containers, It grows 12" tall in full to part sun. It is rated for USDA zones 5-9 so sounds like a perennial here (yes). The flowers are similar to Lamium and are light purple. FYI- Purple is the most popular flower color. Take one home this month for a dollar off the regular price.
Tulbaghia violacea 'Silver Lace'
Society Garlic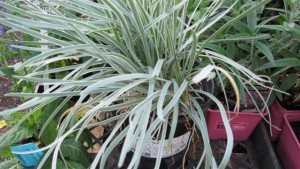 We are a little overstocked on this item in one gallon sizes so I thought we would put it on special this month for $2.00 off regular price. Do you have an area in your yard that drains poorly and everything you have tried has died? Consider Society Garlic. Although not rated to this zone it will usually come back after freezing to the ground. This mild winter saw no problem with them staying evergreen. It is deer resistant and long blooming with lavender chive like flowers usually rising above the foliage. It does not require well drained soil in my opinion, contrary to what Sunset Garden Guide says. As a matter of fact I have even seen it offered as a bog plant.
May Specials
4 in. pots of Betony- $1.00 off
1 gal Society Garlic- $2.00 off
2 cu. ft. GreenAll Organic Potting Soil- Buy 3, 4th FREE
Sure Start Fertilizer- 20% off
May 2015 News
Where does the time go? Hard to believe we are heading into the busiest month of the year here. We have run out of back stock room as the greenhouse is already too hot for most things. Although it is a good idea to keep an eye on the night time lows through this month, I feel pretty safe to say plant that summer garden now. I have yet to see annual vinca available yet (one of my favorite deer resistant annuals for heat) but just about everything else is passing through the nursery now. We have a great selection of herbs and tomatoes to name a few.
A lot of you ask about what tomato to plant and I always feel safe suggesting Ace. It is a medium to large size and takes about 75 days to get fruit. Our favorite cherry is Sungold- unbeatable for sweetness as it is orange, therefor less acidic than the reds. I always plant a Roma and damn the blossom end rot but most prefer the flavor of San Marzano for a paste tomato. Debbie said Hillbilly did great for her last year and that is saying a lot as it was not the best tomato year. We are also fans of the small black tomato called Black Prince. Don't forget to add plenty of calcium to the soil in the form of lime, gypsum or oyster shell as vegetables need more than most plants. Once your plants are established give them deep soaks, mulch with straw and experiment with watering less frequently.
I often get questions about have much to water trees. UC Davis has a good website page to answer this question. http://homeorchard.ucdavis.edu/thebigpicture/irrigation/ You can also download info on drip irrigation in the home landscape at their website. Remember that drip and mulch can save a lot of water.
Crazy as it sounds with our third year of drought it feels like the weather is getting more humid. At least it sure is here at the nursery but maybe we are creating a little micro-climate. I am fighting powdery mildew on my roses for the first time ever. At least that first bad influx of aphids is over. Some of our roses are finishing their first bloom while others are just starting. My water lilies are beginning to bloom in the pond and for those of you who have been looking for water lilies we have some assorted colors of one gallon in stock now for $36.99.
The breeders just won't stop coming up with new colors of petunias and calibrochoas. Check out the petunia 'Johnny Flame' for something different or the 'Pomegranite Punch' calibrochoa. I am waiting to see what new variety of echinacea will be all the rage this year but I think it is still hard to beat 'Hot Papaya". Did you buy a digiplexis last year? There are two new colors to chose from in this long blooming sun and heat tolerant foxglove cross. There is a lovely CA. Native grass that we have in stock for the first time called Calamagrostis foliosa. Looks great in mass plantings, native gardens and perennial borders and is drought tolerant once established.
We have had trouble getting wine barrels this year and are out of stock at the moment. Consider an alternative like a Smart Pot, large terracotta, beautiful glazed pottery or colorful plastic pots instead.
I will again mention that the nursery is teaming with plant material so there is no excuse not to come wander even if you aren't buying.
Happy Spring Gardening,
Tanya