September 2015 Newsletter
I am recently returned from my trip to British Columbia to my niece's wedding. I passed on the opportunity to go to Butchart Gardens because I felt the price of admission was too high. It would have been nice to check out some nurseries in B.C. but I did not get the opportunity. I did go to a few parks and they had some lovely plantings including living topiaries of cranes in Burnaby and killer whales in Victoria. I think the mass plantings of different coleus were awesome and they used the lime potato vine a lot mixed in the annual color. Surprisingly B. C. is in a drought and they are not allowed to water their lawns in the Vancouver area so we are not alone. I am always amazed at what other climates can grow in sun that would just fry here.
I am hoping now that September is here you are ready to take 'fall is the best time to plant' to heart. The nursery has plenty of great plant material to chose from that we are carefully tending just for you. We often have specials to take advantage of, along with the rotation to cool season vegetables and annuals. Now is a good time to check out what perennials and shrubs give you color this time of year. Good fall choices are grasses, salvias, bluebeard, asters, mums, goldenrod and dwarf plumbago. California natives are best planted now. Remember a good landscape has color and interest through all four seasons.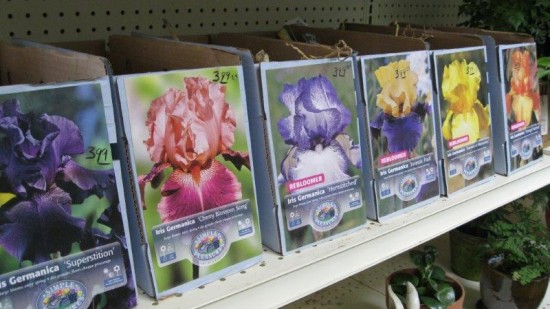 The bearded iris rhizomes have arrived as promised with more bulbs to come in a few weeks. Spring blooming bulbs that are planted in fall are good choices for our drought prone climate. After putting on their spectacular show in spring they go into dormancy and need little to no water to survive. Under plant your pansy and winter annual pots and beds with tulips, daffodils and other bulbs for a show even Butchart Gardens would envy.
Potatoes, onions, shallots and garlic should be shipping out this week so come in mid month for the best selection of these easy to grow staples. You might want to call ahead just to make sure they have arrived. Potatoes need slightly acidic soil so if you are serious about good potatoes you might want to test your soil. They also would benefit from adding a source of potash like greensand or granite dust to the soil or look for a fertilizer that is high in potassium. Our Sul-Po-Mag might be just the ticket as it has sulfur to lower the ph and potassium/magnesium. Onions on the other hand would benefit from an application of lime to raise the ph if the soil is acid. Of interest might be that it is not the maturity of the onion but daylight hours that trigger the onion bulb formation. Different varieties will mature with less daylight than others and therefore earlier or later. Garlic and onions along with chives are great repellents of some of the harmful insects in the garden as an added advantage.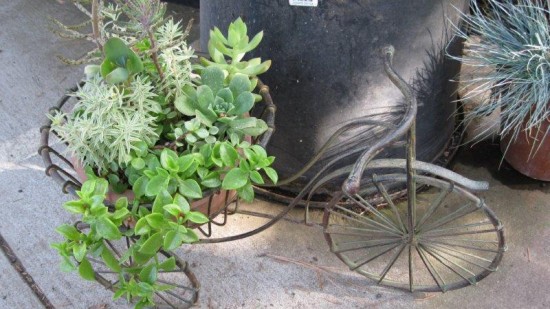 If you plan on growing your broccoli, etc from seed you only have a couple more weeks to do so or they will not be mature/big enough to harvest later in the season. However as the weather is still hot and you will want to grow them in full sun so they do not get too leggy, you will need to shade them from mid morn to late afternoon. You can still take advantage of production from them in early spring but as the weather warms so does the tendency to bolt (go to seed). As many of you know we do stock starts for those of you who want to go that route but again if you wait too long the same thing about maturity applies.
The mantra for this month-Fall is the time to plant.
September Specials
Plant of the Month 20% off
Grapes and berries- 20% off
Rose of Sharon-20% off
Roses- Buy 2, 3rd free
CA. Natives- 20% off
Plant of the Month
Ornamental Grasses, Sedges and Reeds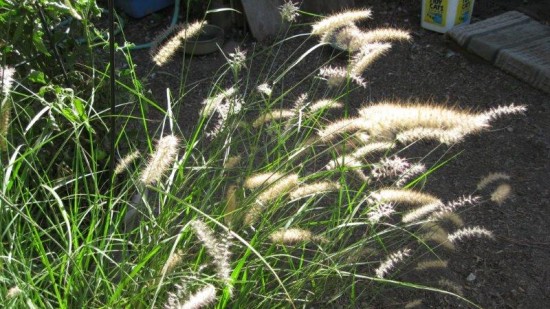 I love mixing grasses in with my perennials and shrubs. They look great in mass plantings too. Grasses are a good choice for stabilizing hillsides because of their fiberous root system. Most varieties are cold hardy. Some go dormant for winter and are best looking if cut back hard. Others are evergreen but will need old blades raked out from time to time. Some are very drought tolerant and others will live in boggy soil and under shallow water. Some like dwarf mondo grass work in fairy gardens and some like pampas grass work as a screen. Some are gold or grey. Some are variegated. Really the choices are numerous. The best thing about them is they are deer resistant and low maintenance. They are perfect anytime but specially nice in the fall garden or mixed containers.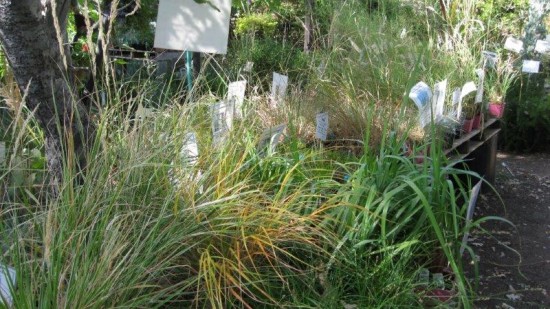 All of the grasses are on special this month. Here are some of my favorites:
Sun evergreen- Muhlenbergia rigens- Deer Grass, Carex testacea- Orange Sedge
Sun deciduous- Pennisetum orientale- Hardy Fountain Grass

Shade evergreen- Carex morrowii- Japanese Sedge

Shade deciduous- Hakonechloa- Japanese Forest Grass
Happy Fall Planting,
Tanya