Plant of the Month Lamium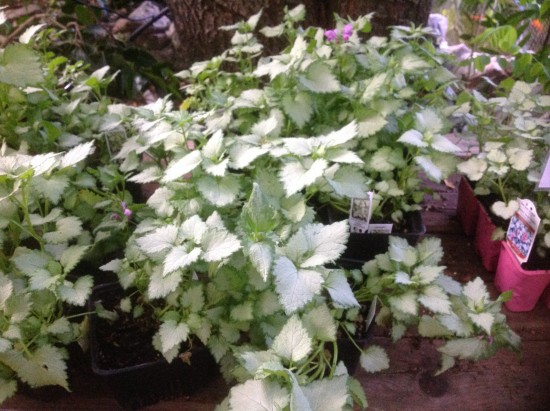 We carry two types of Lamium, Lamium maculatum and Lamium (Lamiastrum) galeobdolon. Both make nice ground cover for a shady area with their silver-white foliage. They like regular water and are deer resistant. Lamium maculatum flowers in shades of pink purple or white. L. galeobdolon flowers are yellow. L. maculatum looks more delicate than the other, is less vigourous and looks best cut back some time in winter. It is excellent in hanging baskets, containers or as a small scale groundcover. L. galeobdolon is vigourous and makes an excellent speading ground cover.
May Specials
Green-All Organic Potting Soil in 2 cu. ft. bags

Buy 3 and get a 4th FREE.

All Roses 20% OFF Lamium-plant of the month
4 inch pots Calibrochoa
Mothers Day Week-end only
May 6, 7 and 8th 20% OFF Hanging Baskets
Sharp Event
Razors Edge will be at the nursery from 10 to 1 May 14th
Get your tools sharp for the season ahead.
Master Gardeners Help Desk
May 21st at the nursery 10-2
May Newsletter 2016
It has been so long since we had rain in the spring I had forgotten what it was like. Cooler days have been the norm. Some days very busy and other days not. I believe we can feel a void. Is it the weather or all our displaced customers from the fire?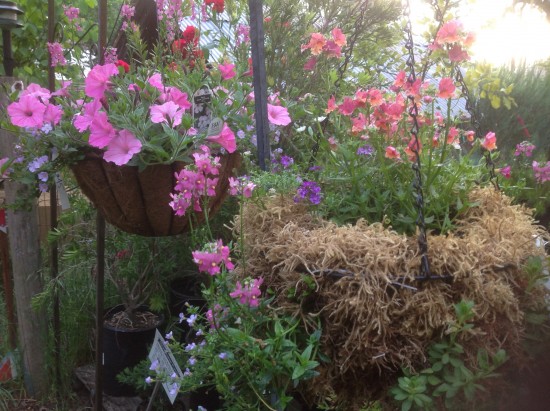 May 1st is here and that signals Lake County's average last frost. That does not mean we are in the clear yet but it is a pretty safe bet for most of us. Time to plant the vegetable garden and those warm season annuals. As far as the vegetables go we have a lot but there are still some favorites of mine we have not been able to get in yet. One is the tomato Black Prince and the other is the Rooster Spur pepper. Both of these have performed well for me in the past. We have just started getting in more types of cukes, melons and squash even though we have had the basics for a month now.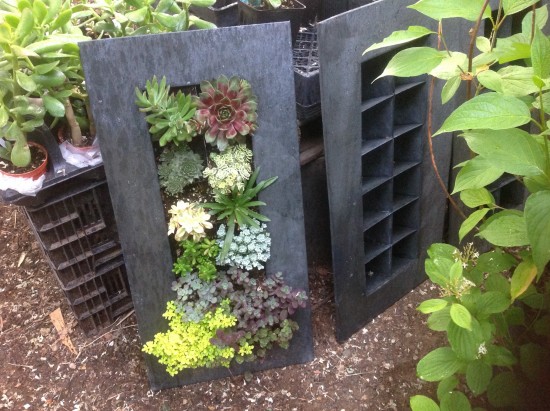 So lets talk bees. Often we forget to plant bee attracting plants with our vegetables to improve pollination. Not only are our gardens more interesting and coloful if we do but we are getting those litltle buzzers just were we need them. Sunset Western Garden Guide has a whole section on bee attracting plants. For those of you who do not have that edition here is a list of a few that would work well planted around the edible garden. Annuals would include Cosmos, Sunflowers and Alyssum. If you till your garden every year these might be the better choices. If your beds are more permanent then the choices are numerous. Things like Borage, Oregano, Spearmint, Lavender, Hyssop, Thyme and Rosemary could be obvious choices as they are also herbs. Perennial flowers to choose from include some great long blooming perennials that do well here- Russian Sage, Agastache, Echinacea, Catmint, Black-eyed Susans, Coreopsis, Gaillardia and Ornamental Sages.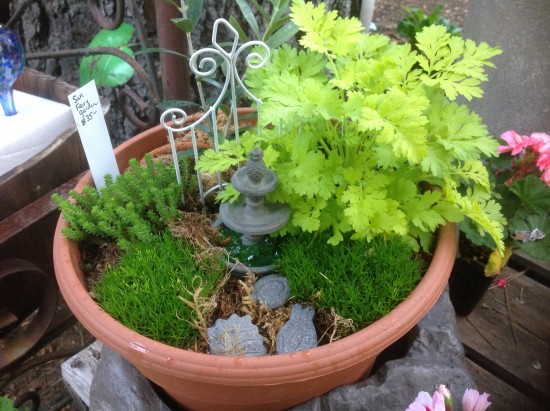 Now for companion planting. What is that? Well it turns out some plants like certain plants and do not like others. Most vegetables do not like fennel. Potatoes, corn and beans along with dill should not be near tomatoes. Tomatoes, basil and peppers are okay. Corn, squash and beans, also known as Three Sisters is a good. The squash grows low, the beans can climb the corn and are a nitrogen fixer. Since corn is a grass it loves nitrogen. Eggplant is okay with beans but do not plant the beans near the basil and do not plant the corn by the tomatoes. Marigolds are a good thing but not with beans. At this rate it could take some serious thought to getting the most out of the garden.
Warm season annuals are here. We have marigolds, zinnias, lantana, begonias and impatiens in stock now. Our sage table is full along with the coreopsis-rudbeckia table. Annual morning glories are seeded in our greenhouse. Our hanging baskets are looking full and coloful. We just got in a flat of cold hardy Butterfly Weed and have a few 6 packs of the not as reliable Silky Red. We have noticed that monarchs also eat Passion Vine and we have the cold hardy ones. We have been having a little trouble getting nematodes but we have mantyd egg cases and ladybugs.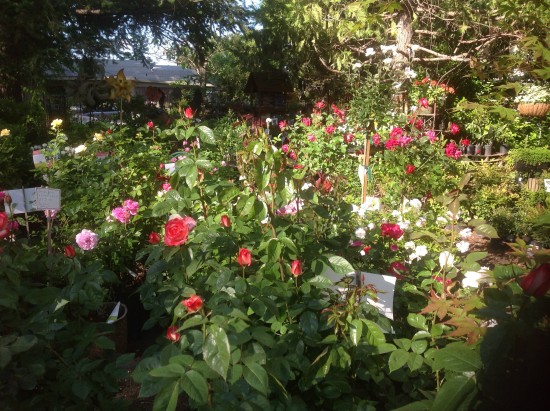 I do not think my roses have ever bloomed better than this year, Probably loving all that frash rain water. The down side is it has been wet and humid and powdery mildew has been a real issue. There has been limited peach leaf curl but keep an eye out for fire blight on your pears and apples. Our Comice pears have been hit pretty hard. Cut way below all infected fire blight and dispose of it.You can spray fungicides if you care too. Copper can help with all three but can be hard on some varieties of roses. A calcium spray can help and you can even make a spray of 1 cup milk to 9 cups water. A good spray for roses is 1 tsp baking soda to 1 quart water and a dash of liquid soap to help spead and stick it and to help prevent further infection.
Mosquitos have been numerous. Many of you have already come in looking for plants they do not like. These are lemon thyme, lemon balm, lemon verbena, lemon grass (I see a pattern here), lavender, rosemary, garlic, catnip. basil and marigolds.
Time to come for a visit and enjoy nature's beauty.