Plant of the Month
Picea pungens and P. abies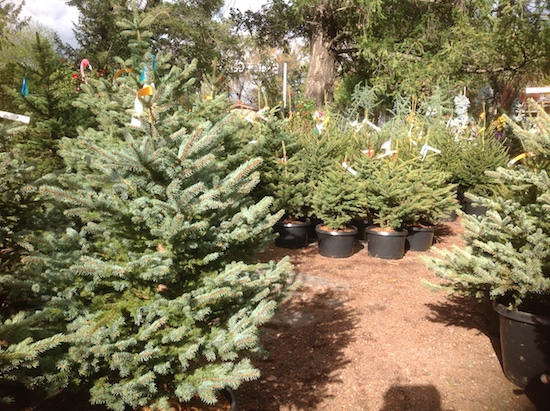 Thought it might be nice to give you some info on some of our potted conifers. I have found the spruces hold up well through our summers. If you are buying a living tree either for yourself or to donate back for fire victims, I have a few tips. First it is recommended that you have them indoors for a very short time. You will read only a week but because our winters are milder I think you can stretch it to two here. Make sure you place it away from heater vents or wood stoves. It is a good idea to spray with an anti- transpirant to help seal in moisture. Watering it with ice cubes is a good way to kill two birds with one stone. It will also keep the roots cool and do a slow soak into the root ball. When you bring it out again make sure we are not having a cold snap, otherwise place it in a protected area like the porch. This first summer it would not hurt to cover with some shade cloth and be sure to spray anti-transpirant again a few times in the heat of the summer.
Picea pungens- Colorado Spruce: These Rocky Mountain natives prefer dry soil and chilly winters. They can get from 30-60 feet tall in garden conditions and up to 20 ft wide. The branches are very stiff and prickly. Pyramid shape. Slow growing in our area.
Picea pungens glauca- Colorado Blue Spruce: Same as above but with blue gray foliage. These tend to be slightly higher priced too.
Picea abies- Norway Spruce: Although Sunset does not rate these for our area I have it on very good authority that these hold up well in the summer heat. The foliage is softer that the Colorado Spruce and they grow faster-up to 100 ft tall, but they require more water. Develops drooping branches as it ages, and is extremely wind resistant.
December Specials
See newsletter for more details
50% off all outdoor plants except Christmas trees, holiday decor and potted conifers, bulbs
25% off Gift Certificates, Indoor plants, Dry Goods, Anti-transpirant
Star Gardens will be closed December 24- Jan 13
December Newsletter
It is looking like our future holds a rolling back of environmental protection from our new administration which is short sighted in my opinion. Seems like it is more important than ever to create healthy habitat in our own backyards. Bats, birds, and flowers are wonderful forms of pest control. Bird-friendly yards have plenty of cover from trees and shrubs in addition to feeders and bird baths. Consider putting up bat houses for mosquito control and planting mosquito repelling perennials like lavender and lemon balm. Plant-pollinator friendly flowers like sages, verbenas, and asters to name just a few. The more diverse and well planned for bloom throughout the year the better. We have been finding bumblebees on our flowering Strawberry tree. The Choisya at the nursery is in full bloom right now and rosemary is another good winter bloomer for bees. Viburnum tinus is ready to bloom and the birds love the berries growing on my Cotoneaster.You could consider planting some other early spring, bee attracting flowers like Ceanothus, Cerinthe, CA Poppy, Spanish lavender, sweet alyssum and Penstemon heterophyllus. Of course, chose water-wise plantings as water availability will continue to be an issue.
I have not found much time to read the trade magazines lately but a few things have caught my eye from the ag biz side of things. One is that the demand for red walnuts exceeds the supply right now. The name of these red walnuts is 'Robert Livermore', who I believe was a member of our local Livermore family but do not quote me on that. I did not think I ordered these for next years bare root but we still have some from this year. They are working on that improved bell pepper that will not burn in the hot sun at the bequest of organic farmers. Research continues into drought-tolerant bean varieties and more heirloom type beans could be making a comeback. There is a local market I visited while visiting my son that had all sorts of dried beans I had never heard of produced by Bobs Red Mill out of Portland. We do not carry seed for dried beans but you can plant organic beans you find in your grocery store. Soak them overnight before planting.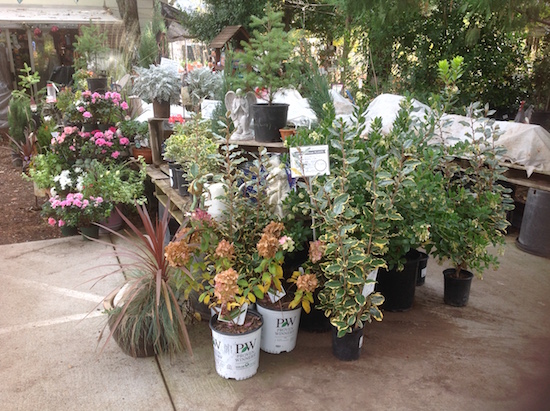 Now for the local home front. We will again be having our December sale month.  50% OFF all outdoor plants, excluding potted conifers, cut Christmas trees, wreaths, and garland. This includes bulbs, annuals, perennials, fruit and shade trees. 25% OFF all dry goods, indoor plants and gift certificates.  This means chimes, pottery, garden art, metal, soil, fertilizer, seeds, poinsettias, blooming cactus, etc. No excuse not to shop locally for gift ideas for everyone, including yourself.
Kathy Blair is doing the gifting a tree program again. Consider buying a living tree this year and gifting it back for our local burn victims. Drop it at the nursery after Christmas. We just received an order of 80 potted conifers from Oregon for you to choose from. We doubled our order of cut trees this year and they should be ready for sale Dec. 1.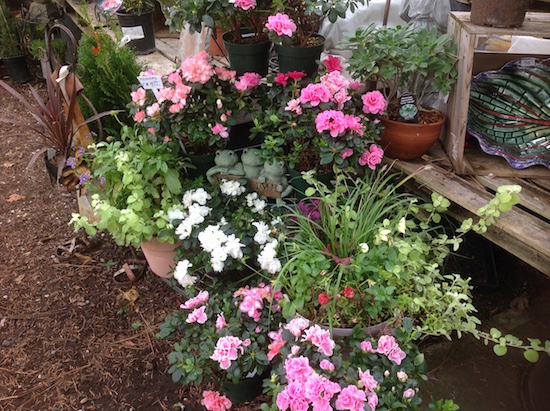 We will not have a newsletter in Jan as we are closed from December 24- Jan 13. Protect your plants from winter cold with anti- transpirant. It makes a great preservative for your Christmas tree also. Start your tree and rose pruning along with dormant spraying. Seed out wildflowers and get your spring blooming bulbs planted. Top dress your fruit trees with organic matter like manure. Plan for bare root season in January and February when our selection of fruit trees is at its best. We plan to post the 2017 bare root lists on the website around the first of the year or call the nursery this month to reserve a tree from our selection.
I hope all of you will support your local merchants this holiday season and be sure to mark your calendars for Christmas in Middletown Dec 10 from 4-8. The nursery will be participating and open late.
Happy Holidays and thank you for supporting the nursery.