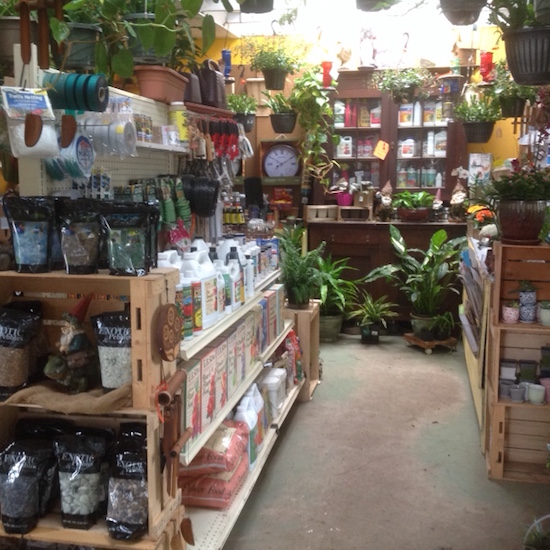 This is going to be an interesting year. All sorts of promises to roll back health care, planned parenthood (as if there are not too many people in this world already) and environmental protections and regulations. Why do I feel like this is a step back not forward? Good thing we love to garden. Therapeutic since we can not afford to get sick. Gets us outdoors and away from the gadgets that send us more confusing news everyday. Helps us de-stress from a world going mad. We know what's been put in our soil to grow our own food and we produce something of value to pollinators, wildlife and our neighbors and family.
On the local front it looks like we are getting the much needed water to fill our reservoirs and aquifers. More housing is being completed and people are starting to move into their new homes. I am encouraging folks to re-plant with plenty of natives and Mediterranean plants that will be able to withstand less water. Plant lots of trees because this county has lost so many and we need the shade and the oxygen they produce, not to mention habitat for wildlife. There is so much diversity in plants right here at the nursery so I can put the idea to rest that drought resistant is boring. Deer are another issue but it turns out most natives and climate appropriate plants are on the deer resistant list.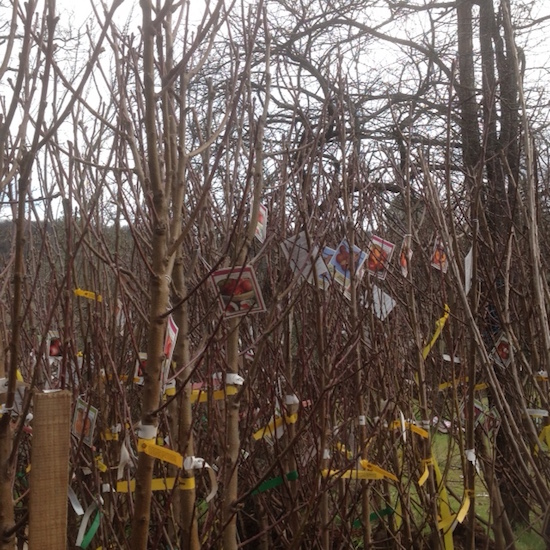 This year some of the trees we have ordered for bare root season that are a little out of our norm are Arizona Ash, Dura-heat Birch, Black Locust, Trident Maple, Silver Maple, and Mountain Ash. For fruit, new to us or not always ordered are Anders Apple, Ladyfinger grapes, CA. Concord, Cox Orange Pippin and Sierra Beauty Apples, Dixon Cling Peach, Winter Nelis Pear, Methley Plum and two varieties of hops. For a full list and description of what is coming check out the appropriate link on our website. We have also ordered for the second year in a row seedlings of native maples, incense cedar, doug firs, pacific dogwoods, deodar cedars, white fir, empress tree and mock orange.
Debbie and I order a lot of our dry good stock at the L and L show in October. Some things arrived in time for Christmas sales like copper wall hangings, rain chains, glass bird baths/bowls but most will be trickling in for spring. We ordered a whole new style of pottery from Pacific Home and Garden, makers of quality pots. Wooden trellis' are not a big seller but we really liked what Arboria was offering and we hope you do too. We went overboard on fairy gardening and hope its as popular this year as it was last year. There were some cute faux wood planters that will be perfect for succulents and we already have a line of small indoor pots that scream 'plant me with succulents or herbs for a kitchen window'. More gnomes are on the way along with Design Toscano statuary and those popular metal chickens. We had some really nice wind spinners last year and re-ordered them along with some new styles.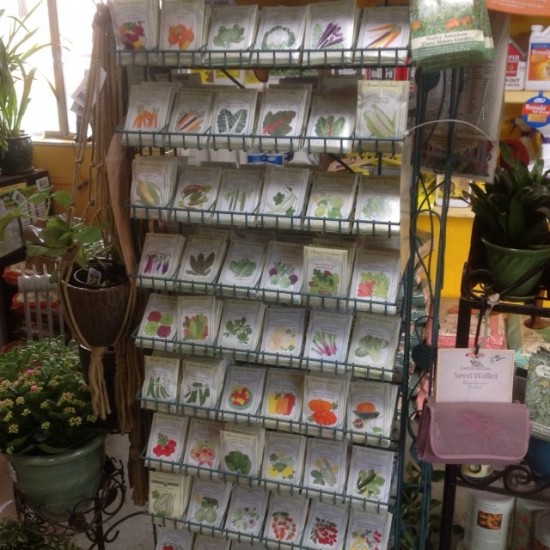 We are continuing to carry Renee' seeds and their economy line Cornucopia. Both lines are non-GMO and the Renee's line is full of heirloom and non certified organically grown seed. They do a line of certified organic but the price point is high and since her line is top quality already I do not think it is worth the extra dollar for a pack of seed. Bulbs popularity is really wanting here but we have ordered a small selection of spring planted, summer blooming flowers like cannas, lilies and dahlias.
Plugs have been ordered for our custom made baskets and planters along with offering them in four inch sizes.  We lean heavily on cutting grown petunias and calibrachoas, but will have other favorites like scaevola.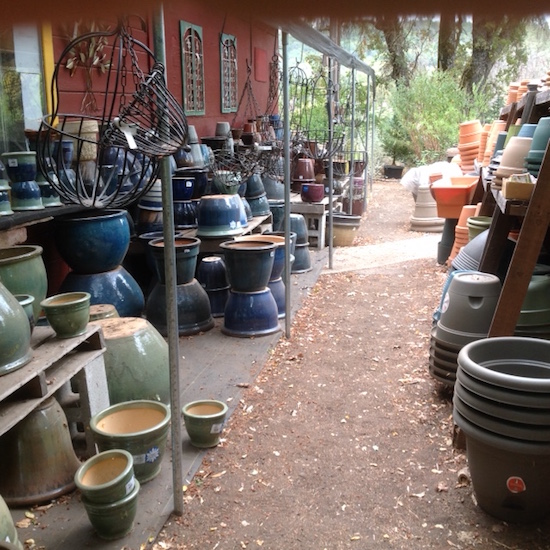 We will continue our commitment to organic soils and fertilizers, along with our OMRI approved and natural sprays. We source almost our entire plant inventory from our surrounding central CA. area-only as far north as Oroville and as far south as Modesto and Gilroy with a lot coming from Sonoma, Lake and Mendocino counties. We feel these plants are better climatized to our area and will do better for you.
We accept special orders and do our best to fulfill them but sometimes the selections are not available. Often new and specialty plants are only offered by a limited amount of growers that we do not order from. Some things turn up a few months down the line. Large special orders receive 20% off retail price.
We are expecting all our staff to be returning and looking forward to serving you in the coming year.
Tanya, Deb, Mikki, Chelsea and Jahi