Plant of the Month
Cistus -Rockrose
I think this was a plant of the month in some past year but now is a great time to plant these Mediterranean shrubs. We often have them in 4" pots this time of year for the budget conscious gardener. They come in all sizes from low growing Cistus 'Sunset' to massive growing Cistus purpureus to tall like some of the Cistus ladanifer varieties. So far the flower colors are limited to pinks and whites with yellow, purple or reddish centers. These shrubs are on Cal Fire's good list and are often used in fire prone areas. They are hardy to 15 degrees, heat loving, tolerant of poor soil, salt and wind, and are fast growing. It usually takes a few years to get them deer resistant. Plant singularly or as an informal hedge or ground cover depending on variety. Rockrose is an excellent choice for a fast growing, spring blooming, evergreen shrub that requires little water once established.
March Specials
Rockrose-20% Off regular price
2 c.f. Organic Potting Soil- Buy 3, get a 4th Free
6 pks spring vegetable starts- Buy 4, get a 5th Free
Everyday on non-sale items
Buy 7 6 packs, 8th free
AKA Fill a Flat
Buy 12 4 inch, 13th free
AKA Baker's Dozen
Buy 9 bags of the same bark or soil, 10th free
Newsletter March 2017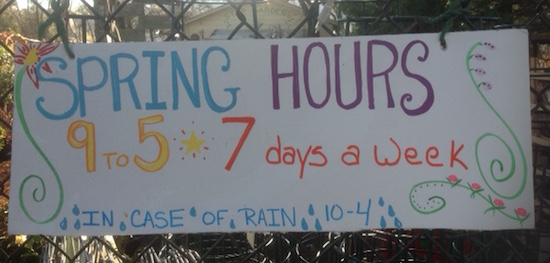 Daylight Savings Time is just a few days away and we are back to being open 7 days a week from 9-5, weather permitting. These hours are good through June at which point we go back to being closed on Wednesday. We have plenty of bare root trees and roses still but that could change as things begin to break dormancy and we will be forced to put them in containers.
Degree Days- I was trying to find out more info on this subject, like the projected degree days for aphids, the biggest pest this time of year, but here is the definition. Since every year is different and weather is unpredictable, degree days are used to anticipate insect hatch. This would be the amount of days between an insects lower temp threshold and its upper temp threshold for development. One example I found was for corn ear worm. These pesky pests hatch 73 degree days (temps over 55 and lower than 92) after egg lay. Farmers and growers of crops can then time their sprays or predator bug releases for optimum control. I check my weather on wunderground.com and they list heating degree days. As of March first they say 16. You can find out more at uspests.com or doing a google search. Let me know if you can find anything on the timing for aphids. I am limited to how much time I can spend on the computer but anyone who gets back to me on this qualifies for a free 4 inch plant.
Deer Resistant Roses- This year I ordered a selection of Rosa rugosas. These are a very hardy, disease resistant landscape shrub roses that are on the deer resistant list. Rosa rugosa- medium to large single pink slightly fragrant blooms, wildlife friendly hips, naturally occurring species. Blanc Double de Coubert- Double fragrant white. (There is a warning to avoid chemical sprays with this one and the next.) Therese Bugnet- Large full lilac pink moderately fragrant blooms. Topaz Jewel- Sweetly fragrant double yellow.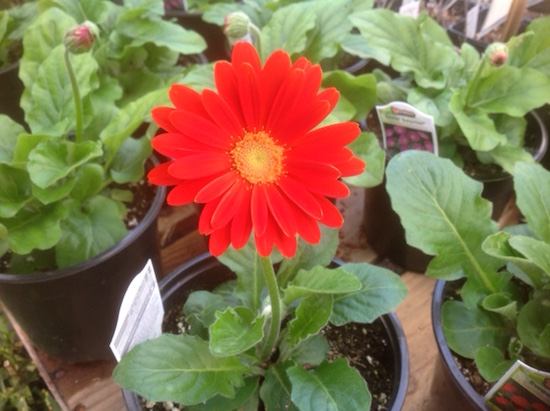 Gerbera jamesonii 'Garvinea' -We had a plan to do these for the plant of the month, but they were soft from the grower and we left them out to get frost damage on the tender leaves. This series grows up to 20 inches tall in half sun, is extremely cold hardy (returning after winter dormancy), very floriferous, with resistance to powdery mildew and other pests. Gerbers are from South Africa, making them a climate appropriate choice. All daisies are on the deer resistant list and these beauties are good cut flowers. These are a new intro so cost a little more than the plain gerbers. They are in 6 inch florist pots for $11.99.
Latin terms- A few more for this month- Salvifolius like Cistus salvifolius means sage leafed. Purpurea or similar means purple like in Cistus purpurea for the color of the flowers (which look dark pink to me but with a purple center). Flore-pleno means double flower as in Spiraea prunifolia Flore-pleno otherwise known as Shoe-button Spirea. The prunifolia means leaves like the Prunus family (plums and cherries). Australis means southern, occidentalis means western, orientalis means eastern and borealis means northern, usually in relation to the hemispheres but not always. Case in point is our native redbud called Cercis occidentalis which is beginning to show color coming now.
To do- Start seeds of warm season vegetables like tomatoes and basil indoors. Wait to the end of the month for cucumbers and squash as they grow much faster. Plant potatoes and cool season vegetables now. We have onion transplants in stock, both yellow and red. You might want to start your lettuce and spinach indoors and then plant out. Feed your blueberries with an acid food and I would give them some FST now too. This is sulfur plus iron to keep them looking green and the Ph level low. Time to start feeding your citrus but I would hold off on feeding much else till the end of the month to the beginning of April. No need to get growth going only to be nipped by another frost. Top dress your trees, shrubs and roses with Green-All Firmulch. I use this to top off my large containers too to keep the soil level up, otherwise over time the plants sink down in the container as the organic matter breaks down. Not only does this help feed but it mulches too. Spray peaches and nectarines at 2/3 petal drop for leaf curl. Keep an eye out for rose and other disease as they tend to be more of an issue in wet winters.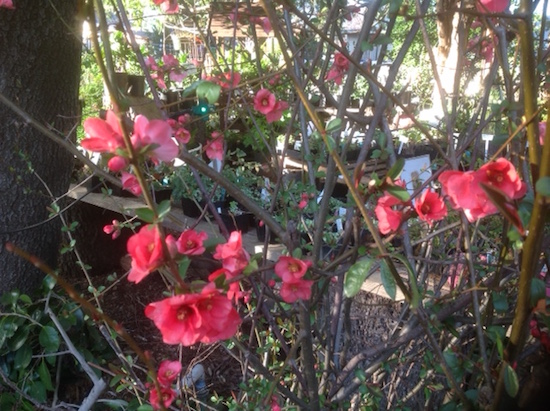 We have a little verbena, calibrachoa and bacopa in early but your best bet for color now are still pansies and primrose. The Veronica Georgia Blue is blooming now as are the lungworts and hellebores. Great spring blooming shrubs to consider planting are Quince, Lilac, Daphne and Forsythia- all deer resistant. The natives Manzanita and Ceanothus are also in bloom and make an excellent choice for the dry garden although the previously mentioned shrubs are also fairly drought tolerant once established. There is always Rosemary, Wall Flower and the spring blooming Spanish Lavender for early color.
Happy Spring Gardening,
Star Gardens