Perennial of the Month
Nepeta/ Catmint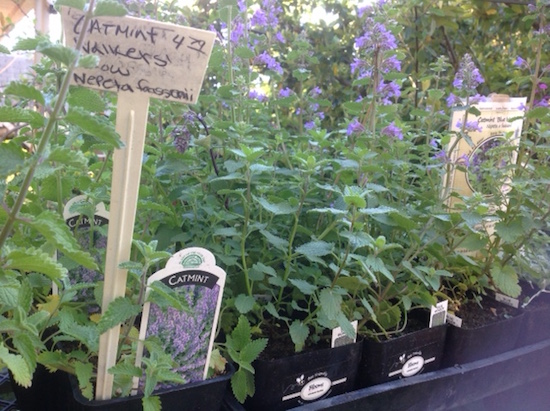 I am referring to Catmint, not catnip, although that is also a variety of Nepeta. These perennials require sun to part-sun and survive with moderate water. They are fast-growing spreading perennials that bloom frequently if sheared back by half after bloom. The flowers are typically blue on spikes of double lipped flowers although there is a white and pink form. Some varieties will reseed if you let them. In winter I cut them back to the basal growth (all the way back to next year's new growth). We usually have a few varieties in stock. 'Six Hills Giant' can grow 2-3 foot tall every year. 'Walkers Low' has a long bloom season if you shear back the first show after bloom and gets about 18 in. tall. 'Blue Wonder' is another variety that grows similar. Catmints easy to grow, deer resistant and hummingbird and bee attracting. They are useful in rock gardens, as an informal hedge, or in the perennial border. They also do fine in containers and could even be put in a hanging basket.
Shrub of the Month
Philadelphus lewisii
We are growing some of these native Mock Orange and thought it would be an excellent special this month. Part shade here with moderate water, these deciduous shrubs grow from 4-10 feet tall and wide with fragrant white flowers in spring. Very sweet looking in bloom. Easy to grow. Cut back older canes to the ground occasionally.
May Specials
2 cu ft Green-All Organic Potting Soil-Buy 3, 4th Free
Calibrochoa- buy 3, 4th Free
Catmints and Wild Mock Orange- 20% Off
Ornamental Quince, Forsythia and Lilacs-20% Off
(limited to supply on hand)
May Newsletter 2017
I am looking at the weather forecast for the next ten days, and it looks awesome, even the night lows are good. Lately, though I have been looking the next day and our sunny week has changed to cool and cloudy with a chance of rain. I think I have forgotten what our weather normally is this time of year with our early drought year springs. I am also writing this early on Friday morning and it is 38 degrees here in town, so the basil, melons, and cucumbers are not going to like that but tomorrow morn should be warmer.
Pests: The aphids are out and we are going to be out of lady bugs for this weekend since the mantyds arrived yesterday without the ladies. I am not sure if the insectary is behind filling orders or the that our sales rep has been busy with his daughters wedding, but we have been slow to get our orders. If you do not want to use sprays, just hose those little buggers off your roses and other plants until we get our bugs. Anytime we have a wet spring, fungus like peach leaf curl and downy mildew are going to be an issue even if you did your three dormant sprays this winter or have treated the roses once or twice. Thankfully it looks like the weather is going to dry out a little and these issues will solve themselves. Feed your peaches and nectarines again as they are going to have to go through a second leaf production, putting extra stress on the tree. I would suggest worm castings or fish to start as these will be more readily available now followed by an organic granular fertilizer for the long haul. Two or three years of severe curl can weaken and kill a tree. Bugs like earwigs that love tender young plants and come out at night will you are are dreaming of homemade pesto from your garden are emerging. Use Sluggo Plus or Diatomaceous Earth to keep them under control. Those green lady bugs look alike are also bad news, usually eating your flowers and putting holes in your leaves. Use Take-Down or Cap't Jack for them.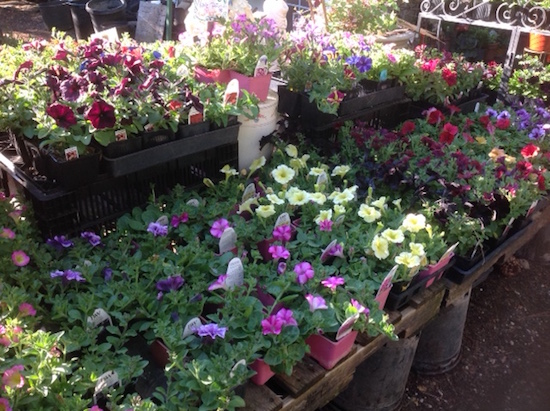 Warm season annual: The weather has set our suppliers back a little on production. (We started some cucumber seeds in the greenhouse last month and it took three weeks for them to come up.) We have not been able to get good looking 6 packs of alyssum for one thing. The coleus and portulaca we got in early hasn't grown and is not prime looking. We do have the Magellan Zinnias in 6 packs for the first time I can recall, Marigolds, Red Hot Sally, Lobelia. Cosmos and of course Petunias for warm season summer annuals. Morning Glories are coming up in the greenhouse along with some of our own vegetable starts like Persian Baby and Japanese cukes.
Climate/Fire Resistant Plants: Is it not beautiful and lush looking right now with spring green color and wildflowers everywhere? We received a much needed wet season but the dry season is coming with fire danger and an extended period of drought. Luckily the trend is still to plant climate appropriate drought-resistant plants that require less irrigation in the summer. Our staff can help you with finding great blooming plants that fall into that category. Many are replanting after the fire. Do not forget to ask for your 20% rebuild discount. Consider planting fire-resistant (by no means proof) plantings. These include hardwood trees, deciduous shrubs, perennials, and high moisture plants like succulents. Some evergreen shrubs are Oregon Grape (Mahonia), Rockrose, Cotoneaster, Salvias, Ceanothus, African Iris (Dietes), Dusty Miller, Escallonia, Santolina, India Hawthorn (Rhaphiolepis), Lavender, Lavatera, Pineapple Guava, Erysimum, Star Jasmine, Hesperaloe, Yuccas, Strawberry Tree, and Winter Creeper (Euonymus fortunei). We carry most of these plants or can special order for you. Go to the Cal Fire website for suggestions on spacing, but low shrubs and flowers around the house are recommended along with groupings of plants with open space between.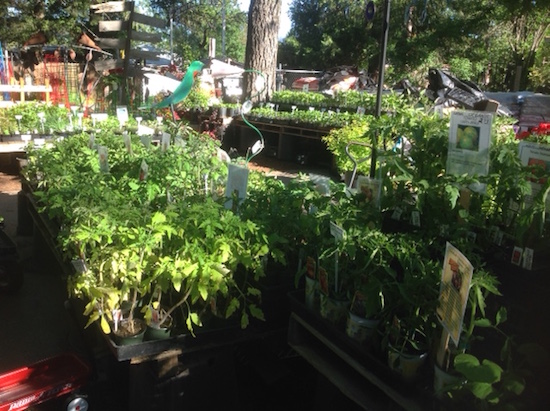 Veggie Starts: Just starting to get in melons and more varieties of cucumbers, but we have a lot of everything else, both organically grown and/or not. Ace and Celebrity usually do well for a bigger tomato. Sungold exceeds expectations for a sweet cherry. My favorite heirloom is Black Prince and Chelsea says the Costuloto Genevese did very well for her last year. Cherokee Purple is another good one. Others have found success with Pineapple but it did not do well for me when I tried it a few years ago. I favor the longer growing sweet peppers like Gypsy over the bells in our hot climate. We have green, yellow and round zucchini along with three or four winter squash. Just received the specialty pumpkin Knucklehead and we have a few Dinosaur Gourds in. We are growing some loofah in the greenhouse and just seeded the okra.
The nursery is teaming with plants. A lot of the shade trees that were bare root this year are just starting to emerge. There are still plenty of fruit trees but we are out of some of the favorite ones. This year's odd grape selection is Ladyfinger. The roses are starting to look filled out and are starting to bud. These always make a nice Mothers Day gift. Lots of garden art and beautiful pottery to add a special touch. We have an assortment of tomato/plant cages, wine barrels and metal trellis" and arches. May will be the last month of the potting soil special. There is still a nice selection of summer blooming bulbs in the sales room and we are keeping our seed racks stocked.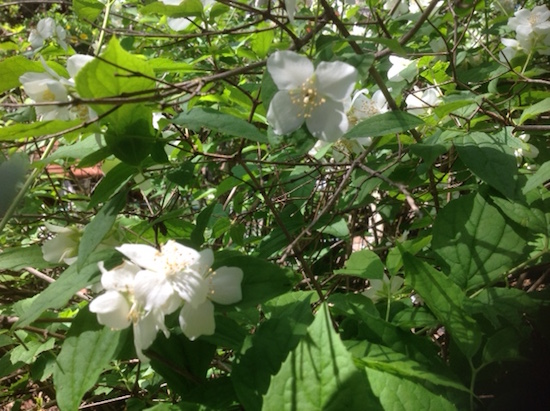 Technology is supposed to free us up but I find it just makes my life more stressful. The information age is overwhelming. Gardening can be such a nice way to relax and get away from it all (if you leave that #%!*& cell phone inside). Plus you are doing good things for the environment if you garden naturally, planting habitat and food for our pollinators and oxygen and cooling effect producing vegetation. If you pick appropriate plants, drip irrigate and mulch you can manage your summer water consumption. Soil and sunshine have been proven to have anti-depressant properties. I am probably preaching to the choir but go out and enjoy yourself. Let it grow, let it grow, let it grow.