Plant of the Month
Kniphofia
Red-Hot Poker, Torch Lily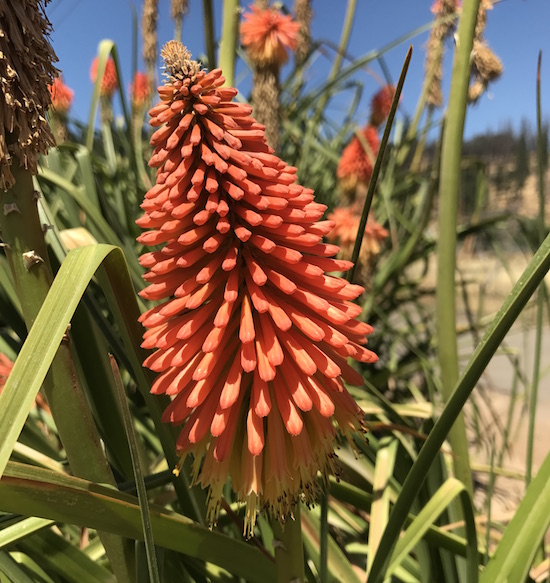 Kniphofias form grass like clumps of foliage and are in the Lily family. The flowers stalks rise from the foliage with the look of a torch or poker as their common name suggests. The older variety planted was all orange or red to orange to yellow. Now we have whites, cremes, almost green, yellows, and peaches to add to coral red and orange. Size can now range from 1 1/2 feet to 6 ft in bloom. They are hummingbird attracting and are on the deer resistant list. Plant in sun or part sun.
Pokers are easy to grow provided they get good drainage in the winter although they can tolerate moist almost boggy conditions in summer. If conditions are too dry they will not flower in summer so make sure that clump you usually get to ignore gets some regular water in the growing season. Best to leave clumps alone for years as they grow slowly. Divide in spring if necessary. I find my pokers are partially evergreen so clean out dead fronds in fall and again if needed in spring.
Here is your chance to get some of the pricier 4-inch pots of these new hybrids that normally run $7.99 for 20% off the regular price.
I have placed an order for Creamsicle, Orange Vanilla Popsicle, Papaya Popsicle and Redhot Popsicle. The POPSICLE series is reported to be dwarfs with a compact habit around 18 in. to 2 ft and be an exceptional bloomer. In addition to those, we do have some of the Flamenco series that normally run $4.99 for a four-inch pot. Variety availability subject to change as the month progresses.
August Specials
Buy two trees, 3rd half off
1 gal. Peonies- 30% off
1 gal Grevillea- 30% off
Buy 3 4 inch pots and get a fourth free.
(Excluding Kniphofia)
Plant of the Month 20% off
Newsletter August 2017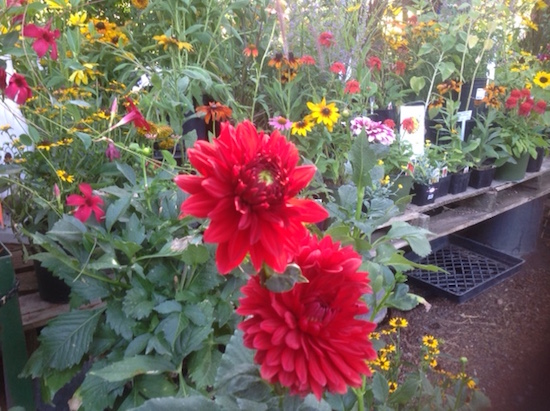 High summer color is happening now at the nursery. Black-eyed Susans, Echinaceas, Sages, Hummingbird Mints and others are joining the Crape Myrtles and Rose of Sharon to put on quite the show. Some of the earlier flowering grasses are doing their thing and the Russian Sage is filling in as lavenders fade out. The heralds of late summer, mums and asters are coming in. My phlox is just starting to bloom. The huge Hardy Hibiscus in the pond has just started its show. If your yard needs some color we have it.
Tomatoes are just starting to come in and it is already time to start thinking fall/winter garden. If you plan on starting from seed this is the month to do so. Start broccoli, cabbage, cauliflower and brussels sprouts indoors this month to transplant next month. Towards the end of the month into September seed out peas, lettuce, kale, carrots, beets, turnips, kohlrabi, cilantro, spinach and chard. I have always found my cool season garden to be not as labor intensive as in the summer. I know it seems early to be thinking about this but if you want to have your own home grown food through the winter you have to get an early start.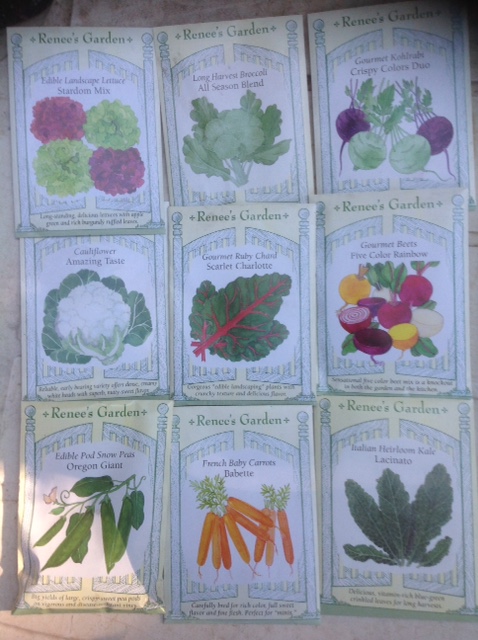 The heat has had an effect on the roses this year. Last year they put on their best show in years and this year we have had very little re-bloom after the first show. (This does not include the Drift landscape roses that are performing regardless.) I am expecting a good show as the weather cools. They have been fed and are ready to go. Continue feeding flowers and veggies for peak performance. Feed citrus and other fruit trees. Summer prune (lightly) your fruit trees. Cut off spent blooms on your annuals and perennials to prevent them from putting energy into seed production as opposed to flower power.
I thought I would talk about trees. I just read an article about trees and climate change and how some North American species are in danger. Scenarios like if and where they will grow are changing. Some species might get wiped out completely. The South Eastern part of the United States is most vulnerable but there are some Western Natives on the list, usually the ones that have a limited natural habitat area and a low ability to adapt. To be fair I only recognized a few of the trees listed and nothing we sell here at the nursery.
So why plant trees? Trees combat climate change by absorbing carbon dioxide and they release oxygen. They can absorb pollutants to help clean the air we breathe. Trees cool the environment. We sure notice it here. Just walk into the nursery from the sunny parking lot and then walk back out to the sunny rose section and the temperature change can be up to 10 degrees. Just think of the energy saved, not to mention money, on your air conditioning bill. Trees soak up polluting storm run-off and prevent erosion, helping to keep our waterways cleaner. Trees provide shelter and food for wildlife and increase property values. Trees produce fruit for human consumption and wood for a variety of uses. Trees absorb dust, sound and shade us from harmful UV rays. Trees can block out views we do not want. Trees are soothing and stress reducing.
Evergreens vs deciduous- Do not kid yourself that evergreens don't drop leaves. People come in thinking they want an evergreen because they do not want to deal with leaf cleanup. All evergreens drop needles and leaves at some point in the year and often over a longer period that a deciduous tree or shrub. Evergreen trees are best planted where they block the summer sun and not where they block the winter sun. I have all evergreens on the south side of my house and I lose a lot of the solar benefits of the winter sun which is low in the sky to the south. It is better to mix up your evergreen and deciduous trees and shrubs. Evergreens are nice to have in the winter so your entire yard does not look dead, but deciduous gives you some season change. Better views in winter, bright green spring leaves, deep shade in summer and fall foliage in winter.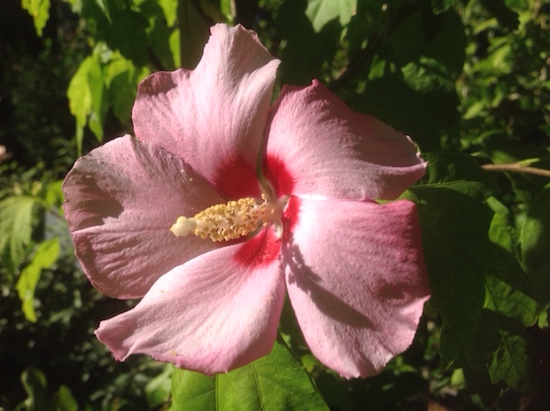 Latin fun- Check out the meaning of the species name. Rose of Sharon/Hibiscus syriacus -native to Syria, Crape Myrtle/Lagerstoemia indica- from India, Black-eyed Susan/ Rudbeckia hirta- hairy, Rudbeckia fulgida-shiny or shining, Echinacea purpurea- purple, atropurpurea- very purple, Autumn Sage/Salvia greggii- named after Joshua Gregg, who was frontier trader and author from the 19th century, Agastache aurantiaca- orange red color and Pennisetum setaceum- bristly.