Plant of the Month
Oxalis Iron Cross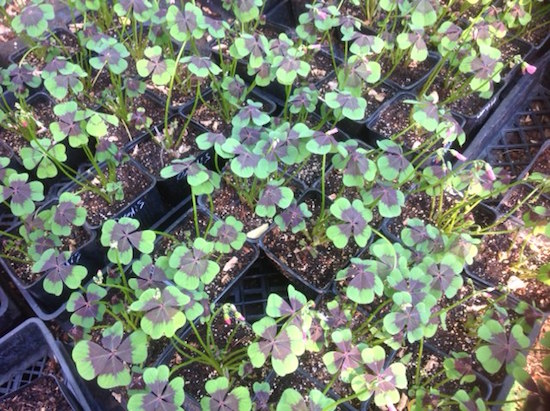 We love this perennial sorrel which is grown from bulbs. Plant in light shade or morning sun here. It gets its name from the distinct makings on the clover like leaves. Add to it the dark pink flowers over a long period in summer and you are sure to appreciate this little beauty as much as we do. Plant around trees, along walkways or in containers. Looks fantastic with ferns and hostas or around your other shade shrubs as a ground cover. Will go dormant in winter.
July Specials
All remaining summer vegetable starts-50% off
Oxalis Ion Cross in 4-inch pots-Buy 2, 3rd free
Overstocked on Poplars-30% off while supply lasts
(we have three varieties of this fast grower that doubles as butterfly food and quakes in the wind)
All Rockrose-30% 0ff
Butterfly attracting Lantana – 30% off
July Newsletter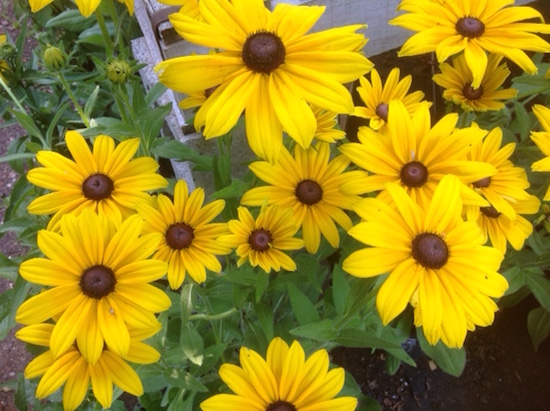 I will start this off by reminding everyone that our summer hours begin July 1st. That means that we will be closing one day a week-Wednesday. Plus we are closed on the 4th of July which means this year we will be closed two days in a row the first week, the 4th and the 5th.
Wow! Was it hot enough for you? How did your plants do? We had several reports of foliage getting toasted. I will repeat myself when I say I think we live in an area that can be hard on plants. Our higher elevation coupled with California Interior heat makes for a double whammy. Couple that with a heat wave on the solstice and it was particularly intense. The nursery held up well all things considered. We sprayed all our plant"s foliage with anti-transpirant. Even though I mention this every year it and that we have it for sale, it has yet to catch on with our customers.
Most of you can relax a little and enjoy the fruits of your labor. No tomatoes for me yet but I am harvesting squash, cucumbers and my favorite gypsy peppers. I saw some caterpillar fecal drops on my tomato but could not find the culprit. Hopefully, my numerous birds found it. Deb reports she is already finding tomato hornworm on her tomatoes. The safest product for that is Bt. That stands for Bacillus thuringiensis, a soil bacteria that is toxic to caterpillars, making them too sick to eat. It breaks down quickly in the sun so you have to spay every 2-3 days and you have to mix it fresh every time but it is effective. Obviously, avoid spraying anything you have planted for butterfly larvae (caterpillars) to eat.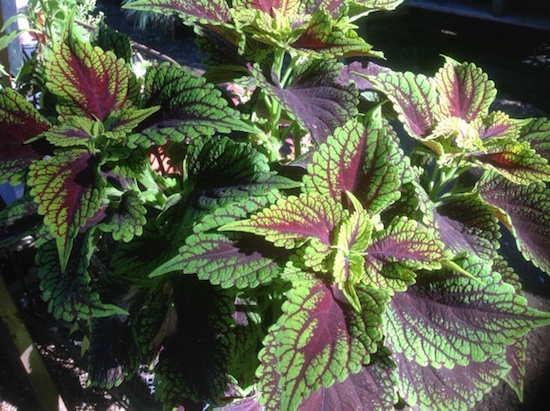 Speaking of butterflies we have a couple of varieties of Asclepias (aka butterfly weed) in stock now. This is a favorite of the Monarch butterfly in the caterpillar stage. One of our customers reported they also love her passion vine. If you are serious about butterflies it means you have to sacrifice some of your plantings to them while they are in the larval stage. Some plants we carry that promote the beginning stages of butterfly life include yarrow, hollyhock, fennel, lupine, sticky monkey, penstemon, wisteria, and mallows. Favorites of the adults are snaps, columbine, jupiter's beard, coreopsis, coneflower, blanket flower, oregano, penstemon, sages, verbena, lantana, lavender, butterfly bush, and honeysuckle. Plants I am finding on both lists are yarrow, snaps, butterfly weed, wild buckwheat, penstemon, ceanothus, coffee berry, currant, and spirea. Trees that provide food for both include buckeye, citrus, and willow. Some trees that caterpillars like are birch, dogwood, hawthorn, crabapple, sycamore, poplar and oaks. This is by no means a complete list and I bet most of you have some of these butterfly attractors in your garden already.
Keeping your fruit trees manageable means doing summer pruning on them as well as winter. I have found that if I do enough summer pruning on my trees then I have very little to do in the winter when it is not always the most pleasant to be outside. Cut back that long new growth to promote fruit production where you can reach it. Do this several times in the summer and you will be rewarded with fruit where you can reach it and have a tree that is small enough to net from birds and other critters if need be.
Fertilize your roses after every bloom cycle. Do a summer fertilizing on your azaleas, camellias, and rhododendrons. Prune back your spring blooming shrubs before fall. Keep an eye out for pests like tomato hornworms, earwigs, leaf hoppers and whitefly. I think I caught whitefly early on my tomatoes with whitefly traps because I don't see them anymore. Whitefly can be hard to get rid of once it takes hold as no spray takes care of all 7 stages of their life cycle. It is recommended that you spray every three days for a month if you find yourself with an infestation. Look for the host plant or plants. By this, I mean the plant whose underside of the leaves is coated with eggs. I cut those back or get rid of completely if the situation calls for it. They are particularly attracted to light colored foliage and yellow flowers so keep an eye out.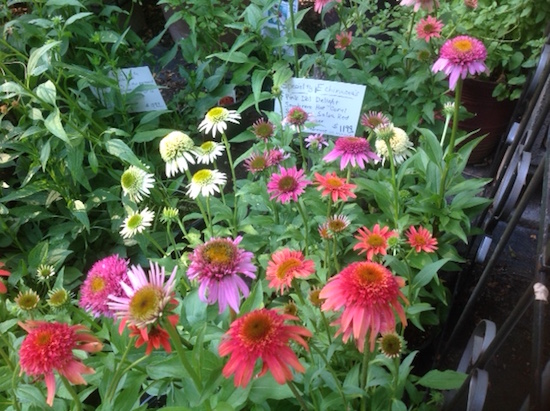 The nursery is in full summer glory. The hibiscus and crape myrtles are beginning to bud and bloom. The echinacea is starting as are the rudbeckias. Lavender, butterfly bush, lantana, sage, agastache, and gaillardia are adding to the color. Annual vinca is here and we have had some of it in a new color-dark purple. We highly recommend this deer resistant, heat lover. Of course its hard to go wrong with petunias, zinnias, marigolds, verbena and million bells. Its always hard to find color for shade but you might consider the Brazilian Plume Flower, Justice carnea. It's not quite rated to our zone but we get it to come back from the roots after winter. The description says it can get big, 4-6 ft., but I do not think it would ever get more than a couple of feet here. It produces clusters of tubular pink flowers from mid-summer to fall. We also just got in some japanese anemones, which is another good perennial for shade that also blooms in late summer. For reliable color in shade, you can not go wrong with the foliage of coleus. No worry that it is not flowering well in the shade because it gives you color without flowers. Its only drawback is it is only an annual unless you want to winter over cuttings in water to replant after frost.