Plant of the Month
Ajuga-Carpet Bugle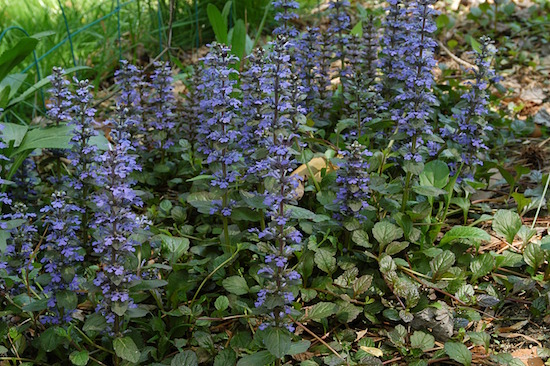 Ajuga reptans is an evergreen perennial in the Lamiaceae family that is a fast-spreading ground cover. The leaves of the species are green but there are several new cultivars with other leaf colors. Almost all have blue flower spikes in the spring and early summer. They can be in full sun but better with afternoon to light shade. They are deer resistant and require regular water. They can also be used to spill over pots or in hanging baskets. We are planning on having several cultivars to choose from.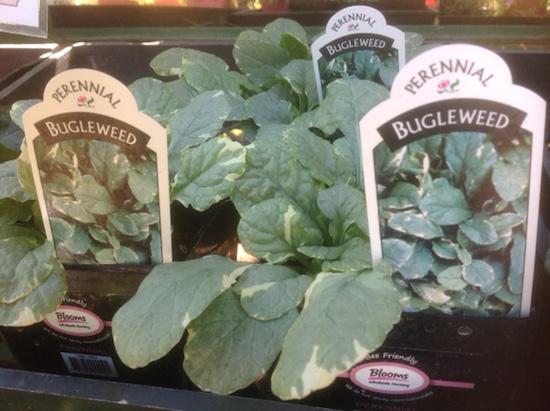 Customer Appreciation Day
Every month seems to fly by and I realize it is time for Customer Appreciation Day.  Looks like we have chosen Sat., Oct 14 fro 12-5 as the day but are sketchy on the details so we will keep you posted. Plenty of inventory at the nursery for your fall planting needs. Check out this month's specials.
October Specials
30% Off
Roses, Deciduous Fruit trees, Berries, and Grapes,
Daylilies, Hostas, all types Hibiscus, Peonies, and Rhodies
50% Off
Lamium in 4" pots
$1.00 Off Ajuga-Plant of the Month
October Newsletter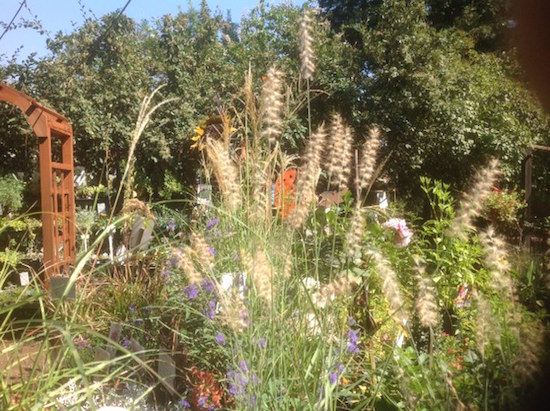 Another glorious fall season is here as we are in prime planting time now through the end of the month, assuming the really cold nights do not arrive until Thanksgiving and the days stay relatively warm. Not only that but this is the time of year a lot of inventory can be had at discounted prices as "out with the old and in with the new next year" is the mantra. The selection of cool season vegetables is peaking and the racks are stocked with pansies, violas, ornamental cabbages and the start of primroses. Still early for cyclamen.
Flowering bulbs for spring bloom are here but I would wait to plant those daffodils and tulips till the end of the month or later. It is said that tulips, crocus and hyacinth benefit from being in the refrigerator for 6 weeks before planting but I feel our winters are cold enough. However if you are forcing paperwhites or hyacinth indoors for some holiday bloom it is recommended you plant them, water them, then refrigerate the pot to get it rooting out before the tops start to grow. I guesstimate around 4 weeks and then it will take another 4-6 weeks to bloom. Do not let the pot become dry in the refrigerator. Flower forcing can be a fun project to do with young people.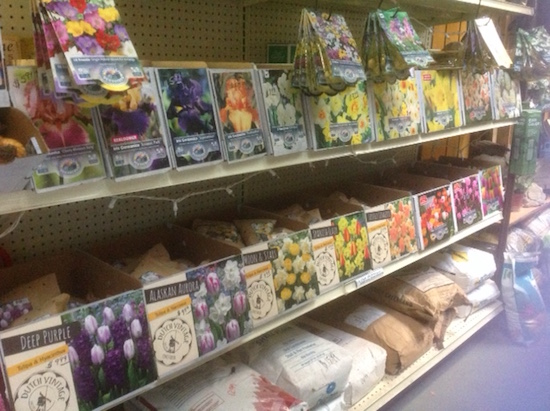 We have our fingers crossed our onion bulbs will arrive next week. Garlic and shallots are already here.You can begin to prepare for them now. Onions like a pH between 6.2 to 6.6. if you are not sure of the pH of the soil we do sell some pretty inexpensive test kits. Add some peat moss if too high or some lime if too low. Pick a sunny spot with good drainage. Only plant the bulbs one inch deep and 2-4 inches apart depending on desired harvest size. Too deep inhibits growth. Add plenty of complete fertilizer (all three numbers) with the middle number (phosphorus) being greater than the other two), Look for something close to a 1-2-1 ratio. I think our E.B. Stone Sure Start would be a good choice. After planting, fertilize frequently with a high nitrogen fertilizer like E. B. Stone Fish Emulsion with Kelp. Water regularly but don't overwater. Too much and your greens will get yellowy. Onions, chives, and garlic interspersed with your other vegetables can help deter some pests.
October is the month to apply 0-10-10, AKA Bloom, to your spring flowering trees, fruits, and shrubs. This will help with flower production in the spring. You apply now so that the fertilizer has a chance to break down to a form the plants can access in the spring.
Now is also the time of year that believe it or not, your June bearing strawberries' fruit starts it initial forming process, so make sure you feed them and do not let them dry out. Hydrangeas are another plant that is beginning to form next years flowers in those big fat buds on the side of the canes. Therefore if you are serious about wanting blue flowers you have to start treating now, Use Green-All True Blue, Aluminum sulfate, to acidify the soil. Sulfur, which is often used to lower pH causes adverse, burning effects on Hydrangeas. Although cold temps for 6-10 weeks are necessary for good bloom, improper pruning and cold injury are the biggest factors in poor flower production. Other factors that influence flower production are high summer temps and low night temps which are quite normal in our summers here.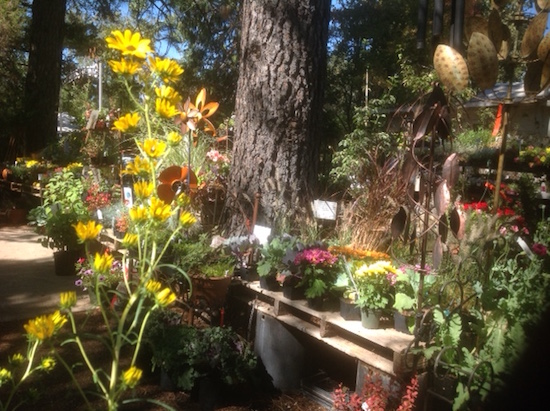 We have had several people say their summer vegetables did very poorly this year. While there is any number of factors that could have caused this I read an interesting article equating poor plant health to the rising carbon monoxide levels in our atmosphere. Of course, I can not find it as I write this, and contrary to some who think because plants breathe CO2 that they should thrive with climate change the opposite is true. It is inhibiting nutrient absorption and overall vigor. One beekeeper even suggested it was a cause of bee death as the pollen no longer contained the nutrition bees need and that they were 'starving to death'. Couple that with big commercial ag practices that deplete the soil and whose focus is throw more chemicals on as opposed to promoting soil health, we could all be starving to death on a full plate of food. Scary stuff I know but it only highlights the need for more sustainable agriculture, supporting our local growers and growing our own. Besides we will be more susceptible to illness and will benefit from the Nature Rx our gardens provide us.
I noticed some of my trees are starting to turn, namely my wild cherry plum that gets no water although the tips of one of my Chinese Pistache is showing color too. I always give a shout out every fall to some of the best trees and shrubs for fall leaf color prior to leaf drop.
Trees: Chinese Pistache, Raywood Ash, Ornamental Pear, Persimmon, Maples, Hawthorn, Gingko, Sweet Gum and Crape Myrtle
Shrubs: Viburnum, Spirea, Barberry, Hydrangea, Lilac, Crape Myrtle and Smoke Tree
Vines: Grapes and Boston Ivy