Plant of the Month
Abutilon Hybrids-Flowering Maple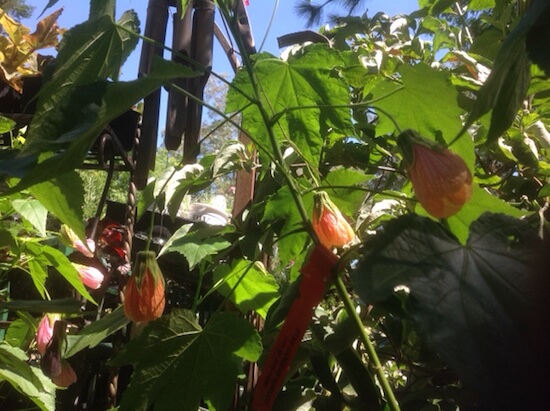 These Malvaceae family members can be grown as potted plants indoors in winter and outdoors in summer. They are borderline cold hardy for us so if you do keep them out all winter long then they will need protection and also be planted in a warm area. They grow upright up to 10 ft tall with maple like leaves and the flower color varies. The best bloomers are the yellow and white ones but the large bell shaped blooms come in pink, red and orange also. Most come from South America and good drainage is a must. They are 20% off this month and we have a variety of sizes from 4-inch to 5-gal. Limited to stock on hand.
September Specials
All Ornamental Grasses- 20% off
CA Natives- 20% off
5 gal Raywood Ash- 20% off
In house specials of plants we want to move
or feel we have too many of so look around.
Newsletter Sept 2017
Monday Labor Day Sept 4 open 10-2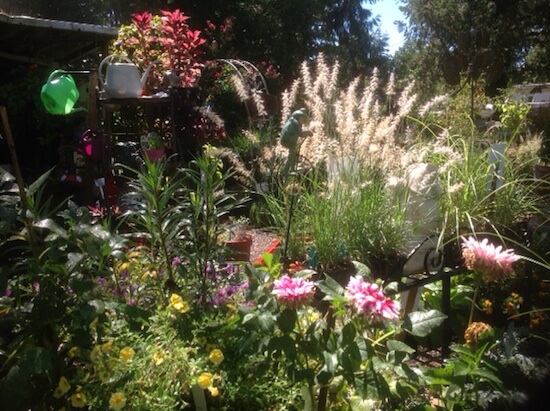 We are getting into my favorite season. I just love the warm colors and light of fall. Cooler weather prevails. At least I sure hope so and not soon enough. This summer has been brutal. I do not know if we have a hole in the ozone above us or what. It has been more than the heat. I know I am getting older but it seems to me the plants have really been put under duress this year. Is it because this is our first really hot summer since the fire and loss of all our trees? My three-year-old apple tree said enough already and just got crispy even though it gets water every day. Several people have said their vegetable garden is just getting fried in the full sun and is not producing well. Labor Day week end is going to be another scorcher. Enough already.
Has anyone else had trouble with varmints? I have always had to watch for the occasional ground squirrel but this year is ridiculous. Mice and who knows what else have been eating our vegetables. My tomatoes are half eaten just as they begin to ripen. We are using several sprays to deter them including peppermint, hot pepper wax spray, and the liquid mole max. We have not seen any snakes in the yard and nursery this year so that might be part of it. Another wicked pest we have had as a problem for the first time is thrips. These invisible to the eye critters leave damage that looks like spider mites at first but you find no webbing on the underside of the leaf. Eventually, you see some black droppings start to appear and by this time so much green has been sucked out of the leaf it gets a silvery sheen. Use All Season Oil or Cap't Jack Spinosad to control.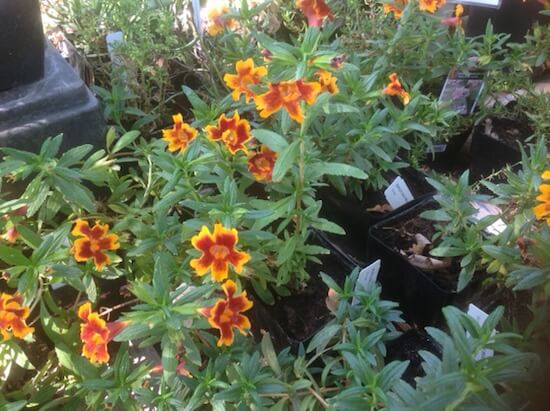 I can not stress enough how fall is the best time to plant. I know I say this every year but a plant put in the ground in fall will be twice as big by the end of next season as one planted next spring. Plants put on the most growth in spring and your newly planted ones do not have the roots established yet whereas your fall planted ones have rooted out already when the plant is not putting on a lot of growth. Often plants start going on sale in the fall too. This is a win win situation for all.
So what should you think about planting now? Trees for one. If it keeps getting this hot we all need more shade.  (See the August newsletter for a list of the benefits of trees.) Plant deciduous trees on the south of the house to let in the winter sun. Evergreens are best planted on the north side to protect you from those cold north winds and they will not block the winter sun on that side. Plant at least one deciduous tree that can give you nice fall color like Chinese Pistache, Ornamental Pear, Raywood Ash, Crape Myrtle, Sweet Gum and Red Maple. For a conifer, our best selling fast growers are Deodar Cedar and Thuja Green Giant. Cold hardy perennials, grasses, and shrubs can be planted in fall. We have a lot of varieties to choose from. Some of the shrubs that give you the best fall color before they loose their leaves are Barberry, Spirea, Viburnum, Smoke Tree and Oakleaf Hydrangea. Late blooming perennials to add some bloom to the late garden include Coreopsis, Russian Sage, Autumn Sage, Caryopteris (Bluebeard), Swamp Sunflower and of course Mums. A lot of the grasses bloom late and add a lot of interest to the garden this time of year. We have all these in stock. Now is an excellent time to plant CA. natives, including that hard to establish Matilija Poppy. One of my favorites that is in bloom now is CA. Fuchsia. (Not really a fuchsia so takes sun.) Hummingbirds love the orange red tubular flowers and it is super easy to grow.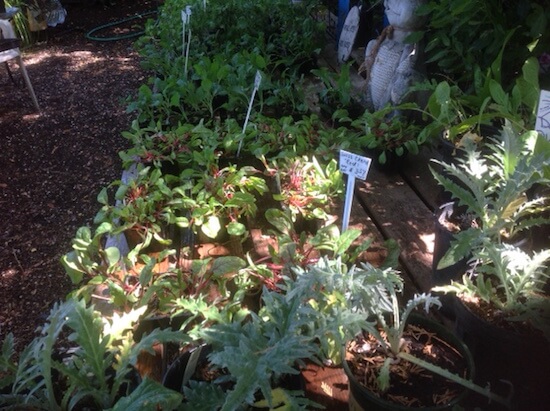 We have a nice selection of cool season vegetable starts and seeds in now. This includes favorites like broccoli, peas, and kale. Do not wait too long to plant these. You want them to be a good size before the cold weather arrives. We expect spring blooming bulbs to be showing up sometime this month. Garlic, onions, and potatoes will most likely be closer to the first of October. In stock now are calendula, pansies, violas, and snaps. These all perform well in winter if you plant early enough. Add Soil Booster to your beds before you replant.
We just received some new statuary and have restocked pottery. We have more crape myrtle trees in 5 gal pots and were finally able to get some 15 gal Fruitless Mulberry. We are attempting to keep tree and plant inventory good for our neighbors, many of whom are getting back into their new homes and need some green. This includes indoor plants and pots. Fire victims who are re-planting are entitled to a discount so do not forget to ask if you fall into this category.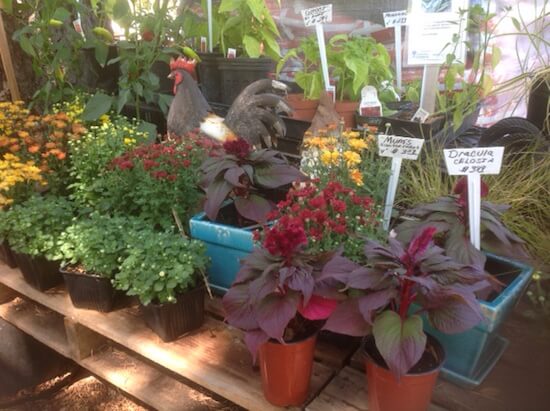 This is a good month to feed your yard, roses, lawns and fruit trees. You want to keep those roses and perennials producing color into light frost weather. Feed your acid loving citrus, blueberries, camellias, and azaleas for their fall meal with an acid food. Consider treating acid lovers with iron if you have not done so this year.
Did you know chrysantha means golden flowered and is the root of the much loved late blooming chrysanthemum? Caryopteris' root caryo has something to do with walnut. Echinatus means covered in prickles and Echinacea forms that prickly seed head. Rubens and ruber mean red and rosea means rosy. Whenever you see pumilus in the name then you know it is a dwarf form of the plant and when you see minmus that means smallest. Who says Latin is a dead language? Knowing a few words can help you understand a plant's characteristics.