Star Gardens will be closed Dec. 24- Jan 12
December Specials
25% off Gift Certificates
25% off all dry goods
25% off garden art and accessories
25% off 2018 bare-root
25% off bulbs, citrus, olives and indoor plants
25% off conifer tree and shrubs grown in CA.
50% off all other plant material deciduous trees and shrubs, perennials, annuals
Excluded from sale-Oregon grown potted and cut 'Christmas' Trees Wreaths and Garland
Newsletter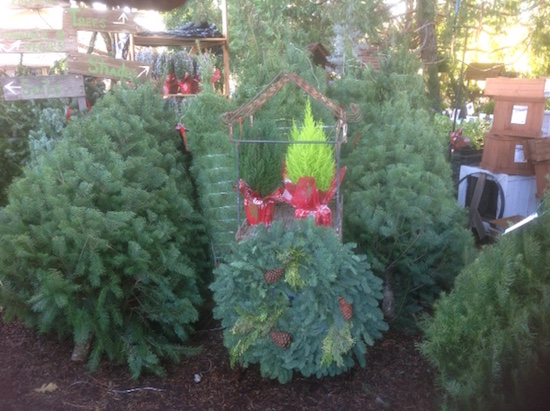 We are in the last month of the year and it is time to give thanks to all our great customers for another year of your support here at Star Gardens. On behalf of myself and all our staff wishing you all the best for the holidays and the coming new year.
First the holidays: We do have cut trees and we expect to sell out long before Christmas so you might want to get yours early even if you are not going to put it up yet. We have Doug Fir running from 4 ft up to 8 ft. Costs are $30, $40, $50 and $60. We have Nobles from 4 ft to 7 ft. Cost $50, $60, and $75. We were unable to get larger Nobles but have Nordmanns from 5 ft to 9ft. Cost $60, $75, $95, and just a few at $125. We had to find another supplier this year and were forced to find our own way to pick them up outside of Eugene, OR. A big shout out to Debbie's husband Tony and her son-in-law Steve for making the run up there so you could have them. Many of you have probably heard there is a shortage of trees this year due to planting constraints in the recession and fires.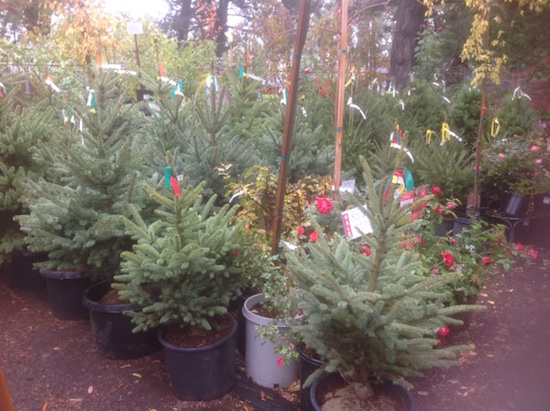 We could not get big potted living trees either. The largest living trees are 4-5 tall for the most part. We have Blue and Green Spruce, Norway Spruce, Doug Fir, and a few Noble, Serbian and Turkish. Kathy Blair is again promoting and willing to handle the distribution of any living tree you want to buy and donate back to a fire victim after the holidays.  Just bring back to the nursery and she will pick up. (We are closed from Dec 24-Jan 12 but you can leave by the soil gate and I will find it.) We have lovely small tabletop trees, garland, wreaths, points, cyclamen, and Christmas cactus too.
Looking for gift ideas? We have some of our show orders coming early to help with that. Lovely metal art from Beyond Borders and more cool vintage looking planters, garden goodies and metal seed signs from Esserhert Designs. These will be included in our year-end sale. Other gifts ideas are wind chimes, pottery, gift certificates, wind spinners, statuary, bird feeders, hand tools, rose gauntlets and bulbs-all on sale this month too.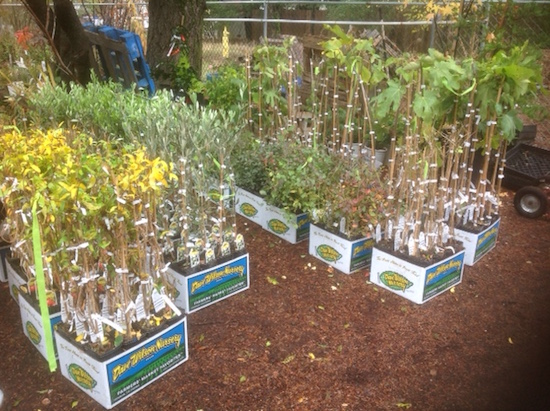 The first of the 2018 bare-root order is in. Cane berries, currants, strawberries, artichokes, asparagus in bare-root along with the Dave Wilson liner pots of olives, pomegranates, blueberries, goji and hops. We regret to say no hardy kiwi this year due to crop failure. Take advantage of them at early sale savings of 25% off in December. All 2017 fruit trees (except olives and citrus) will be half off. Since we take a three-week vacation from the nursery we ask for our bare-root to come towards the end of Jan and the roses the beginning of Feb.
We have some earth-shaking news in the nursery business. This will be L.E. Cooke's last year in business. They are a huge supplier of bare-root nursery stock here in CA so we are expecting big gaps in our 2019 and beyond tree availability. There were all sorts of factors but one of the things they cited was the number of independent retail nurseries that have closed in recent years. Dave Wilson will fill in as much as possible but we all understand you can not plant a seedling or graft bud wood and have a sellable tree the next year. Nor will they have the land to do it.
So what does the end of year sale include? Just about our entire inventory. All dry goods like garden art, pottery, fertilizers and sprays, soil, stakes, cages, trellis', arches, benches, statuary, and bulbs are 25% off. Gift Certificates are also 25% off so you get a $100 one for $75. The majority of our plant stock is 50% off, but there are exceptions. The cut and living trees from Oregon, wreaths, deco trees and garland are not included in the sale but look for the coupon that comes with the newsletter. Indoor plants including cyclamen and poinsettias are 25% of
Dry weather means colder nights so make sure your frost and freeze tender plants are protected. If we have an extended period of dryness you will need to water, especially container plants because dry plants are prone to cold damage more than hydrated ones. It is the desiccation (drying) of the foliage that causes a lot of damage. More bad news- Easy Gardener has discontinued making our favorite Cloud Cover anti-transpirant.  What we have in stock is all we are going to have. We still have the Wilt-Stop but we had a lot more trouble with that damaging the foliage on some things which is why we liked the Cloud Cover.
You can start the winter pruning at any time. Roses need to be forced into a rest period by cutting back, pruning out crowded and dead wood and by stripping the remaining leaves off the bush. If you do not, those leaves often are full of disease by the end of winter. They say to cut your fruit trees back by one-third of new growth but I usually cut back more, often leaving just a couple of buds on the new growth. I want to keep my trees manageable. Check the Internet to see if your grapes like to be spur pruned (leaving only two buds) or cane pruned (leaving 4-6 buds) on the cane. If in doubt cane prune in my opinion… It is a nice dry spell predicted so it would be a good time to start pruning and to dormant spray. We have such a short dormant season here with bare-root right around the corner and nature doing the watering that it would be okay to take a little break too.
Happy Holidays,
Star Gardens