Jan/Feb Newsletter 2018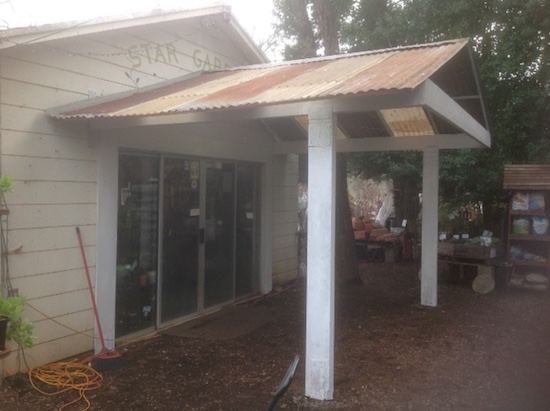 A new year and a new look to the entrance of the salesroom. We did okay with Christmas sales and are now into bare root season. Most of the fruit trees are in, and special orders have been called. That is unless your things are coming from L.E. Cooke, who has not delivered at the time of this writing. Check our website www.stargardens.biz for this year's selection. We are still waiting on walnuts, grapes, some persimmons and some of our shade trees to name a few. Crossing our fingers, we still get the fuzzless kiwi. We are hoping to turn over last year's remaining stock of fruits so they are 30% off thru Feb.
Bare root roses come the first of Feb. Again check the website for what we ordered this year. Now is the time to reserve yours if you want bare root as we usually have to start potting the roses up right away.
So what should you be doing now? Get those fruit trees and roses pruned and sprayed. Top dress with steer manure or Green-All Firmulch (the blue bag). Plant trees and shrubs that are cold hardy. Now is the time to get a jump on spring. Plenty of inventory to choose from. We have a nice order arriving this week and another next week. Not too late to scatter some wildflowers and we have a few half price bulbs left. Plant sweet peas. We have starts in and some nice mixes from Renee's Garden.
Start gearing up for your edible harvest. Plant tomato, lettuce, cilantro, basil, and if you are really game, peppers, and eggplant, seeds indoors now. Check out our selection of heirloom seeds. Get on those weeds while they are still small. Don't wait for them to take hold. Once the weather turns warm, they grow like the weeds they are. We have some asparagus pips left and still plenty of artichokes and bare root strawberries. It is time to feed your established ones. Cool season vegetable starts like broccoli and kale are available now or start your own from seed. Get your beds ready for planting with manures, worm castings, and Green-All Soil Booster.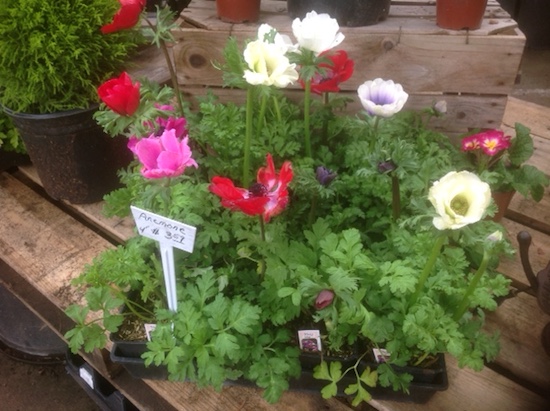 The best color to be had right now are primroses and anemones. Our pansies and violas are still in hibernation mode, but that will change shortly. Forsythia, lilacs, quince, and spring spireas are all good choices for low maintenance early spring color. We should be getting in new re-blooming ENCORE Azaleas and one of my favorite winter perennials-Hellebores. Our usual source for Daphne did not have any available but we are still on the hunt.
Most of our show orders like pottery, fairy gardens, statuary, metal art, self-watering containers, tomato cages, gloves, hoses and the like don't start arriving til mid-February through mid-March. Summer bulbs will be here at the end of February. We did a big order from Oregon this year, coming the end of February. We will have Superior White Dogwoods from them along with some Weeping Blue and Norway Spruce, White and Doug Fir, October Glory Maple, Red Oak, Persian Spire Ironwood and some shrubs that look promising.
Jan/Feb Specials
Last years fruit- 30% Off
Spring blooming bulbs-50% while they last
Get 15% Off 8 or more bare root trees
Get 15% Off 8 or more shrubs-mix and match
20% Off Plant of the Month-Dwarf Port Orford Cedar
Plant of the Month
Dwarf Port Orford Cedar- Chamaecyparis lawsoniana 'Ellwoodii'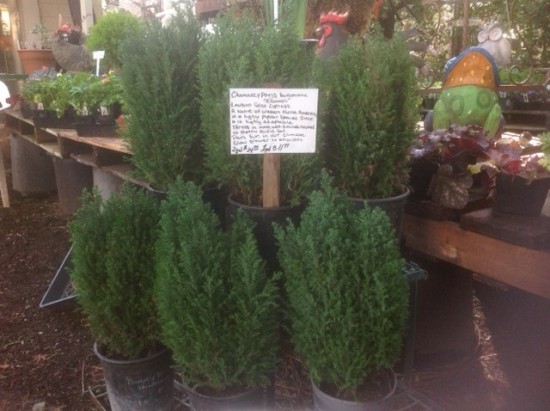 Dwarf form of the Western timber tree, also called False Cypress. These make good choices for bonsai or a shady rock garden or grow to its full size of 6-8 feet and use as an informal hedge. These will take shearing if you want a more formal look. Just don't cut back to bare wood. Best planted with some shade and regular water. Plants display juvenile foliage which is different from the mature drooping lacy foliage as it ages. These are deer resistant.