Plant of the Month
Vitus vinifera
Grapes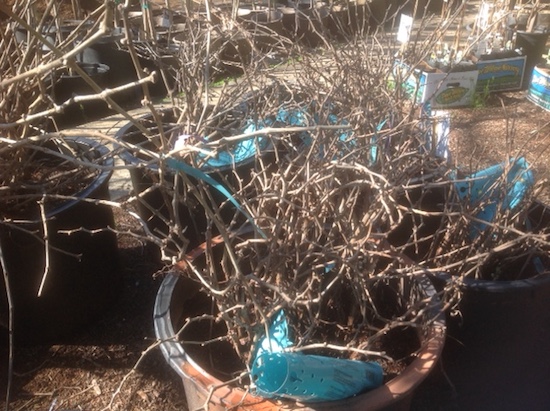 What an amazing vine. A single vine can cover a deck or terrace, form a leafy wall, or cover an arch over a walk. This vine not only offers us shade with its vigorous yearly growth and large leaves, colorful fall foliage, canes for baskets and wreaths but fruit for fresh eating, juice, preserves and wine. Shouldn't we all have one or a few in our landscape. They are still available bare root for a bargain price of $5. Once potted they will go up. Here are the varieties in stock now:
Blueberry: New to us this year. A blue-black seedless variety.
Black Monuukka: Seedless purpulish-black in large loose clusters. Medium size fruit, crisp sweet flavor. Fresh or raisins.
Flame: Seedless red, medium size fruit with firm flesh and good to eat.
Perlette: Large, green and seedless, crisp and juicy.
Ruby Seedless (AKA King Ruby): Heavy producing medium size red for fresh eating or raisins.
Thompson Seedless: Medium size leading raisin variety or eat fresh. Also used for wine.
Announcements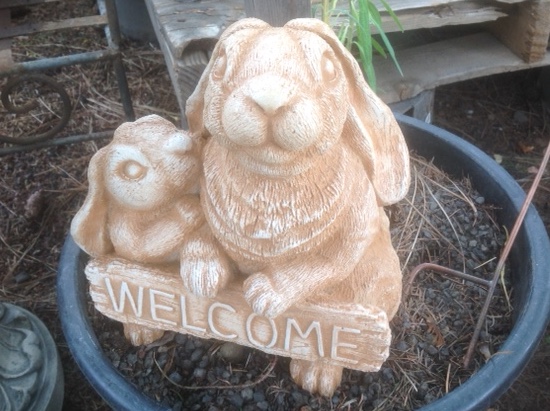 CLOSED EASTER SUNDAY
Save the date: Saturday April 28th 9am-2pm-Annual Sharp Event
Ron will be here to sharpen your mower blades, shovels, hand tools and scissors
April Specials
Green-All 2 cu ft Potting Soil-Buy 3, 4th FREE
Buy 12 4" perennials and get the 13th FREE
Buy 7 6-packs of flowers or vegetables and get the 8th FREE
Once we have to pot the grapes- Save $2.00 off reg. price
April Newsletter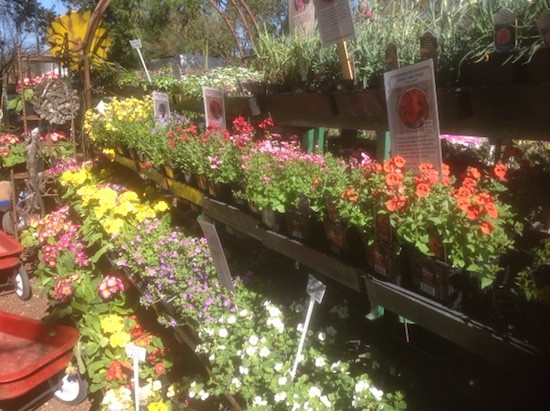 The sun and heat arrived today and zapped us at the nursery. We went home with sun-kissed faces and heat drained bodies. It always takes a few days to adjust. I guess it is time to seriously think Spring might be here. The fish were very active today, reminding me I better get in the pond to cut back last years growth on the vegetation and to put new netting up now that it is warming up.
First an update on the weed I call London Rocket. The correct common name is Little Bittercress. The scientific name is Cardamine oligolsperma. For your information, UC has a great website with a weed gallery at ipm.ucanr.edu. Thank you, Beth, for educating me. She told me one of the common names was firecracker plant or weed but when I googled firecracker weed all I got was how to make firecracker marijuana, whatever that is.
What to do in April, besides weeding? If you have not fed your plants yet now is the time. Plants put on their biggest growth spurt in Spring. Time to start thinking about protecting the trunks of young trees with tree wrap and getting a good layer of mulch down around the roots. Get Coddling Moth traps for your apples (and pears). 2 per tree can be an effective control or 1 per 8 trees to monitor. A good rule of thumb if you are going to spray (something like neem) would be when the fruit is dime, nickel and quarter size. Aphids will be arriving, and we do have lady beetles. Monitor the night time cold temperatures and cover your new tomatoes and other summer vegetables if you are planting them this month. The Wall-O-Water works great for tomatoes if you want to get that early start. You fill them with water, and that keeps the plant warmer, and they are re-usable.
Summer blooming bulbs are here and this and the next month are the best time to get them planted. Texas Super Sweet and Red Candy Apple onion transplants are available now. We still have some seed potatoes and bare root strawberries. We are starting to get in peppers, tomatoes, and basil but it is still early. Should have some squash soon. Remember that cucumbers, melon, and basil are very susceptible to cold feet at night and it is better to wait until May to plant them. We are stocking up on petunias and calibrachoas (they take light frost), but it is still too early to safely plant zinnias and marigolds. As a matter of fact, the nursery is teaming with plant life. The racks are full of fresh 4 inch perennials, including sages, gaura, coreopsis, and gaillardia, all good choices for our climate with extended bloom times. Our little greenhouse is full of Supertunias, Callies, Lantana, Scaevola, hanging baskets and planted mixed containers that we are growing out from plugs but won't be ready for a few more weeks. The warm weather will help.
I thought I would talk about the order we received from Sester Farms out of Oregon. Some of the selection are things we have not had here at the nursery before. Look for the First Prize hang tags to check them out. First off I will mention we have the October Glory Red Maple in a #5 container. This is the maple that I have in my yard if you have ever seen it in fall when it turns red. A real show stopper. We also have some Parrotia persica 'Persian Spire'. This is columnar so would be a good choice for a tight space, is fast growing, has a purple tint to the new leaves and the fall foliage is outstanding. Also in stock for you mountain people are Quaking Aspen Clumps. For the Oriental look or conversation piece, we have small Weeping Blue Spruce and Weeping Norway Spruce. The dwarf Mugho Pines are really nice and would work in any style landscape.
For shrubs, we received a nice selection of Arborvitae. They are moderate growers but make a good dense evergreen screen hedge, are easy to grow and are fairly deer resistant. The 'Fairy Lights' one is golden tipped when the new growth emerges. The 'Virginian' takes the heat and is a Western Red Cedar cross. Plenty of the standby 'Emerald Green'. Check out the color of the foliage on the 'Blue Princess' Holly. Unfortunately, to get berries we need the 'Blue Prince' and we do not have it but still a pretty, deer resistant shrub that will flower. We ordered the fantastic Hydrangea paniculata 'Vanilla Strawberarry' as I have not been able to find it locally. This produces yummy smelling white and pink flowers and are a much better choice than Hydrangea macrophylla for our climate. Have you ever seen the enormous flower on the 'Incrediball' Hydrangea from Proven Winners? Up to foot wide huge balls of white flowers on this Hydrangea arborescens, common name Smooth Hydrangea.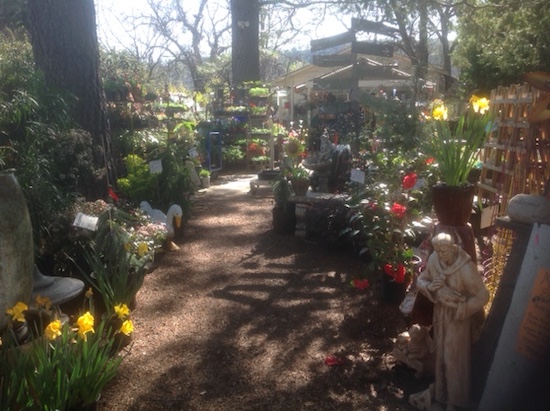 How about some dual purpose shrubs? The following all produce an edible berry along with being landscape plantings. We have not seen Cranberry Bush, Viburnum trilobum lately so we ordered 'Wentworth'. This produces large red berries that are used in preserves and has beautiful fall foliage. Another edible landscape shrub we have never had before is Serviceberry. Lovely new foliage with drooping clusters of flowers that produce a blueberry-like fruit used in pies and preserves and nice fall foliage. They are native to Canada and the mountains of the west and my Canadian relatives call it Saskatoon. Another choice for the edible landscape is Aronia melanocarpa, Black Chokeberry. The spring white flowers are followed by quite showy blackberries and are a superfood, rich in antioxidants and Vitamin C. The fruit is sweet when ripe but astringent. Use in juices, wines, and jellies. This shrub also has good red fall foliage and can grow in wet or dry soils.
Our fairy garden selection has not arrived yet and we are starting to get worried. We have a call into the supplier to find out what is holding it up. Plenty of garden art and colorful pottery to be had, along with terra-cotta, smart pots, and durable self-watering pots. (Don't let the name fool you. You still have to water.) It looks like the Persian Lilacs are starting to bud and there are a few Common Lilac left in bare-root. We are holding off on potting all the fruit trees, CA Redbud and grapes in hopes people will still be in wanting to save on bare root, but if the weather holds we will have to finish potting them up.