Plant of the Month
Heuchera varieties and hybrids
Coral Bells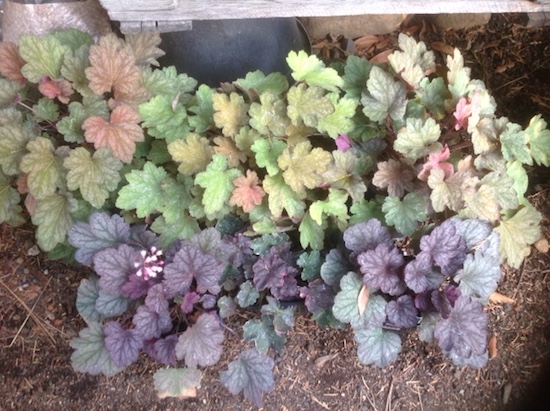 We don't often have plants that tolerate a shadier spot as our plant of the month, and this one is a real beauty. The new introductions are grown more for their foliage than the flowers, making it a perfect addition for your fall and winter containers where it is difficult to get color in the coldest, darkest part of winter. Greens with silver, dark purple to almost black, oranges, coppers, reds, two tones, red-veined, and lavender are all leaf colors that brighten and add beauty to any container. This time of year you could even put in a sunny location, and they will be fine, but in summer morning sun or bright shade is best with fairly rich soil. The foliage is typically rounded with scalloped edges. The wiry-stemmed little bell-shaped flowers appear in spring or summer and make good cut flower arrangement additions. These beauties are quasi-deer resistant. If you really need deer resistant then choose the large growing purple leafed Ca. native Heuchera micrantha or the smaller growing green leafed Heuchera Canyon Series.
A lot of these fancy Heucheras are still under patent so the cost for a 4-inch pot is higher than normal. Take $2.00 this month. Perhaps that will help if you have found them cost prohibitive.
HOLIDAY HOURS
Sept 1 & 2- Open 9 am – 5 pm
Sept 3, Labor Day – Open 10am – 2pm
FIRST FRIDAYS
September  7th, 5 – 8 PM
Come see us at the nursery w/local artists,
live music and yummy Ethiopian food for sale
(this is the last one for 2018, events all over town)
CUSTOMER APPRECIATION DAY
MARK YOUR CALENDARS FOR SATURDAY SEPT. 22
DETAILS TO FOLLOW
Specials-Refreshments-Freebies
and more
SEPTEMBER SPECIALS
All Deciduous Fruit in stock- 30% OFF
(Trees, vines and bushes)
Beautiful Blooming
Hibiscus, Roses and Crape Myrtles- 20% OFF
Other deals available on the Bargain Table
September 2018 News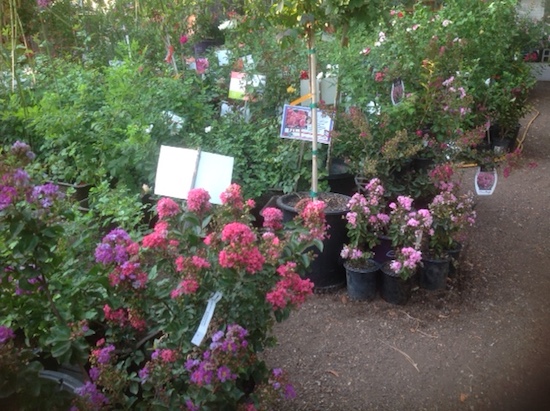 What a smoky month we have just had. The light quality and probably the heat with no water has tricked some plants into early dormancy. Things were pretty slow at the nursery in August, so we are looking forward to things picking up with cooler weather, shorter days and the new seasonal planting. The nursery is looking good with lots of colors. The roses are coming out of their summer doldrums, the Crape Myrtles are in show, and lots of our regular perennial stars are blooming away.
The plentiful Salvia (Sage) family is typically one of the stars of this time of year. Salvia greggii and its hybrids are known as Autumn Sage and really look their best in the months ahead. These sages come in just about every color, including white and pale yellow, red, pink, purple and blue. There is one for every color scheme you might have in the garden. Hummingbirds are attracted to them, along with butterflies. Add to it that they are deer resistant and fairly drought tolerant once established, and you have a winner.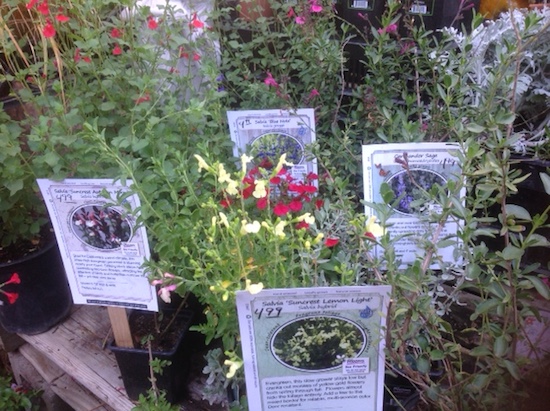 Need a long blooming big shrub for sun? As long as deer are not an issue consider planting Hibiscus syriacus, aka Rose of Sharon or Shrub Althea. They grow to 10-12 ft tall and 6 feet wide, looking like a giant hollyhock when in bloom. They love heat and are somewhat drought resistant once established. They lose their leaves for winter, and that is a good time to cut the years growth to two buds to keep them looking full. They are a great choice for most garden styles but are definitely a winner if going for a cold hardy tropical themed garden.
Looking for a not so typical evergreen screen hedge? Try dense growing Osmanthus fragrans, aka Sweet Olive. These deer resistant moderate growers reach to ten ft or more and have small fragrant white flowers in spring to early summer. They like pm shade in hot climates and are fairly drought resistant once established.
Sunset rates them to zone 8 and needing some winter protection in zone 7, which is one reason we have not carried them before. The warmer areas of our county should be okay though or even in a warm spot in your yard. If you are in the low lying terrain or higher elevations you should consider protecting them.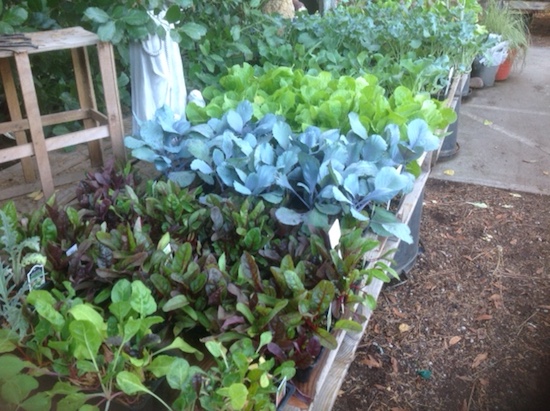 Are any of you Orchard Supply shoppers? Just read in a trade magazine that the parent company Lowes is planning on closing them and streamlining what Lowes offers down to their best sellers. Just another example of big companies buying previously well run companies and failing to keep them profitable. One more choice to buy your plants disappearing. This effects the nursery industry as a whole. Will the wholesale companies who provided for them be forced to sell or close? Add to the equation the reality that fewer and fewer young people are entering the horticulture industry. All the more reason to support your independent nurseries offering a broad selection of plants, not just the ones with high turnover and better wages.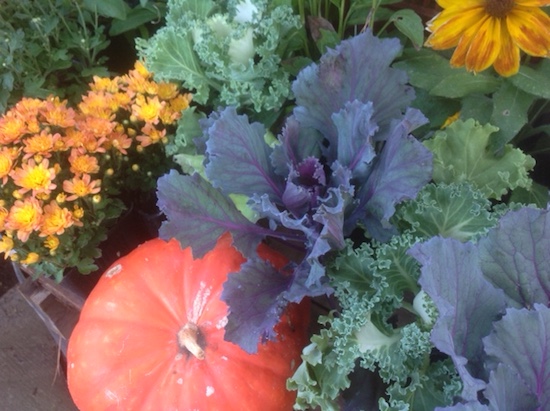 By the end of this month, the nights will be longer than the days. Fall planted spring flowering bulbs are due in Mid-month along with onion and garlic sets and potatoes. I know a lot of you have been asking about onions and garlic already. Please be patient. This is the earliest our organic supplier in Washington state ships. We have a nice selection of fall vegetable starts and seeds appropriate for planting now. It is recommended to get them up to size and established before the winter cold comes if you plan to eat out of the garden before early spring. We can help with the selection if you are unsure what to plant. Violas and pansies are back, along with primrose, poppies and winter daisies. Ornamental kale and cabbage, a fall favorite, are in stock now. Fall is the best time to plant sweet-peas from seed for spring flowers, and we have a nice selection of early and late blooming varieties. Don't forget to replenish your soil before you plant with E.B. Stone Soil Booster for annuals and EB Stone Firmulch for longer-lived plants.
September is the month to feed your acid-loving plants, like citrus and blueberries. Azaleas, Camellias, and Rhodies should be fed one more time now. It is recommended not to feed them in the winter as buds are forming or during bloom as this can shock them (especially true with chemical fertilizer) and cause bud drop.
Speaking of fall planting, every year I say this should be one of our busiest times. Why do you ask? Cold hardy trees, shrubs, and perennials planted now will have a head start next spring, growing twice as big by the end of next year as ones planted next spring. They are easier to establish because top growth has slowed, but root growth continues in the months-long warmed soil. In spring it is just the opposite. The soil is still cold, and the tops are putting on a huge growth spurt. Less watering and year-end sales save on the pocketbook too. Take advantage of the best time to plant in California and sit back next spring to enjoy.
One thing to look out for is the return of powdery mildew. A few of the plants that are susceptible are Dahlias, Scabiosa, Coreopsis, Calendula and of course roses. Spray with Actinovate or other fungicides. You can make your own with a little dish soap and baking powder in water. Aphids also return with cooler temperatures.