July Newsletter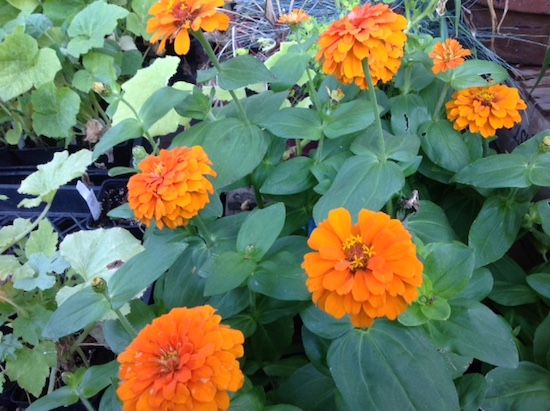 Please note: We will be closed on the 4th of July.
We are headed into the most stressful month for plants. The days are long, the sun is strong and the temperatures are high. July is the month with the highest evapotranspiration rates of the year. This is the rate at which plants lose moisture not only through soil evaporation but also moisture loss through the leaves called transpiration. In other words, they perspire just like us. Ways to combat this are watering deeply and mulching heavily but try to keep lots of flammable mulch away from the house. We used to be able to get Cloud Cover, a spray that would help hold moisture in but we do have Wilt-Stop. This is made of pine resin but I believe it is best used on conifers and tough evergreens. Our roses reacted very badly to it last year so it is not for everything.
On the plus side, this is the month Crape Myrtles, Hardy Hibiscus and Rose of Sharons start putting on their summer show. Most of you are familiar with Crape Myrtles, the trees and shrubs that are covered in blooms of white, purple, pink or red, but not everyone is familiar with Hibiscus syriacus, otherwise known as Rose of Sharon or Shrub Althea. These are very showy, easy to grow, like heat and will tolerate some drought once established. Blossoms can be single or double. Newer selections like 'Minerva and 'Aphrodite' set few seeds but some of the older varieties like 'Blue Bird' and 'Red Heart' can produce quite a few seedlings. We have some standards that would make a lovely small tree for you. Otherwise, they grow to large shrubs up to 12 ft. tall and at least 6 ft. wide. They do lose their leaves for winter, but if you are looking for a large, showy, long-blooming shrub or small tree away from deer this could be your ticket.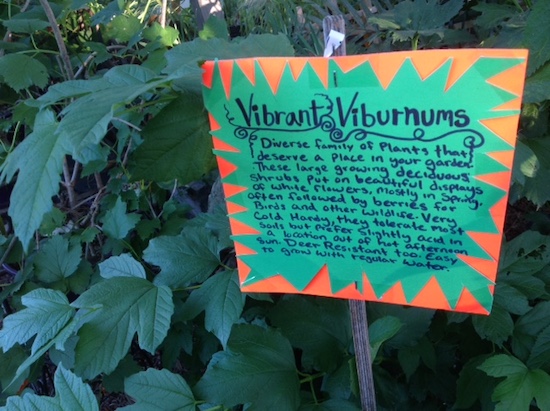 Check out our selection of deciduous Viburnums this month. We have several varieties to choose from. If you have ever looked them up in the Western Sunset Guide then you know there are quite a few different varieties. One of the better known is Common Snowball with the huge hydrangea like white flowers in spring. I really like Doublefile Viburnums like 'Summer Snowflake' for its ability to bloom several times and the layered look of 'Mariesii'. Need one with showy berries? Try the Cranberry Bush. Need a smaller growing variety? Try Blue Muffin or Newport Dwarf. Viburnums are on the deer resistant list, attract butterflies and birds, and can give hints of fall foliage color. They are best in a part sun location here but will tolerate full sun if given water.
Speaking bees now. They are very busy at the nursery's Squash Mountain. Squash Mountain is our compost pile where we toss old plants, but also old pumpkins, gourds, and squashes from which plenty of interesting cross-pollinated plants start to grow in the spring. It really is quite impressive and the bees are loving all the squash blossoms. But if you really care about bees and not just the imported European Honey Bee then the best thing you can have in your garden are native plants. If you have none, maybe now is the time to make room for some. Most of you are familiar with Manzanita, Ceanothus, CA Poppy and Redbud, all spring flowering, but what about the rest of the year? One of my favorites is CA. Fuchsia. These orange bloomers perform from late summer into fall and are fairly easy to grow requiring little water once established. Other perennials to consider are spring blooming Penstemon heteropyllus and summer blooming Monkey Flower and Monardella.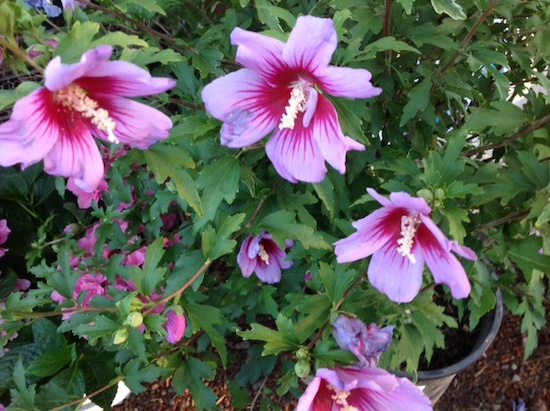 So what should you be doing in the garden now? We are putting our vegetable starts at half price and there is still plenty of warm weather left to get harvests of tomatoes, beans, cucumbers, and squash in August, September, and October. Its time to do that summer pruning on your fruit trees to keep that fruit forming low and pickable. Just make sure you don't open the tree up to too much hot summer sun. Prune cherries and apricots after you harvest to avoid doing it in winter when it's so easy to introduce a detrimental disease to them. Now is the time to feed Rhodies, Azaleas, and Camellias again. Keep feeding your Citrus monthly. Remove the spent blossoms from your roses and flowering perennials. Keep them healthy with EBStone Rose and Flower food. Remember that correctly watered and fed healthy plants will do better in times of stress like if PGE turns off our power for several days, we are on vacation and our irrigation is not coming on.
One way to avoid the inevitable power shut off is to plant drought-resistant plants. This is different from drought proof like our native landscape that survives with no water all summer long. It is also different from waterwise, which means the plant requires less water to grow than others. Drought resistant means that it can handle periods of no water without suffering too greatly. How long it has been in the ground will also affect how well it survives a week without water. A newly planted plant, no matter how drought resistant it will be, is unlikely to take that abuse. Get those roots going deep as quickly as possible with correct deep watering. Hand watering typically only gets the top two inches of soil wet if you are lucky. If that is your way of hydrating your plants then its time to check how far down the moisture is reaching. Do you have a plant that is just sitting there and has not grown since you bought it? Chances are it is not getting sufficient water for growth. Feeder roots don't grow into dry soil and if the roots are not growing then neither will the top.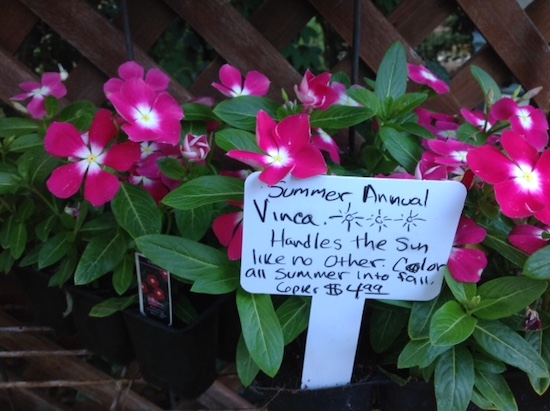 The nursery is full of great things. New arrivals include annual vinca, a no maintenance, dear resistant heat-loving annual just made for Lake County. Blooms Wholesale Nursery's beautiful 4-inch zinnias are available now. We just got in some Chinese Foxglove, Lamiastrum-a great deer resistant ground covering perennial for shade, a native milkweed, Silene uniflora-perfect for the moon garden, and the ground morning glory Convolvulus – great in hanging baskets, window boxes or in the ground. To top it off a plant I had never heard of before, Falkia repens. It's a low growing South African native and the tag says hardy, reliable, fast growing and low maintenance. It very cute with small dark green leaves, large white flowers and good for edging or between stepping stones. Sun or part shade. Just can't find how cold hardy is 'hardy'.
July Specials
Summer vegetable starts while they last-Half Off
Summer bulbs while they last- Half Off
Green-All Shredded Cedar Mulch- 20% Off
Deciduous Viburnums- 20% Off
Rose off Sharons- 20% Off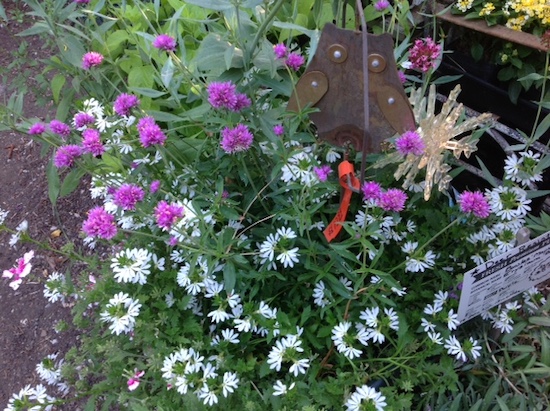 Plant of the Month
Gomphrena pulchella
'Truffula' Pink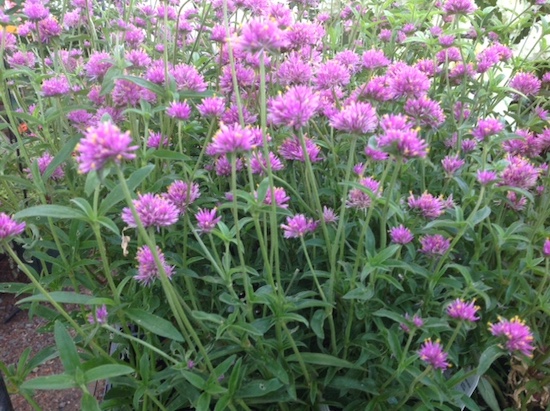 When I saw this plant in the Proven Winner catalog I just had to get it, even though they claim it is only hardy to 30 degrees. Long blooming, no deadheading required, heat and drought tolerant sounded too good to pass up. They can grow to a foot to a foot and a half tall with a mounding habit. Average water and some regular fertilizing are suggested for best results. Great in containers or in the ground in full to part sun. We grew these in 4-inch pots and they are $1.00 off this month.