August Newsletter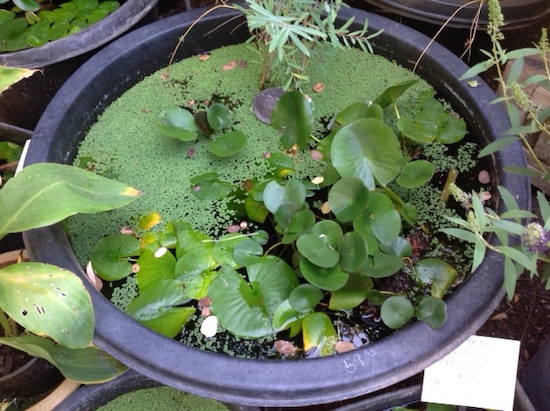 As more and more of the natural landscape is being developed for housing and agriculture, it is becoming vital that we create and maintain natural and healthy living spaces in our own yards. A lot of you have been concentrating on bees and butterflies and their decline, but what about amphibians? Amphibians are in decline and are just as susceptible or more so to chemical fertilizers, pesticides, herbicides, fungicides and other pollutants of modern life. Chances are if you have amphibians in your yard, it is an indication that you also have a good place for attracting bees, butterflies, bats, and birds as well. Ever hear the term 'Frogscaping'? Here are some tips on how to encourage frogs and toads in your 'backyard habitat.'
Water is the best frog attractor. Establish a backyard water garden full of aquatic plants and no fish. Still water is considered the best, not fountains or fast-moving water. These gardens also provide water for bees, birds and other beneficials. Even gently sloping water vessels can provide the moisture these creatures need. We always get frogs and tadpoles in our prefab pond containers. We have the small mosquito fish in there, and I believe these are an exception to the no fish in the pond rule. Leave them to nature by not using chemicals or cleaning them. It is okay to let leaf litter go into the water feature. Have cover plants nearby to provide shade and shelter. Install a toad house or two. Upside down broken pottery works and you can even buy 'toad houses.' Keep predators away if possible, including cats and dogs.
Avoid using chemical herbicides. Direct contact with Round-Up spray can kill an amphibian within an hour. Use organic methods like soap, essential oils, vinegar, and corn gluten. Weeds can also become scarce with mulching and good old fashioned hoeing. Use fast-growing annuals like alyssum to cover bare ground. Some plants are allelopathic and can suppress weeds. These include Manzanita, Salvia leucophylla, Salvia apiana and Artemisia californica. Plant hardy natives like Ca poppy, Clarkia and other annual wildflowers that compete well against other weeds. Heck, plant more natives in general because they are the best for the native bees and other beneficial insects. They are more likely to be resistant to diseases and insect infestations too. Keep insecticide use to a minimum. Insecticides considered safe for amphibians include BTI Mosquito Dunks for water features (kills the larvae), Bt for caterpillars, ant traps, insecticidal soap, and neem. Bacillus subtilis, marketed as 'Serenade' is a safe fungicide. Rethink your choices for pest control around your house. Do you have a commercial service that sprays around your house for ants, spiders, termites, etc.? Check with them to see if what they use is toxic to beneficials. Quick-release chemical fertilizers should be avoided along with any chemical runoff from your lawn, driveway, and yard into local waterways. Use drip irrigation for trees and shrubs. Let's all do what we can to create, protect, and preserve a healthy environment for ourselves and others.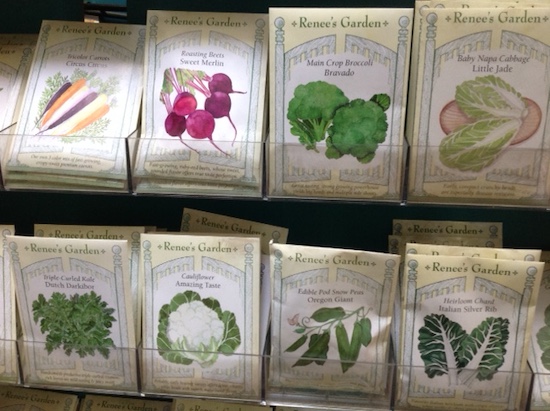 Okay, enough about frogs, what should you be doing in the garden in August. Feed roses, flowers, fruit trees, citrus, and your vegetables now that the days are getting shorter and the sun is not as brutal. We just cut back and fed our containers and hanging baskets to regrow and look good through October. Remove those spent blooms from your flowers to keep them producing flowers, not seeds. Start thinking about your winter garden. Fall seeds are on their way, and we have begun stocking some of the brassica family starts. You know the ones… broccoli, kale, cauliflower, etc. In addition, we have some peas, chard, lettuce, and asparagus. Garlic should come next month, but we will not have onions bulbs till October.
Fall planting time is just about here. Nice fall accents and containers include succulents, grasses, echinaceas yarrows, zinnias, marigolds, and rudbeckias. The coleus and coral bells are looking good for a shadier spot and who needs flowers when their foliage is the main attraction. Some perennials do not bloom till late summer and fall. These include Asters, Mums, Swamp Sunflowers, and Dwarf Plumbago. Other perennials like Salvia greggii have the common name Autumn Sage, and that's when they really look their best here. The Crape Myrtles are super colorful right now. We are restocking terracotta pottery this week and starting to get in some pansies and violas. Best selection on these long-lived and cold-hardy 'annuals' is in the fall. They can stretch with hot weather, and the flowers will be smaller, but you can cut them back if needed. Pansies and violas are a super choice for some color in winter, but they are not deer resistant. We finally have snapdragons after not being able to get them this spring. These are also 'annuals' that do well here, tend to live for a few seasons, and typically the deer leave these alone.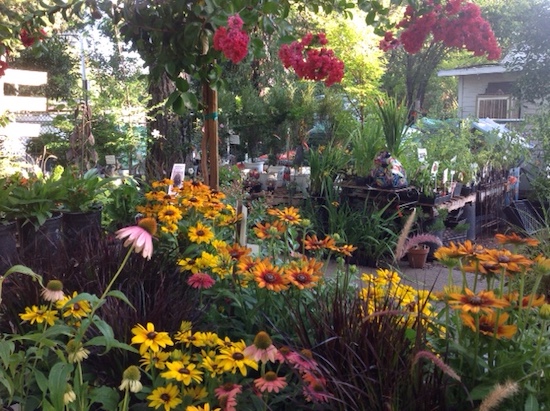 Things have slowed down for us in the heat and back to school shopping has begun. Just watering takes a lot of our time and energy this time of year. I was able to take a week off, Deb is off right now, and as soon as she gets back, Chels is taking some time off. Still, we are managing to catch up on a few things.
August Specials
20% off 4-inch perennials including Asters
20% off CA Natives
20% off Azaleas, Camellias, and Rhodies (limited to stock on hand)
Featured Plant of the Month
Asters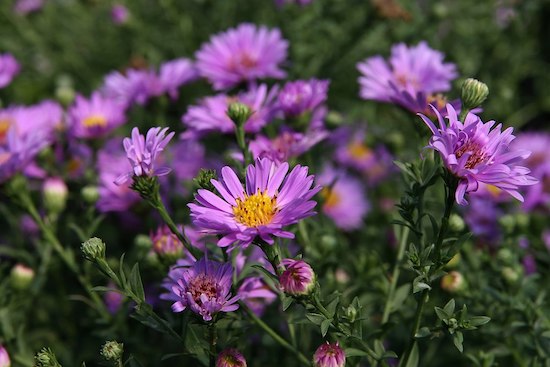 Surprisingly, we don't sell a lot of asters but we should. Mostly, we offer hybrids of Aster novae-belgii and Aster novi-belgii, but there are more than 600 species of Asters. A. novae-belgi is known as the New England Aster but its native range stretches from Vermont all the way to Wyoming and New Mexico. Plants grow to 3-5 ft tall, and the 2-inch flowers are naturally violet blue but are available in whites, pinks and other shades of blue and purple. A. novi-belgii is an Eastern U.S. native, common name Michaelmas Daisy; also blue in color, growing to 4 ft tall. Other selections of the variety give you more range in color and heights ranging from 1 ft to 4 ft. These late summer bloomers are hardy in all zones of the United States, even Sunset Zone 1. Asters make good cut flowers for arrangements and attract adult butterflies. The more established they are, the longer the bloom period. Some Asters like A. x frikartii Monch bloom all season but tend not to be long-lived. Asters are adapted to most soils but will really spread in moist ground. They are deer resistant and can handle full sun and moderate water.