Important Dates and Upcoming Events
Labor Day Weekend Hours – Open Sat and Sun 9-5, Mon 10-2
First Fridays- Nursery open late – Sept 7th
How to Train Your Dragon- MAMA Free Movie in the Park – Sept 14
Customer Appreciation Day!!! – Sept 21

September 2019 Newsletter
Summer has rocketed by and Labor Day weekend is upon us. Darn though, we are still seeing some very hot days. Fall is one of my favorite times of the year due to the golden hues of the light and fall foliage colors. Our nursery compost pile affectionately dubbed Squash Mountain has once again produced a bunch of pumpkins and gourds to decorate the nursery. Cool-season veggie starts and seeds are here (if the weather would just cooperate) and so are iris bulbs. More spring-flowering bulbs are due to arrive this month along with organic garlic bulbs and onion transplants. (Sorry no onion sets, at this time, are on order for fall. Our supplier is going through major changes.) Look for these in mid to late Sept. No fall potatoes from our usual source but we will keep you posted when we get them in, hopefully around mid-October.
It's time to do one last feeding of your roses and perennials and feeding your fruit trees in late summer does not hurt either. For spring flowers next month is the time to put on the bloom food 0-10-10, but a complete (that means nitrogen, phosphorus, and potassium, the three numbers on all fertilizers) can be applied early in September if you did not do it already. Keep feeding your citrus and time to feed your acid lovers again like blueberries, gardenias, azaleas, camellias, and rhodies. Fescue lawns like to be fertilized spring and fall so time to feed your grass again. If you are thinking of seeding a lawn or rejuvenating your existing one, next month, October, is a prime grass seed starting month.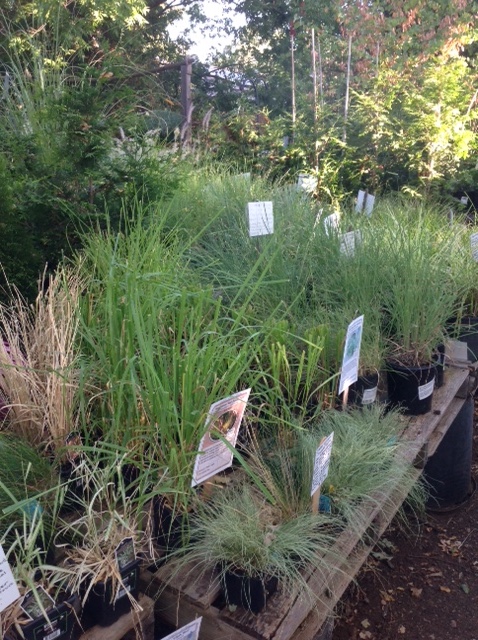 We are in that in-between time. Too early for lots of cool-season annuals and too late for summer annuals. Violas and pansies are available again and we do have some in but last weeks heat took its toll. They tend to stretch in the heat and the flowers are smaller than they will be when the weather cools. Ornamental grasses are coming into some of their best months. The Black-eyed Susans aka Rudbeckias are awesome. Succulents are popular all the time but especially in fall. The Autumn Sages often look their best this time of year and we are expecting them to shake off their summer doldrums and start flowering in earnest once more.
We have a good selection of 4-inch garden mums for instant color and if you have a garden plan that includes them now is the time they are available. If you love nasturtiums it is our opinion they look their best in the fall in our climate. We have some 6 packs in and they will give you some color before the freeze. We still have quite a few roses and fruit trees with more on order for next year so its time to start specialing them. The Crape Myrtles still have lots of colors and unfortunately some aphid honeydew as well on some.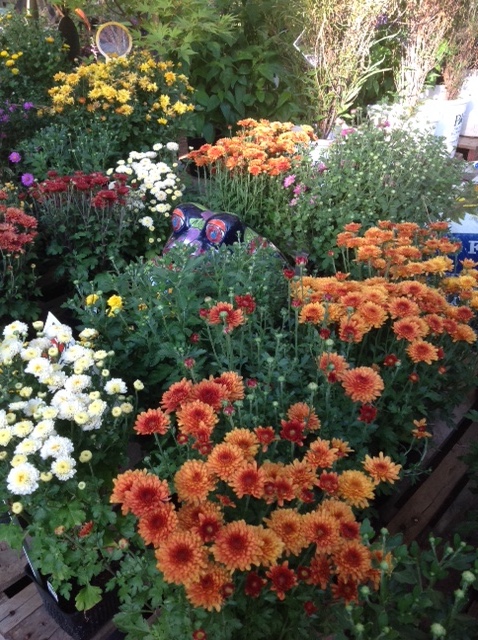 We recently received a small iron order that includes the fancier iron baskets, hummingbird hooks, and the popular umbrella bird feeder among other things but are disappointed they did not have a lot of what we wanted. A cement order has been placed and since it is all made to order it usually takes a month or so before we get it. Keep your eye out for birdbaths, statuary, and cement water bowls.
Star Gardens will be open late Sept 7th for First Fridays and we will not be participating in the last one in October. The nursery is especially lovely in the evening and we invite you to stop by and check out some of your local artists. (Christmas will be here before you know it.) Customer Appreciation Day is on for Sept 21st and Ron will be here to sharpen knives, scissors, and clippers from 9-1. No mower blades or axes due to fire danger from sparks created during the grinding process. Expect refreshments, freebies and good specials so come celebrate the Equinox and our 15th anniversary. More info to follow as we get closer to the date.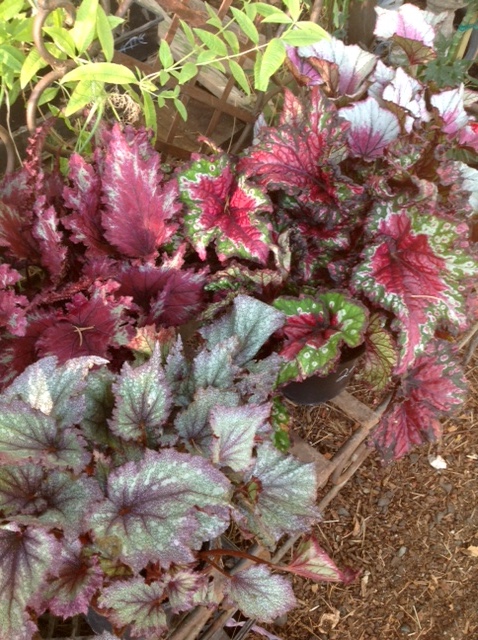 Most of you are familiar with my dogs. You know the ones, quirky around little people and known to be scary if they come running in full bark mode. (To date they have never harmed anyone.) Just wanted you to be aware that Shep, the smaller younger collie has lost his hearing. He won't hear us call him or know you are coming if he does not see you and if he's sleeping in the salesroom its best not to step too close till he is aware you are there. I have tried stepping over him only to have him startle, jump up and nearly knock me over. He is only 5 so we are a little shocked and sad this has happened so young to him.
September Specials
20% off deciduous fruit trees
20% off Roses
20% off Artemisias
20% off Ornamental Grasses
Plant of the Month
Artemisia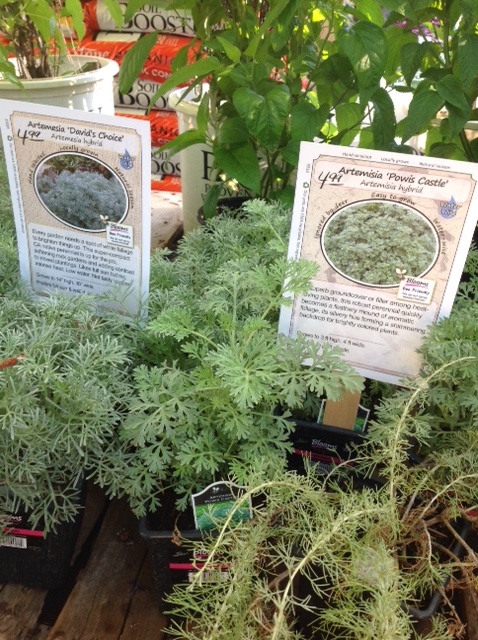 This genus has many varieties useful in the landscape and I thought it was time to give it a shout out. They add interest to any planting with their silver foliage and lacy to frilly leaf patterns. They typically require little water and are deer and gopher resistant. Grow them in a sunny location with good drainage mixed with blues, purples and pinks although any color is okay. They add interest in the winter when most plants are bare or just green. Woody types look best if cut back before new spring growth appears. A few varieties go completely dormant in winter like, surprise, French Tarragon, Artemisia dracunculus.
Other commonly known varieties include Artemisia absinthium, a woody perennial and yes Absinthe liquor is made from this plant. A. abrotanum is lemon-scented and used to discourage moths in closets. Medicinal Mugwort is an Artemisia along with Western Sagebrush. One of the most famous varieties is 'Powis Castle'.
It can get quite large, 3ft x 6 ft so beware but not as big as Western Sagebrush which can grow to 10 x 10. Compare that to A. stellerana that looks so delicate and only grows a foot tall and goes dormant for winter.
We have a few varieties in stock at this time and they will be 20% off this month.