October Newsletter 2019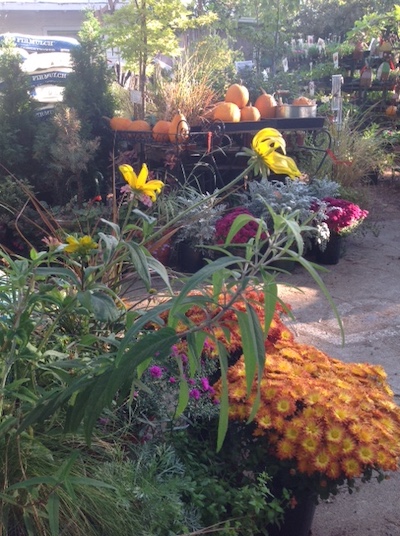 We have had a few nights of temperatures into the 30's so I am officially saying fall is here. Last week went from 100 to not being able to take our jackets off. If you think you're not acclimated yet, neither are the plants. To add insult to injury we are starting to experience those troubling windy days. That being said, and I say this every year, now is the best time of year to plant trees, shrubs, natives and hardy perennials. Why is that you ask? Even though the air temps are cooling the ground is still warm from all that solar energy it soaked up all summer. Roots will still grow in warm soil even though the tops don't. Therefore your plants get established below ground, where it really counts. It is the exact opposite for spring planting. Lots of lush growth but the soil is still cold from winter and the roots are not growing as fast as the tops. They say anything planted in fall will be twice as big by the end of the coming year as anything planted next spring.
There has been a wide interest in planting more pollinator-friendly gardens, but what about birds? A new study from The Cornell Lab of Ornithology says the U.S. and Canada have lost 2.9 billion birds in the past 50 years, a 29% decline. Grassland birds have declined by 50%. The biggest losses are from common birds. Habitat loss is the biggest factor. They suggest seven simple actions to protect birds.
Make your windows safer. This is mostly a big city high rise issue but I have had birds fly into my front door window a few times. Anything to break up the reflection will work.
Cats kill 2.6 billion birds annually, mostly feral cats, but at our house, we have avoided getting a cat due to the bird population in our yard. Recently, however, we have had a hawk visiting the yard and you guessed it, he is trying to pick off the birds at the bird feeder.
My favorite one. Reduce lawn and plant natives. Lawns do not provide shelter or nesting spots.
Avoid pesticides like the neonics and glyphosate. These kill more than insects and weeds. Choose to support organic farmers by buying organic as much as possible.
Are you a big coffee drinker? I am. Apparently sun-grown coffee is bad for the environment as forests are leveled to produce it. Choose shade-grown and help the 42 species of North American migratory birds have a place to over-winter in warmer climes.
Plastic, plastic, plastic. I think this has become a true evil and I wish we could outlaw it. Unfortunately, the nursery industry and Star Gardens are part of the problem. There are days I am appalled at the amount of plastic we use. Plastic ties, plastic nursery containers, plastic soil bags, and plastic wrapping on the pallets. Our recycle bin is full of it and we have no idea how much is actually recycled.
Become a bird watcher and reporter. You can join projects like Christmas Bird Count or Project FeederWatch.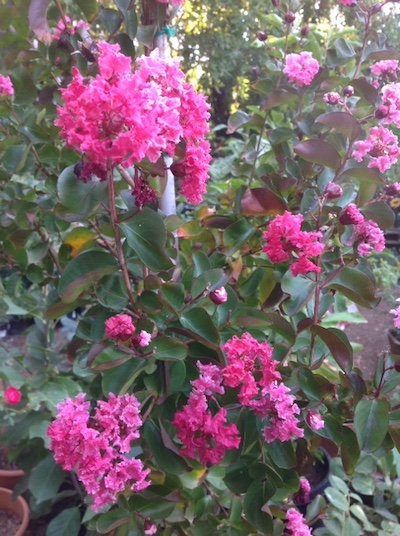 So what should we plant? Natives are best and audubon.org has some suggestions for us, plus they show the bird species the plant may attract if you want to check it out. Here are the ones we carry at the nursery. Acer macrophyllm-Big Leaf Maple. These are the trees that are beginning to turn gold as you drive along our roadways. Festuca idahoensis-Idaho fescue, a native grass. Rhamnus ca., also known as Frangula and Coffeeberry, an evergreen shrub for sun or light shade. Heteromeles arbutifolia-Toyon, an evergreen shrub or small tree. This is the native with the red berries in winter. Achillea millefolium, common yarrow, a low growing perennial. Monarda villosa-Coyote Mint, a perennial herb. Baccharis pilularis-Coyotebrush. You might very well have this 'weedy' shrub growing on your property but there are low growing sterile varieties that nurseries carry called 'Twin Peaks'. Symphoricarpos-Snowberry. We have an Eastern variety in stock but sometimes we have the native too. Arctostaphylos-Manzanita. Lots of varieties to choose from ground covering to small tree size. Diplacus aurantiacus-Monkey Flower- Hummingbirds love it and I do too. Cornus nuttallii- Pacific Coast Dogwood, a beautiful flowering tree for morning sun or filtered shade. Grows all over on Cobb Mountain. Amelanchier alnifolia-Service Berry, a versatile deciduous shrub. Asclepias speciosa-Showy Milkweed, good for birds and Monarchs, it is a herbaceous perennial dying back in winter. Ceanothus-Ca Wild Lilac, available in ground covers and large shrub size. Evergreen. Polystichum munitum-Western Sword Fern, evergreen fern. Rubus-Thimbleberry. We have the evergreen low growing kind best out of summer afternoon sun. I am going to add Matilija Poppy because my little birds love the seed and love the cover they provide and I love hearing them chatter away in the poppies. Another shrub that is not native that often is a stop for migrating Cedar Waxwings in my yard is the big growing Cotoneaster hedge with the red berries in winter. That's if the robins and bluebirds have not beat them to it.
October is a great month to plant cover crops and plant the edible winter garden. We have organically grown onion transplants in stock now, along with organic and conventional seed garlic. The vegetable table is loaded with cool-season vegetables and our seed racks are sporting varieties of flowers and vegetables you can plant now. All the summer seeds have been pulled so there is no confusion. This is also the month to apply 0-10-10 to your spring-flowering shrubs and fruit trees to promote good flowering in the spring.  October is one of two prime months for starting a lawn from seed, doing repair patches and overseeding. Seed germination is best with cool nights and warm days.
Happening now-Winter annuals are in stock, mostly primroses, pansies, and violas. You can plant snaps in the fall and we finally have them back in stock. We do have winter daisies, early cyclamen, and some ornamental cabbage. The cabbage needs cool weather to put on their show. We have a great selection of Mums in right now in all their fall glory. Flower bulbs are here for planting this fall for sweet spring flowers. We have saffron crocus, which is actually a fall bloomer and should be planted as soon as possible. If you have ever wondered why saffron is so expensive you only get a small amount from each flower. We recently received an order of cement statuary, birdbaths, and water vessels. Many have been looking for water bowls after we sold out so fast in the spring.
For many, autumn is their favorite time of year. The pace is slower, the light is golden and many trees and shrubs are losing chlorophyll and starting to show their color. If your yard was planted without some deciduous plants for colorful fall foliage, either in trees or shrubs, its time you remedied that. We have many to choose from at the nursery.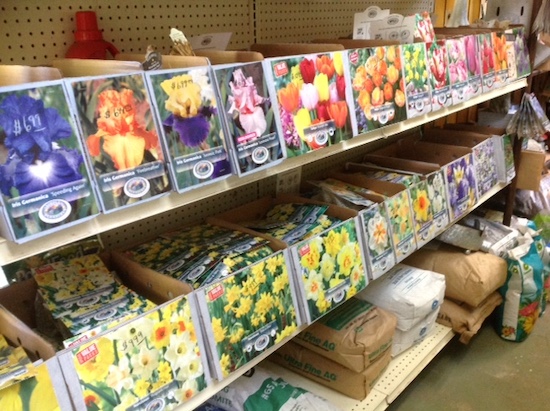 October Specials
Green All Organic Potting Soil 2cf (2 bag limit) 20% Off
Roses and Deciduous Fruit 20% Off
Succulents 20% Off
Crape Myrtles 20% Off
Customer Appreciation Day winners
Congratulations to our Customer Appreciation Day winners!
Joleen Jessen won the wind chime.
Gift certificate winners are Mel Brown, Gustavo Balasas, Leslie, Priya, C. Graham.
Plant of the Month
Succulents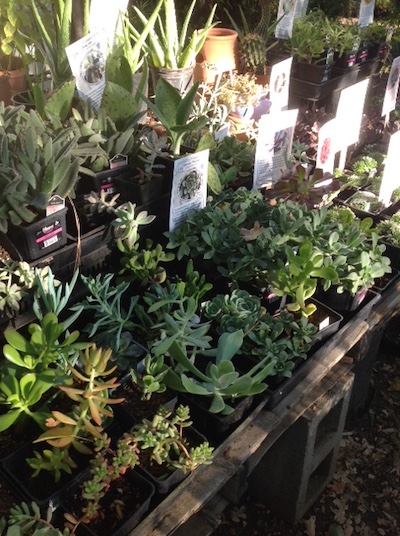 For some reason fall, along with ornamental grasses, is made for succulents. Succulents have been very popular of late and one of the nurseries we buy from chooses fall to give us their best selection of these easy to care for and propagate low water-using plants. Unfortunately, we are not Southern Ca, or the frost-free Bay Area, or the Coast. Therefore we need to know the cold limits of the succulents we are buying and if they will withstand our winter or need to be protected or brought inside. Some are very winter hardy, a lot will go to 25, and still, others can melt down at 32. Sempervivens are very cold hardy (-20) as are most sedums, but not all. Burro's Tail and Pork and Beans are two sedums that are not even frost tolerant. Hardy iceplants will also survive in most places. Echeverias and Aeoniums run in two groups. Some will only go to 30 while others are rated to 25. Kalanchloe needs to be protected from frost. Shrubby Torch Aloe is hardy to 25, but most aloe is rated at 30 degrees. Aloe vera needs to be protected from frost. Jade plants are not very hardy but others in the Crassula genus can take it down to 25. Senecio String of Pearls is not frost tolerant but other Senecios are more resistant. Read the plant tags so you know your succulent's limits.
Most succulents will grow in sun to part shade and even bright shade. I think they look best out of the full sun here. They do need fast-draining soils and will rot out in wet soil, something to keep an eye out for during our cold wet winters. Most succulents are listed as deer resistant but we can all attest they will eat them when they want. Here at the nursery slugs and snails really like them as do the birds at certain times of the year. It seems like the only other pest are aphids from my experience and they do get them from time to time. Take advantage of our selection at 20% off in October.