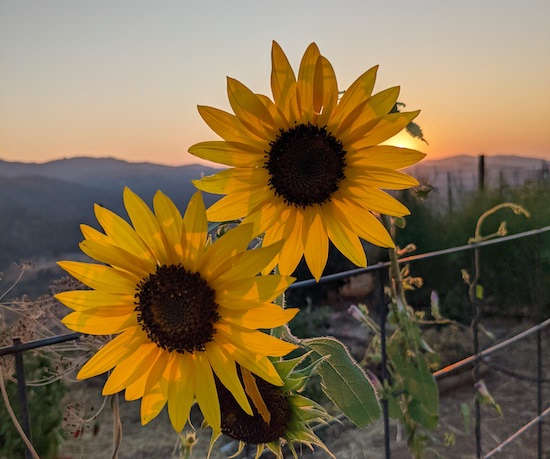 August is over, and we are heading into PRIME PLANTING TIME. Every year I talk about the benefits of planting in the fall versus next spring. So here we go again… Did you know that a tree or shrub planted now will be twice as big at the end of the next growing season as one planted in the spring? In the fall, the tops of plants are not growing fast, if at all, because the air temperatures are cooling. However, the soil is nice and warm still from the summer heat, promoting good root growth. This lets the plant get established with little to no transplant shock. In the spring, the opposite is happening. The soil is still cool from winter, roots are not growing in the cold soil, but the tops are putting on their spring flush of new foliage as the weather warms. The roots can not keep up with the tops. More transplant shock and a longer time to really establish itself. That means more susceptible to hot, dry conditions, which, let's face facts, are normal here, and excessive heat started in early June this year. If drought conditions have you worried, but you still want to plant something, then now is the time before temps drop and the soil gets cold. Plus, fall is the best time to plant natives.
Maybe you think it is ridiculous to plant in drought conditions. Perhaps you are right but let us remind you of all the benefits plants provide.
Shade
This is extremely important to keeping your whole environment cooler. Here at the nursery, the difference between the temps in our shaded area and the sunnier areas on a hot day is dramatic. Plus, California is losing trees to fire faster than we can plant them, and our area has not gone unscathed.
Habitat
Insects, birds, and wildlife, all part of a healthy ecosystem, are declining in numbers at an alarming rate.
Erosion Control
Plants help retain local moisture, improving groundwater retention by limiting excessive runoff.
Investment
Plants increase the value of your home.
Mental Health
This is a big one in this crazy world we find ourselves in. The peace of mind we get when we get to be in our gardens, either from the physical labor or just watching nature unfold, is priceless.
Of course, if you get my newsletter, I am probably preaching to the choir.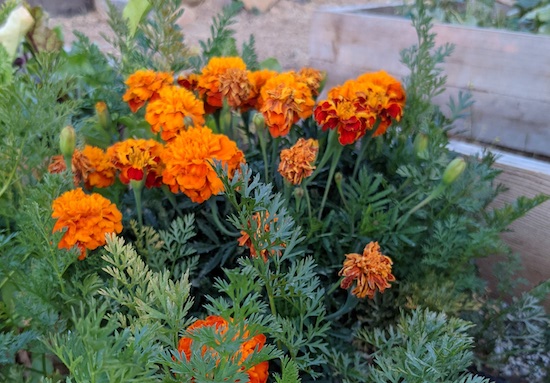 Oh, what a year for summer vegetables. Not. Some of you have reported great success, but I think the scales favor a troubled, unproductive year for most. My eggplant is doing okay, but my tomatoes are spindly and barely producing. So far, only two cucumbers and one zucchini. I confess I do not put much time into my yard, but the tomatoes are a real head-scratcher. Why so spindly? Was it the high heat in June? The increasing shade tree growth near them? Not enough water? Old soil and the amendments were not enough? Probably a combination of all those things. I have avoided pest damage, but insects have been an issue this year. As our winters warm and fewer eggs and adults succumb to winter kill, this will continue to be an issue. Crop rotation, not planting the same thing in the same place next year, is helpful to avoid repeat infestations.
Ladybugs are still in demand, and supply has been interrupted. The demand was so high one insectary quit supplying one of our distributors, and the other has us on rations. The fires have also played a factor in the interruption of supply and availability. Nevertheless, more and more adult-bordered plant beetles are surviving the winter here, and we have our second hatch of the small black shiny stage and the larger stage with the orange spot on the back. So far, we do not have a lot of damage on the ornamentals from them but watch out for any maturing fruit. The young ones love it.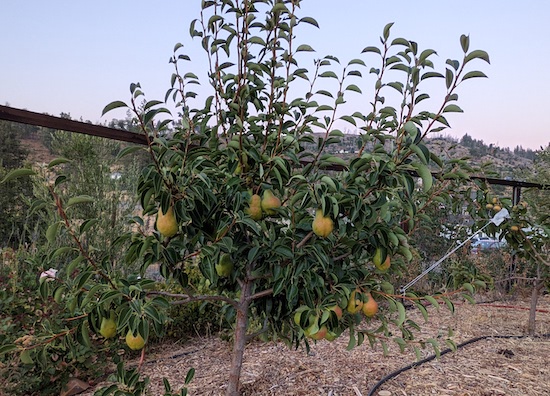 I ran into our sales rep for bare-root trees, and he is preparing us for shortages due to availability. He mumbled something about having oversold their trees by the thousands. He cautioned me in early spring that America was running out of fruit trees and getting my order in as soon as the availability came out, which I did. Conifers from Oregon took a huge hit in the heat spell they had, and we were limited in size and varieties available for our live tree selection for the holidays. Cut tree worries had me having a few sleepless nights because drought and fires are also affecting those. We finally got word they could fill our order but expect the smaller size and reduced quality and availability. Our pottery supplier is super low on inventory but says shipments are starting to get unloaded and released by customs now. We might be able to get in more glazed pots and saucers.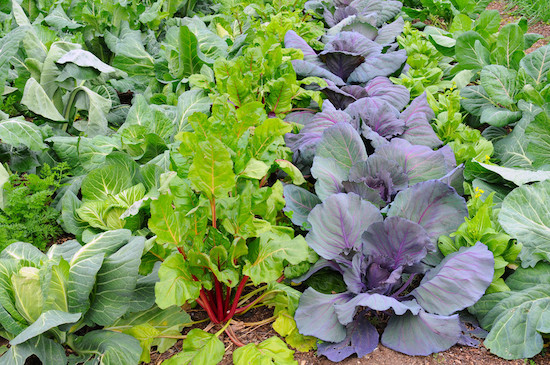 Winter vegetable starts are available now. Try to get them established before cold weather sets in so they can produce before spring. Garlic should be here by the end of the month. I do not know when to expect onions as the supplier has pushed back our first fall delivery of iris bulbs for almost a month due to labor shortages. Usually, iris come in August, with most of our daffodils and tulips arriving this month. Some winter annuals like pansies and winter daisies are in stock now, but selection will get better as we head into fall. Mums are plentiful, and we will try to keep the salvia table stocked with color. The Salvia greggii types, known as Autumn Sage, do very well this time of year. Lots of grasses do not flower till now and can become a focal point. Helianthus is one of the last perennials to bloom, and I saw our first flower starting to open. We have a small batch of Easy Elegance roses in stock now. These hybrids combine the ease and toughness of a landscape shrub rose with the beauty of a hybrid tea-type flower.
Speaking of roses, time to feed them one last time along with other flowering perennials and shrubs. Not only does this help keep them good-looking for the next two months, but if you use our long-lasting EBStone Rose and Flower food, they are not starving as they break dormancy next spring. Likewise, ornamental grasses need a high nitrogen fertilizer, and lawn food is recommended for them.
We will have our Customer Appreciation Day, now weekend due to Covid, the last weekend in September if all goes well. We will send out a separate email with details.
Newsflash: Farmers Almanac, with a history of 80% accuracy, predicts normal precipitation and temps this winter for our area. Keep your fingers crossed.
September Specials
All Salvias 20% Off

Ornamental grasses 20% Off

CA Natives 20% Off

Rose of Sharon 20% Off (

limited to stock on hand)