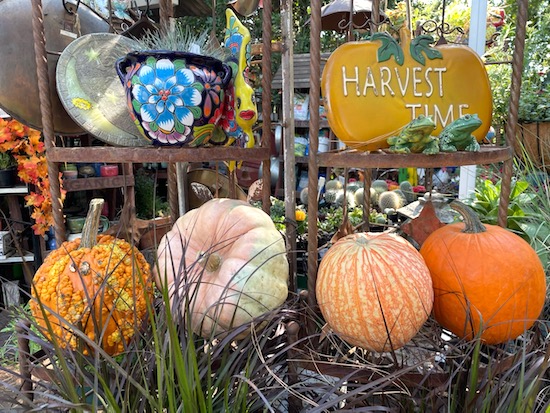 First off, thank you to all who took advantage of our customer appreciation weekend. We had an excellent turnout. If you were a winner of any raffle prizes, you have been contacted. Congratulations to our wind chime winner Maggie and our $50.00 gift certificate winners Jacci, Pat, Joan, Heather, Hedy, Sharon, Laureli, and Debra.
Even though we are getting up to 90 again this weekend, it sure is starting to feel like fall. Nighttime temps here at the nursery are getting into the 40's with it registering 40 on Wed. morning. This means it is time to think about moving your cold, tender houseplants back inside. Several types start to suffer once it starts getting into the low 40's. It is recommended that you inspect your plants for critters before moving inside. You might want to wipe all the leaves off and spray them with a mild insecticide like Safers Insect Killing Soap with seaweed extract.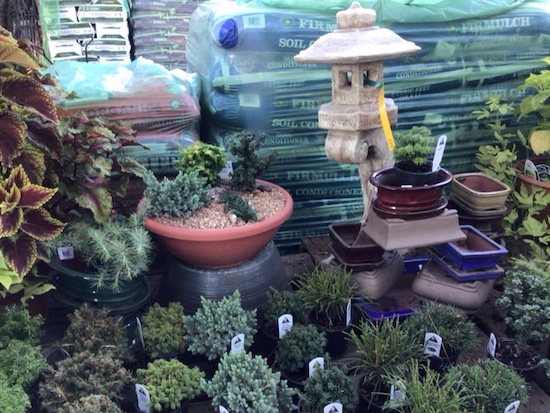 October is one of two prime seeding months for lawns. Whether you are starting from scratch or need to refreshen (called over-seeding) your lawn after the long hot summer, this is the time. Keep in mind that water will always be an issue in California, and to keep a lawn area the size of your needs only. If your front yard is for show, only consider a small patch of grass or none at all. We stock 100% fescue lawn seed. Bluegrass and ryegrass blends require too much water and do not hold up well in our long hot summers. We also will have a limited supply of a water-wise no-mow blend for a meadow look. 5lbs of the no-mow blend can do 1000-1200 sq ft. We will be ordering in the Fall and Winter Lawn food soon. This breaks down much faster in cool weather, and feeding your lawn this time of year will strengthen it through the winter and into spring. Fescue lawns actually grow more in spring and fall than in the summer or winter so feed them this time of year.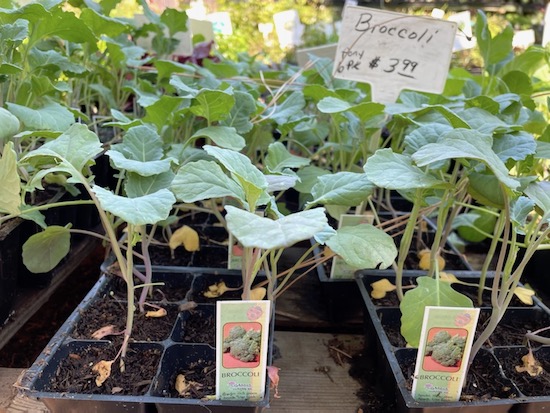 Fall clean-up over the next few months, besides acorns and leaves, includes cutting back perennials that are done blooming for the year. This would be a good time to divide overgrown clumps and spread to other areas or pot up to give away for gifts. It is also time to pull out the summer garden and replant it with cool-season vegetables. We have plenty of seeds, starts, EB Stone Soil Booster, and Sure Start for that. Onions and garlic are in stock for planting now. My winter garden is one that I usually have to protect from birds. They really like my lettuce and peas, so you might want to consider netting, Pop-up Nets, or row cover cloth for protection. Don't want to do a winter garden? Consider planting nitrogen-fixing cover crops like clovers, favas, or Renee's Scatter Garden Green Cover Crop Blend to turn under in late winter or add to your compost pile. October is also the month to apply EB Stone 0-10-10 Ultra Bloom no nitrogen fertilizer to your spring-flowering shrubs and fruit trees for better flowering in the spring. You do not need the nitrogen now, but the phosphorus and potassium help ensure flower production and disease resistance.
Now is a great time to plant trees and shrubs. Think of the water you will save next year if you get your plants established before next summer's heat hits. In addition, we try to keep well-stocked on ornamentals through this month so that you have products to plant this time of year to promote the 'fall is prime planting time' habit.  Honestly, this is an excellent time to plant here in our area. Consider getting gopher cages to protect your investment if you know you have some of those root-eating varmints.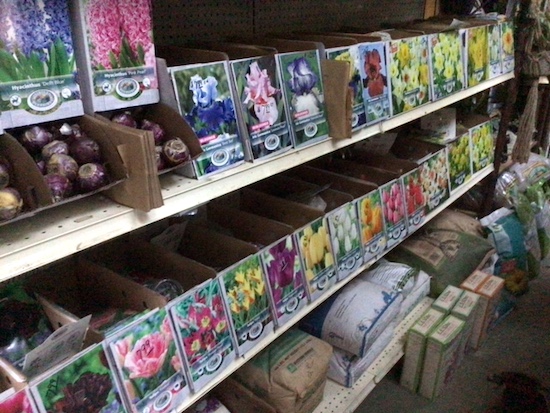 Spring flowering bulbs are here. These include daffodils, tulips, iris, muscari, hyacinth, anemones, ranunculus, and crocus. Speaking of crocus, do not wait to get your fall-blooming, saffron-producing Crocus sativus bulbs in the ground right now as these start growing right away. Fall is the recommended time to get your fabulously fragrant sweet peas started in mild winter/ quick to heat up spring climates. We have seed and starts in stock right now. Redoing your containers? Don't be afraid to add a few tulips or daffodil bulbs below those pansies for a spectacular show in the spring. I like to color coordinate them, but you can't go wrong with yellow daffodils and blue or purple pansies with orange or white. The bees are loving the cool season blooming nemesias right now, but frankly, they love just about any pollen-producing flower. The hummers' favorites are the salvias. These are always a good bet for fall color.
Our cement statuary order finally came with several birdbaths to choose from. In a past newsletter, you might remember I mentioned that they were having trouble sourcing some of their raw materials. So we just placed an order for pound bags of CA wildflowers and CA poppies, Crimson Clover, White Clover, and Favas.  They should be here by this weekend. If you have not noticed our dwarf conifers from Islei Nursery, you should look for them. We think if you plant up a little pot garden of these, they will make a great gift or centerpiece at Christmas.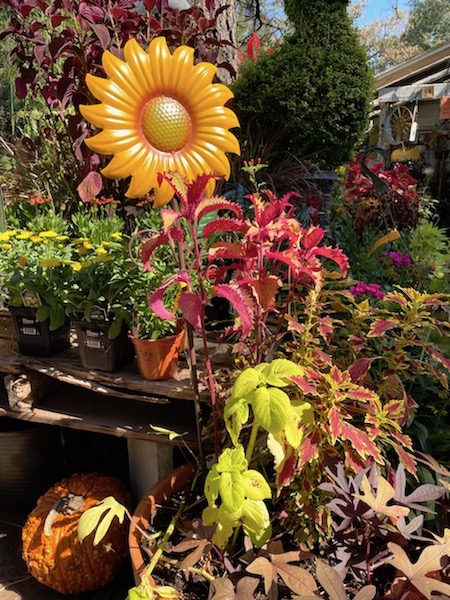 What is fall without some nice foliage color in your yard? When thinking about your yard design, you should consider making sure you have a few things that give you that enviable blaze of beauty. The best orange is Persimmon. Not just the fruit, but the foliage turns orange too. Chinese Pistache is a great shade tree for our area and gives you hues of reds, oranges, and yellows. Zelkova, a tough Elm relative, can have a subtle mix of colors in the foliage. Good reds are the red maple varieties or Ornamental Pear. We have two shrubby Parrotias left, and they are another good choice. Ginkgos and Liriodendron turn a bright yellow. Washington Thorn, a smaller tree, can be quite lovely bronzy red and red berries. Crape Myrtle in tree or shrub form can be another fall foliage stunner. Don't need a tree? Many shrubs can give you the fall show too. Burning Bush, Euonymus alata, turns bright red. Deciduous Viburnums, Hydrangeas, Spireas, Barberries, and Lilacs give a good seasonal show too. Fruit trees and blueberries are not bad choices either and have the extra benefit of providing food.
We have been told the Lady Bug/ Lacewings have shipped, so hopefully be here this weekend. We also are getting in more beneficial nematodes for soil-borne insects like pine beetles and fruit tree borers. I don't know about you, but I do not want to lose any more fruit trees or my big pines to borers that spend part of their life cycle morphing in the soil if a simple soil application of microscopic beneficial nematodes will help.
October Specials
Half Off (50%) items:
Coleus- grow indoors for winter or take cuttings before frost
Cuphea Vermillion- these will come back next year, but we have too many
20% Off items:
Hardy Rose Mallow/Hardy Hibiscus going dormant soon
All Coreopsis- long-blooming, deer resistant perennial
4 inch/quart size pots of succulents, cactus, Mangaves, and agaves