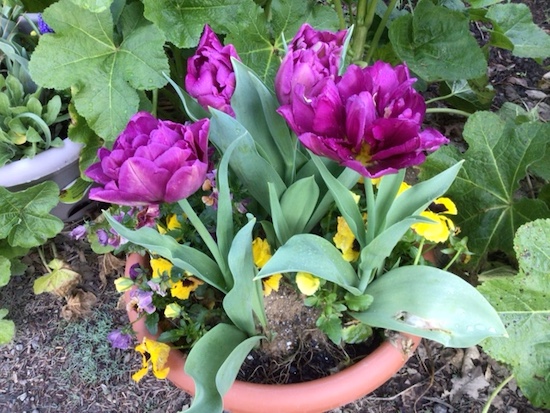 I am looking out my computer room window at the local Western Redbuds in flower. The tulip Magnolias for sale at the nursery are blooming too. We had to move our first batch of four-inch petunias out of our little greenhouse to make room for the next batch of plugs. The Quince is almost done, the Forsythia is winding down, the Camellias and Azaleas are doing their thing, and the foliage is emerging on the Spireas. These are all signs of spring. Too bad the thermometer says differently. I know we can get rain this time of year, but rain and 40 degrees? Snow lingering on our mountains for weeks now? Where are our warm sunny days in the low 70's?
So it looks like spring is coming late this year. I know the weather can change quickly, and the air temperature can be warm any day now, but when it comes to planting your summer vegetables, the soil temperature is critical to a successful start. It is going to take a few weeks of warm and sunny days with nighttime temps over 40 before we should consider planting out our tomatoes, squash, and peppers. It will probably be longer for basil, cukes, melons, and eggplant. Be patient. You do not gain anything when you plant too early. Your starts will just sit there, and the ones planted later will probably do better. That being said, we do have some tomato, pepper, and basil starts in now; if you want to start collecting, maybe shift to a bigger pot and baby them til the right time to plant. If you are itching to get some food growing now, you can still plant out lettuce, beets, carrots, peas, kale, broccoli, spinach, arugula, etc. Don't forget to amend your beds with manure, earthworm castings, and/or EBS Soil Booster.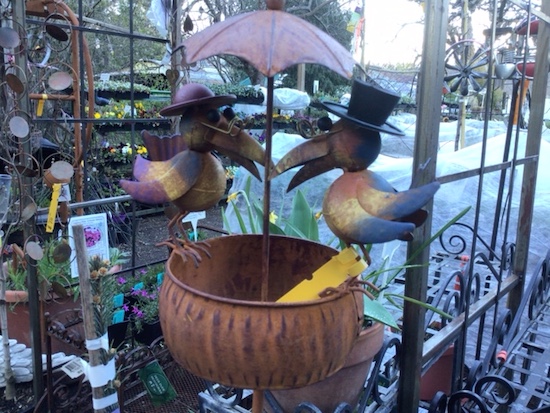 Bare root season is at its end, and though we still have some available, we will have to finish potting them up as soon as we can this month. There are still lots of fruit trees, but they will be potted. Speaking of fruit trees and the wet weather means disease will be a lot more likely. It would be a good idea to spray the stone fruit (the fruit with pits) one more time with copper. This is especially important for peaches and nectarines that are very susceptible to peach leaf curl. If you do not know what that is or what it looks like, do not feel bad. It is reported to be the number one question nurseries get. The leaves on the tree get distorted, bumpy, and reddish coloring. All of these diseased leaves will fall off, putting stress on your tree to put out a second batch of leaves. Really bad cases a few years in a row can kill a tree. If you haven't painted or wrapped the trunks of your new and young trees or mulched them yet, you might just want to get that done this month.
April is one of two prime lawn seeding months here in our climate. (The other is October.) Warm days and cool nights are perfect. We have 100% fescue lawn seed available for purchase, either to start a new lawn from seed or to over-seed/rejuvenate the lawn you have. Although we consider lawns a luxury and not climate appropriate here, there are some situations where only a patch of grass will suffice. If all you need is a low-growing green space without a lot of foot traffic, consider lawn alternatives. These include White Clover, Chamomile, Pratia, Herniaria, and Thyme.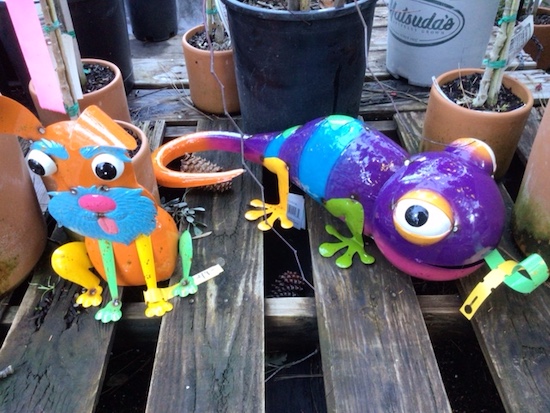 Not only does your lawn start to grow again now, but so do those pesky weeds. Organic safe solutions include inches of mulch, cardboard or newspaper laid down and then covered with mulch, thick layers of straw, and herbicides using commercial strength vinegar (which we sell) and fatty soap herbicides. Weed cloth at planting time is also an option. So is torching, but this is best done on weeds growing in cement or asphalt or while everything is still wet and no danger of starting a fire exists. Here at the nursery, we do a lot of hand weeding too. We do sell Remuda, which is glyphosate, but we encourage people to go organic with their weed control.
We have the large Rocking Owl back in stock along with smaller rocking birds, colorful metal animals, shade sails, wire baskets, coco liners, Smart Pots, arches for a budget, and so much more. We have more Yukon Gold potatoes on order and just received Red Potomac, Rhubarb, sweet onions, and asparagus. For those of you new to Lake County, we have the chill hours to grow lilacs, and we have lots of them. After all, what American garden should be void of a lilac or two? They are drought and deer resistant once established, making them even more worthy of your consideration.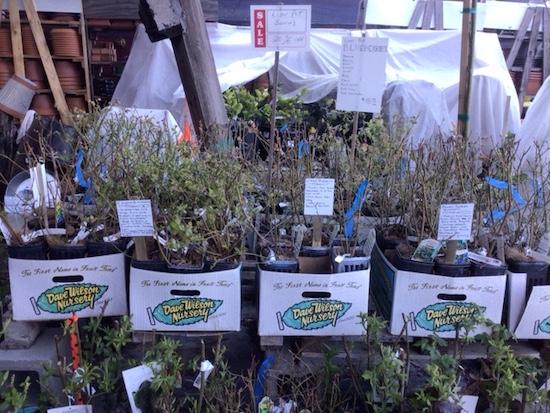 After several years of selling out of berries, we now find ourselves overstocked. They will be on special again in April. The best way to grow blueberries here is in containers. They like super acidic soil (low Ph). Make a mix of 1/3 each GreenAll Firmulch, peat moss, and potting soil. Add some GreenAll FST (iron and sulfur) for extra measure. Besides, you will probably want to treat the soil with it once a year. Plant in morning sun or filtered shade. Blueberries are self-fertile, but it is recommended that you get two different varieties for better production. Don't want to have to train your blackberries? We have an upright variety called Navajo that is thornless and does not need support, along with some other thornless varieties. Love raspberries but can't afford them. We have several varieties to choose from. Fall Gold is a good choice for here. Berries do best in moisture-retentive soil in half-day sun here. 20% off this month. We also have mulberries, gooseberries, gojis, and currants in liner pots to round out our berry selection.
We have lots of roses to choose from and need to reduce the numbers before they get too much bigger. They are starting to leaf out, and the new foliage went through our recent bout of below freezing temps with no damage. I thought for sure the new growth was going to be all shriveled up from the night we got to 27 but no. We will continue to offer them at 20% off for the time being. Although roses do benefit from feeding and deadheading, there are varieties here that thrive with little maintenance. These include Iceberg, Burgundy Iceberg, all the Sunblaze series, all the Drift series, and The Knockouts. A lot of the Floribunda roses are a good choice, too, for the landscape. They produce more flowers than the classic cutting hybrid tea roses and are easier to maintain. If thorns are your issue, many of the fragrant lavender roses do not have as many. The big drawback here is that deer and gophers do love roses, so gopher cages and fencing are recommended.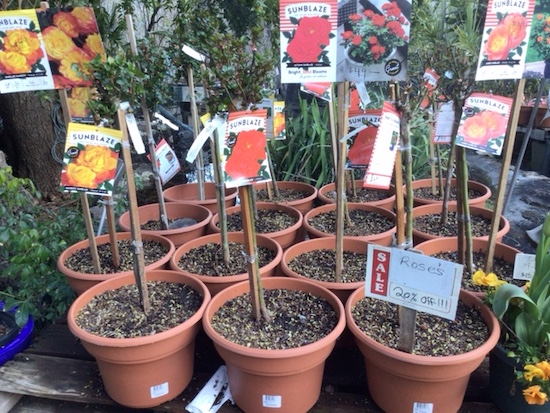 We have been ordering a lot of our tried and true perennials for you. These include Geum, Centranthus, Nepeta, Dianthus, Gaura, Salvia, Lavender, and Butterfly Bush. We just stocked up on Jerusalem Sage and gallons of Hot Lips Sage. The Pansies and Violas in 6 packs are looking good. We will soon be carrying 6 packs of Petunias as well. They can take the frost. We left our Marigolds out one night, and they got frost hit, so we better wait a little longer for them and Zinnias.
Here is hoping for more sunshine and warmth. We are ready for it.
Save the Date:
Our spring Sharp Event is back!
April 29th
Ron will be here in the morning to sharpen your tools, and we will have storewide specials to sharpen your yard!
April Specials
GreenAll Organic 2 cu. ft. Potting Soil
Buy 3, 4th free
20% Off
Roses, liner pot berries, selected plant stands, and cool season vegetable starts