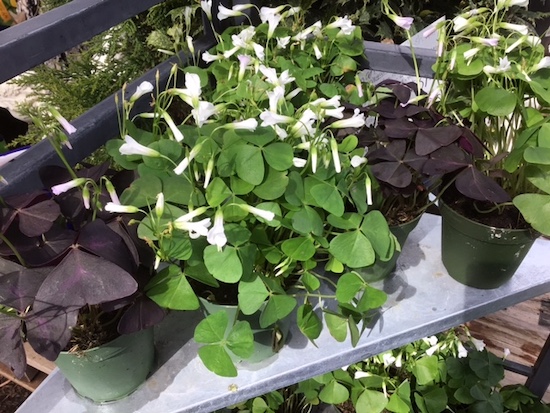 What is that saying about March? "In like a lion and out like a lamb." At this point, I hope that is true. We woke up to 2 inches of snow and decided not to open last week. That gave me time to start the newsletter. It is late this month because I just returned from Morocco. At least I did not have to worry that the weather was beautiful while I was gone and my staff was slammed with business. Plus, we have shamrocks.
I am a little out of touch with what has been going on at the nursery, but I am going to wing it. First off, I want to say that snow has insulating properties, and the plants actually suffer less than on those cold, clear dry nights. That being said, the weight of the snow on larger, particularly broadleaf evergreen shrubs and trees (not conifers) planted in the landscape can cause structural damage. I am probably going to have to trim back my large cotoneaster and maybe some of my Italian Buckthorn. A lot of the branches are still leaning too low from snow weight and might be staying that way. The verdict is still out on pruning the potted olives and oleanders here for sale at the nursery. They might need some corrective pruning too.
Our show orders for spring have been coming despite the weather. I see we have our Spanish pots in again, along with another pallet of glazed pottery. We restocked on 24-inch rolled rim pots, but the 16 and 20-inch did not come. Summer blooming bulbs are here, and we are reordering seeds as necessary. We still have a good selection of bareroot fruit trees, and the cool weather keeps them dormant. They will be discounted this month, along with some of the liner pots. We had to pot the roses but will be offering our early, not rooted, price for the month. Bareroot strawberries are available, and we have a good selection of spring vegetables. It is still too early for tomatoes, squash, peppers, basil, etc., but now is the time to start some of these things indoors if you plan on growing from seed. Tomatoes are pretty easy to start from seed. Eggplant and peppers, not so much. Basil, cucumbers, squash, and melons are easy, but it is still too early to start them, in my opinion. Basil, cucumbers, melon, and eggplant need the soil and the nights to warm up before you can transplant them, so I would wait til April to start them from seed indoors. It is best to use a seed starting mix, although Chelsea has been successful with our Green-All Organic Potting Soil. Of course, your microclimate might be different than mine here at the nursery.
Some of you have been waiting for the beneficial nematodes to arrive, and they are here. If fruit tree borers or grubs have plagued you, these microscopic critters are a great organic help to control these destructive bugs. Borers spend part of their life underground after they drop out of your trees to pupate in the soil and emerge as adults to keep the cycle going. Treat your soil with the nematodes at least every two years. We have them for ants too.
Our first order of plugs is due to arrive this week. These are the baby plants we use to grow our hanging baskets and some of our four-inch plants, so our little greenhouse is going to get busy. Working in the greenhouse is a favorite activity for most of us, especially in bad weather.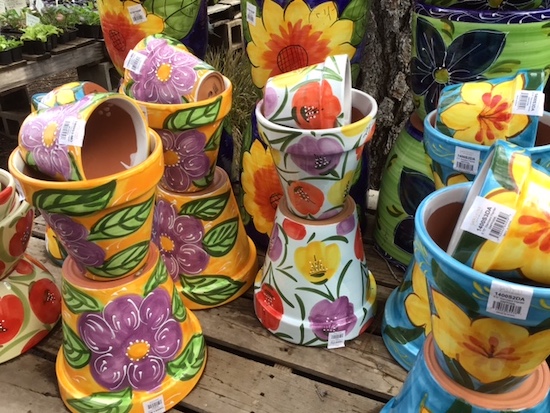 I thought I would mention what I saw plant-wise on my travels. Morocco is called the California of Africa. Lots of coastlines, tall mountains, and deserts, just like us. In the parks were a lot of the same things we see here, although more in our frost-free zones. Australian plants, bananas, citrus, palms, hibiscus, ficus of all kinds, lantana, succulents, roses, and jasmines were common. Olive orchards were everywhere. Towards the Middle Atlas Mountains, we went through a huge apple-growing region and an annual apple festival. Fields were mostly wheat, alfalfa, and favas at this time of year. From Rabat to Fez, Mediterranean Fan palms grew like weeds in open fields, along with narcissus. The grass Pennisetum setaceum was planted along roads and self-seeding. Atlas Cedars adorned the mountains east of Fez and Aleppo, and Canary Island Pines were the reforestation tree of choice. On the dry east side of the Atlas Mountains, the landscape changed to wild Euphorbias, Date Palm Oasisses, or barely anything. In the Dades Valley, they grow Damask Roses for rose water and have an annual Rose festival. Lots of Arundo donax was cultivated and collected for use, either as forage (the leaves) or used in building shelters. Prickly Pear was a common 'fence.' Argan trees are native to Morocco, closer to the Atlantic coast, and the oil from the nuts is used in cosmetics and massage oils. A lot of the weeds I saw on the west side of the Atlas Mountains were the same ones we have here.
Of course, one of my priorities was to see some classic gardens. A traditional garden is divided into four sections with a water feature in the center. This symbolizes the 4 directions, the 4 elements, and the 4 rivers of milk, honey, wine, and water in Paradise. Trees are planted for shade, often ones significant for Islam. Olives and Date Palms are tops, but figs, pomegranates, citrus, cedars, cypress, grapes, fruit, and almonds are often used. Fragrant plants are also a key element. Roses, jasmine, lilies, and violets are good examples. In some of the gardens, I saw huge swaths of Society Garlic, so I guess we should include those as well. Family life is considered private, and outward shows of wealth are frowned upon. These splendid gardens were the centerpiece of home life behind tall plain walls. We stayed in old homes converted to guest houses, and the interior and rooftop gardens were amazing in some.
We are in Spring hours now. Open 9-5 sunny and nice, 10-4 rain and cold days (and snow days closed).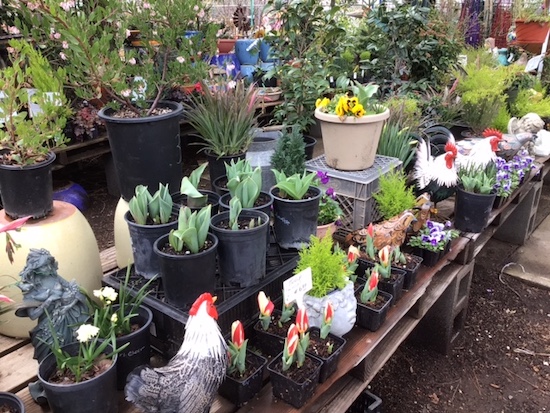 March Specials
20% off
Bareroot fruit trees
Liner pots: Olives, Berries, Apples, and Almonds
All Roses
GeenAll Organic Potting Soil 2 cu.ft. bag
Buy 3, 4th Free