Star Gardens History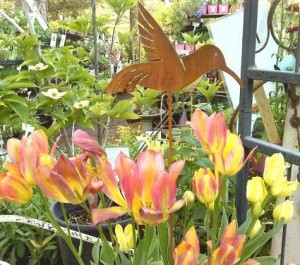 The nursery opened on October 2, 2004 as a one-person operation. The proprietor, Tanya Striedieck, had years of landscape and nursery experience. She holds vocational certificates in horticulture from Santa Rosa Junior College. She is a California Certified Nursery Professional. The little seed of having her own nursery took hold and grew larger than she ever dreamed. Since opening, the inventory has multiplied many times over, the original site has doubled in size and wonderful sales staff have been added.
We offer a diverse selection of plant material suitable to our area, including deer resistant, low water usage Mediterranean and CA. native plants. We offer annuals, perennials, trees, shrubs, bulbs, seeds and edibles along with whimsical garden art. We carry soils, fertilizers and sprays and the best pottery selection in the county.
Our passion for gardening is evident. We provide help with your gardening challenges, sharing our experience, ideas and know-how. We provide a solid value to our customers with service and quality you do not find in the big chain stores.
The nursery's location off the main street is idyllic. If you have never been or have not come in a while you owe yourself to stop in and enjoy.