Big Year End Clearance Sale
Nov. 30- Dec. 24
Just about everything 25-50% OFF
25% OFF soil, fertilizer, spray, house plants, frost protection, weed cloth, all pottery and containers, wind chimes, garden art, benches, fences, arches, baskets, seeds, selected evergreens, olives, citrus, loquats, fig and blueberry liner pots, birdbaths...
25% OFF gift certificates
50% OFF annuals, perennials, deciduous and broad leaf shrubs, deciduous shade and fruit trees, vines and berries not already mentioned, spring blooming bulbs….
Selected holiday items like Christmas Trees, wreaths, garland and some holiday plants are not included. Newly arrived potatoes are not included.
2013 Rose's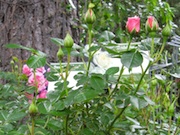 ]
Browse this years expanded selection of Rose's at Star Gardens.
Read More
Holiday Hours
Star Gardens will close at 2 pm on Christmas Eve
Annual winter closing
Dec 25 thru Jan 17, 2014
Our Tree's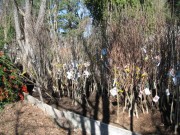 October is the last month to special order 2013 bareroot trees.
Read More