Plant of the Month
Rosas/Roses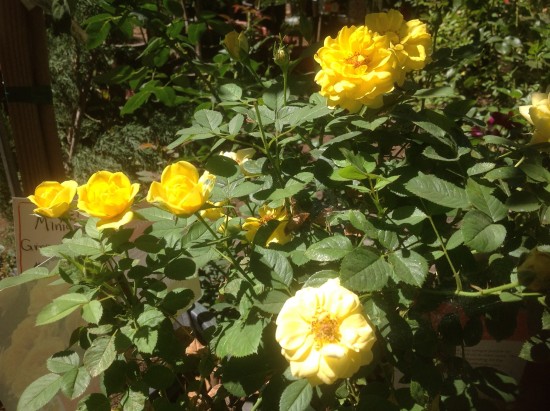 Roses are considered to be the most popular 'shrub' planted in temperate climates. They are actually quite tough as long as you chose varieties suited to your climate (and keep them from deer). In hot climates like ours they do best in spring and fall and would prefer afternoon shade. They have been hybridized to re-bloom and are available in more than their naturally occurring colors of white, red and pink. Good air circulation will help prevent common diseases like powdery mildew and rust on modern roses. They like good drainage but so do most plants. Regular water is essential during growth and bloom for a healthier looking plant. If you want your re-blooming roses to keep performing I suggest a feeding after every round of blossoms along with removing spent blooms. Prune in winter to remove dead, old and weak canes.
Most gardeners today plant modern re-bloomers like hybrid teas and floribundas but species roses like Lady Banks is very popular here. Damask roses are the ones grown in the perfume industry and Damask perpetuals, also known as Portland roses, were the first distinct group of hybrids to be developed around the beginning of the 19th century. Ground cover roses have made their way into the modern and commercial landscape. Rugosa roses make a great hedge and are noted for their deer tolerance. Fragrance is being bred back into roses after losing it to the chase for the perfectly formed bud and bloom and newest color.
Roses are half off this month as we want to sell down to make way for our living evergreens coming in November for the holidays and to make room for next years rose order.
September Specials
Roses Half-Off
CA. Natives (in the native area) – 20% Off
Crape Myrtle Trees and shrubs – 20% Off
Rose of Sharon – 20% Off
Rhodies, azaleas and cane berries – 30% Off
Open Monday, Sept 5, Labor Day 10-2
Newsletter Sept 2016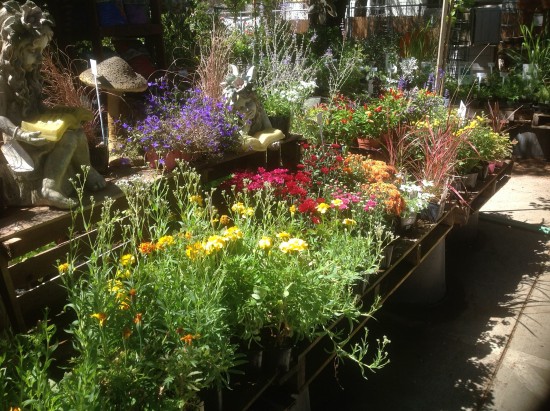 With fall unofficially here, its time to turn to another season of gardening. Ornamental cabbages, pansies, primroses, stock, calendula, and winter daisies are starting to show up. Mums and asters are in full bloom and if your perennial garden is lacking in color this time of year you should plant these for great color towards the end of summer into fall. Caryopteris is another good perennial for this time of year. It goes by the common name 'bluebeard' and is a shrubby, deciduous deer resistant perennial with clusters of feathery blue flowers over a long period. Many other annuals and perennials like salvias are getting a second wind if they have been fed and the spent blooms removed. Roses recover from the heat and are starting to look good again and will continue to bloom into November.
Dave Wilson Nursery is no longer doing their Special Order Fruit Tree program. This was the program were it was possible for you to order varieties of fruit I do not usually get. You will now be limited to the choices I made for stock that will be arriving by the end of January. If you have shade or fruit trees you particularly want, specially if you want several of one variety, let us know as soon as possible.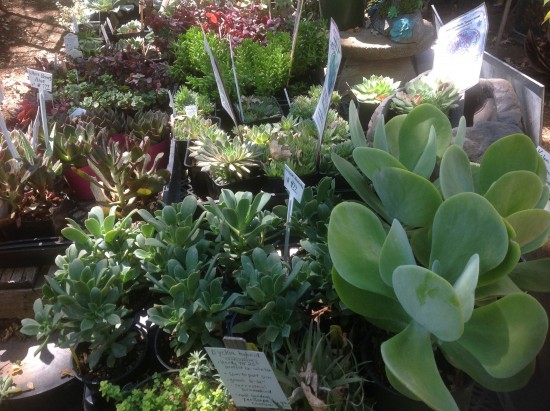 Iris bulbs are here and daffodil bulbs should be arriving by mid-month. Spring bulbs fit the bill for a drought tolerant garden as they require no water in summer because they are in their dormant period. Nothing says spring like daffodils and tulips and both are easy to grow. Tulips are not deer resistant and tend to be short lived, whereas daffodils can give you years beauty and cut flowers. When planting bulbs it is a good idea to amend the area with Soil Booster or Firmulch and use E. B. Stone Bulb Food, Sure Start or Bonemeal at planting time.
This is the time of year when ornamental grasses really start to shine. Many do not bloom till fall while still others start to pick up red hues in their foliage. Grasses can be mixed with other flowers and shrubs but often look best planted in mass. Succulents and fall seem to have been made for each other and we continue to keep that popular table at the nursery full. Remember that a lot of them are not hard freeze tolerant and will need protection in winter.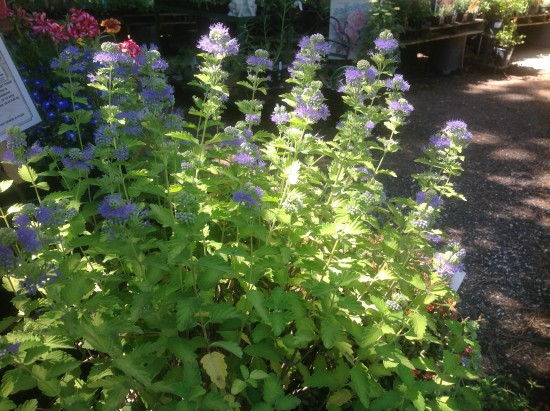 There is a lot of interest with people and the horticulture industry to promote pollinators for healthy ecosystems. Bees are not the only pollinators as birds, bats and other insects and animals contribute also. Organizations like The Native Bee Awareness Initiative, Save Our Monarchs, and the National Pollinator Garden Network are all over social media. Planting California natives is an excellent way for you to contribute to the cause and fall is the best time to plant natives. Look for native milkweeds, sages, penstemons, monkey flowers, shastas, Ca. fuchsias and the like along with native shrubs like ceanothus, toyon, coffeeberry, oregon grape and manzanita. Even if natives are not your thing planning your garden to have things blooming year round for pollinators and shrubs and trees for bird habitat can be your contribution to a healthy environment.
Things to do in the garden now:
Plant your vegetable winter garden including potatoes and onions this and next month. Get your plants established before the winter cold sets in and they can produce all winter. Do one last feeding of your roses and flowers. Watch for a re- hatch of aphids and other insects as the weather cools. Spring blooming bulbs like daffodils and tulips should be at your nursery now or soon. Refresh your pots with winter color like cabbages and pansies or cut back your petunias, verbenas and the like by half and feed for blooms well into winter. Feed citrus, blueberries and other acid loving shrubs again.
Happy Fall Gardening,
Tanya