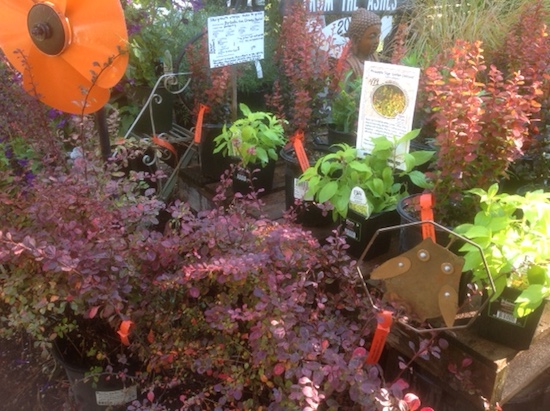 November already. First I will remind you that our hours change to 10-4, closed Wednesday. This helps keep payroll expenses down during our slower time and we do not have to be open as long in the colder months ahead. Believe me, on a cold rainy day 6 hours is enough and on clear days it is often pretty cold still at 9 and getting cold again by 4. We are going to be closed Wed, Thurs and Friday, the 21-23 for Thanksgiving but will be open for Sat and Sun. We could even have our cut trees by then. The living trees get here before Thanksgiving and its okay to get them then but it is recommended that they only be in the house for a week or so. Many want their tree up for longer.
Potatoes have arrived. This year we have Yukon Gold, Red Pontiac, Elfe yellow, Warba white, Jester purple and yellow and Cal White. These are all organically grown. The selection is limited for Fall availability. For example, russets are not available till spring which is too late for those who want to get your spuds in now. These are virus free which is not always the case if you plant them from the store. You want a piece with a minimum of two eyes. Let the fresh cut dry before planting. We have sold out of garlic, but still, have onion sets.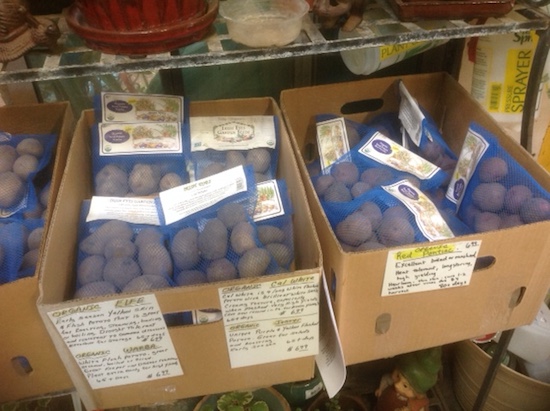 Now is the time to get those bulbs in the ground. We have Scilla, Hyacinth, Tulips, Iris, Daffodils and a few others. The Paperwhites have arrived for those of you who want to force indoors or do bulbs for Christmas gifts. They, along with Hyacinths, are the best for forcing indoors. Both are fragrant. They also bloom early if planted in the ground or pots.
Fall color is off to a slow start this year. Right now the Pistache, Barberries, and Zelkovas are showing the best color. The Ornamental Pears in town are starting to change and ours are starting to show some color too. They are some of the best reds for fall here. Our October Glory Maples are still pretty green as are the Sweet Gums and Raywood Ash. It's the perfect time to get these trees in the ground and the weather is still pretty warm. We still need to sell down on our 2018 fruit trees. Get a year's head start over a bare root and at 30% off they are close to the same price.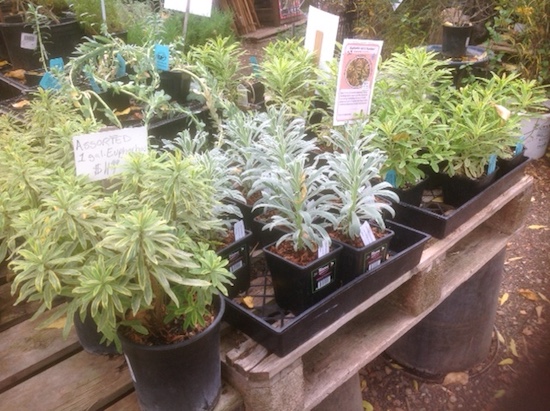 Some of our latest arrivals include #3 Re-blooming Azaleas in color now, Fall-blooming Camellias, #5 Italian Buckthorn and Magnolia soulangeana in a #5. We also have some cone topiary Euonymus and Dwarf Alberta Spruce, perfect for the season. Chelsea just redid the Native section so check out the Wooly Sunflowers. These are very long blooming at a time of year when a lot of things are not. The Euphorbias are a good choice for this time of year, along with Rosemary, Wall Flowers, and Shrub Daisy. If you have a shady spot the Heucheras and Hellebores are good. And who doesn't love pansies, even deer? They are just the best for our cold season, frozen every morning here, but that does not stop them. They come in so many colors, with faces, whiskers or solids and will give you color through spring as long as they get sun. Still time to get those sweet peas in. Plenty of good-looking winter vegetable starts on the tables too. Broccoli and cabbage, not your thing? Consider a cover crop for the winter. We have fava beans, clover, alfalfa or mustard for green manure in the spring and other benefits.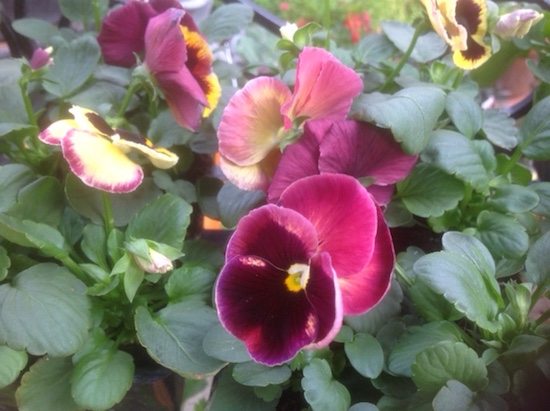 Want blue hydrangeas? November is the month to start treating them with True Blue, available at the nursery. November is also the time for your first round of dormant spray on your fruit trees, roses and any ornamentals that had a disease or insect infestation problem this year. You need a fungicide for disease and an insecticide to kill overwintering bugs. We sell a combo orchard spray that is sulfur and pyrethrum or mix your own copper (the best for peach leaf curl) with horticultural oil. Divide perennials that need it or that your friends have been begging you for a piece of. Continue to water if needed but don't leave your battery timers out in freezing weather and make sure your irrigation valves are also protected. If you shut your system down it is best to bleed the valves so no water is left inside.
Have I ever mentioned my first winter here? It was the record freeze of 1990 and it did not go above freezing during the day for a whole week. The low that week was 8 degrees at my house. Pipes froze all over the state, not to mention plants. Now granted, we are on a warming trend but anything is possible. Plus I think some of our plants are suffering more from cold damage in the winter because they do not get a chance to harden off for the cold. Just warm, warm, warm and then bam-cold. Last winter it did this several times. The cold hardy plants and trees, especially fruit, do better with a gradual cooling to cold, staying that way and then a gradual warming up the spring.
The 2019 liner pots of berries, some grapes, olives, pomegranates, etc, usually come around the middle of this month. The true bare root comes after our winter break in January. Don't forget things will be a little different this year with the closing of L.E. Cooke, a major supplier of bare root plants. Potted conifers from Oregon come this month and we plan to have cut Christmas trees in before the month is out. We have to go get them in Oregon again this year but at least we will be able to tell you exactly when they will be here. Just not sure who is actually going to get them this year. My second grandson was just born on the Columbia so I might have to go myself and combine the trip to see him and get our trees.
November Specials
Yuccas, Dasylirions and Hesperaloes- 20% off
Deciduous Fruit Trees- 30% off
Roses- 20% off
4 Inch perennials -20% off
True Blue Aluminum Sulfate- 20% off
Glazed Pots and Iron -30% off
Plants of the Month- 20% off
Yuccas, Hesperaloes, and Dasylirions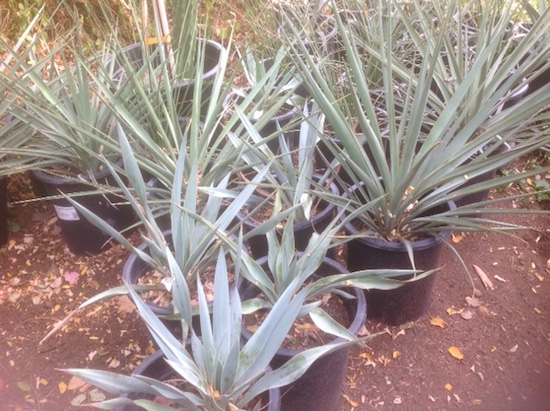 Yuccas
We were able to get a few different varieties in this year and I thought it would be nice to feature them this month. They grow over much of North America in some form or another. They like full sun for the most part but some prefer a little shade. Of course, half day sun is good too. Most varieties take very little water or maintenance, making them perfect for our climate and busy lifestyles. Bold and structural, they can fit into the xeriscape, mix with natives or even in a mixed shrub border for accent. Plant in those pots where you can not keep things from frying in our summer sun. One variety we have produces edible fruit from its white flower. It is the Yucca baccata, the Banana Yucca. Very cold hardy, slow growing and clump forming to 4ft x 6ft. Yucca palida, the Pale Leaf Yucca does not form a trunk so stays low. They foliage is blue green with yellow margins. This would be a good choice for containers. Need something tall? The Mountain Yucca, Yucca schottii can get to 12 ft tall. This variety actually prefers some shade with no reflected heat. Yucca variegata is one we usually carry with nice gold edges. All are best in well drained soil. Yucca roots are edible. Peel, slice and fry them like a potato and season to taste.
Dasylirion
Known as Desert Spoon, we have two varieties, the Toothless spoon and the Green Spoon. The Toothless Desert Spoon. Dasylirion quadrangulatum, is known as the Mexican Grass Tree. A good container plant, it can get up to 12 ft tall producing several flower stalks a year. Dasylirion texanum is very cold hardy and makes a good barrier plant due to its curved teeth. It can get to 6 ft but is usually shorter.
Hesperaloe parviflora
Although we usually have the Red Yucca, Hesperaloe parviflora, this year we got in some bigger specimens of cultivars. 'Desert Flamenco' does not set seed, so blooms for a long time. 'Perpa' has vivid red flower spikes. 3 ft plus yellow flower stalks from May to Sept are the hallmark of 'Yellow'. And Hesperaloe x'Perfu' is known as Pink Parade, with flower stalks up to 8 ft tall on this 4ft grower. Very heat tolerant, water once a week in the ground if you want them to flower over a long period. They also make good container plants but will need to be watered more often in the summer.