March 2020 Newsletter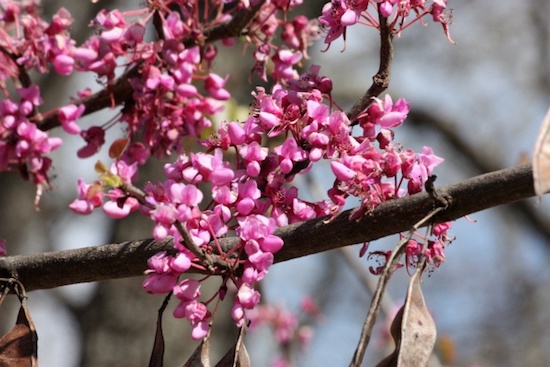 Spring is happening, and we are back to 9-5 on fair weather days starting Feb 29.
Driest February on record. It looks like we are headed for a drought year unless things change drastically. The weather has been beautiful, although disconcerting. Fruit trees are blooming, and the fear is that it will all get hit with a freeze this year. The nursery is still getting nights into the low 30's. Maybe we are going to plant tomatoes early and be ok. Maybe I will get fruit set, and it will survive a light frost as long as we do not get a hard freeze. I believe we are all just going to have to roll with it. What choice do we have?
One choice we do have is planting low water use landscaping. This does not mean you have a boring yard, but it does mean thinking twice about planting high water use plants like lawns and hydrangeas, at least on a large scale. Most plants, including CA natives, trees, and other 'drought resistant' plants will need water until they get established to survive. Please do not make the mistake that you can just plant them and forget about them. Water-wise means lower water requirements, not hardly any or none at all. Some plants, like spring bulbs, escape drought conditions by being completely dormant in the summer months. Spring blooming wildflowers do their thing, set seed and then die off in the summer. Other plants like cactus and deep-rooted grasses are drought-avoidant. They do not need water in the summer to survive. Other plants are drought tolerant, meaning they survive but drop leaves, wilt, go dormant early or have some other response to dry conditions. I would group most of my landscape in this category. It can survive without water, but if I want it to flower over a long period and not look completely wilted, stressed, and parched, I am going to give it some water. Deeper watering means less frequently. If I can get my plants to develop deep roots, I am going to have a much better chance of them looking good with less water down the road or several days of the irrigation not coming on because PGE has decided to shut off the power. Try to provide a little shade for part of the day, if possible. Even full sun plants in our climate will do better with 5-6 hours as opposed to 14 in July and use a lot less water.
Drought-resistant: Broad term for a plants response to drought stress like seasonal escape, avoidance, or wilting.
Drought-tolerant: Plants that 'survive' periods of no water.
Water-wise: Grouping plants by water needs for efficient irrigation practices and/or choosing plants with low water needs. It is not a good idea to give your daphne the same amount of water you give a hydrangea or your lavender the same amount you give a rose.
Xeric: Term used for plants that are native to arid regions and look good with no additional water once established.
What to do: If you are growing tomatoes and peppers from seed indoors, now is the time to start them. Sow basil, eggplant, cilantro, and lettuce indoors too. We still have a few potatoes left for planting now. Plant cool-season vegetables like peas, broccoli, and chard even though you really want to plant your tomatoes. And yes, we have had some people asking for them already. We are supposed to get onion sets and garlic again, but our spring bulb order keeps getting pushed back due to cold weather in the Mid-west. They are now saying they are shipping the first week in March, but have already pushed the date back twice. Do a final copper spray on your peaches and nectarines at 2/3 petal drop. However, if it remains dry peach-leaf curl will not be a big issue this year. Continue to top-dress plants, including your large containers. Every year your plant will sink lower and lower as the organic material breaks down, so you need to add a little every year. Topdressing with GreenAll Firmulch is the perfect solution, and it feeds your plant as well. Your blueberries are going to need to be fed and, in addition, keep the soil acidic by applying GreenAll FST sulfur and iron treatment. We use this on our citrus too.
This is a good time of year to find all those wonderful spring-blooming shrubs at the nursery. These are good choices for early color, height, and structure in the yard. Favorites include yellow Forsythia, Lilacs in all colors, Quince in pinks, reds, and whites, spring-blooming spireas in white, fragrant Daphne, deciduous Magnolias and Mock Orange.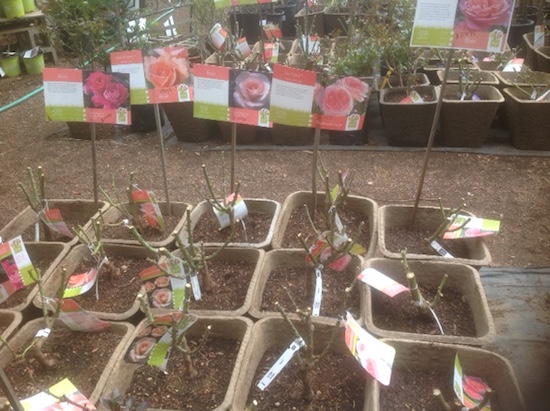 The window is closing on bare root. We are going to finish potting up the roses this coming week as they are beginning to leaf out. So far, the fruit trees and shade trees are holding dormancy, but we are in the last weeks of the bare-root season. We have lots of newly arrived spring and summer blooming deciduous shrubs and trees. These include Dogwood, Deutzia, Quince, Rose of Sharon, Lilacs, Elderberry, Mock Orange, PeeGee Hydrangeas, Red twig Dogwood, and Forsythia. Shrubs are an excellent way to add color to your yard without having to water constantly in the summer, and they create habitat for birds.
Speaking of birds, Cedar Waxwings visit us once a year to eat our cotoneaster berries. I think they have arrived early this year, but the strangest thing is they look smaller and darker than usual. Does anyone know anything about this? There is high drama over the Raven's nest in the Ponderosa Pine. It looks like some Red Tail Hawks are trying to take it over, and I am not sure who is going to win out. Still not sure if we are going to get more fish in the pond after the Raccoons wiped us out. We re-netted and everything, and they still kept getting to them.
A new shipment of terracotta pots is on order, new fairy figures are here, our succulent frames should be arriving soon, plugs for our hanging baskets are due this week, and perennials and herbs are trickling in.
We have a new selection of bobbing birds in stock now. Check out the long-lasting Plantskydd animal repellants and the Agrithrive Organic liquid fertilizers.
March Specials
Philadelphus- 20% off
Forsythia- 20% off
GreenAll FST-20% off
Any 5 or more bareroot-10% off, 10 or more 15% off
GreenAll Organic 2 cf Potting Soil- buy 3, 4th free
Plant of the Month
Wild Mock Orange
Philadelphus lewisii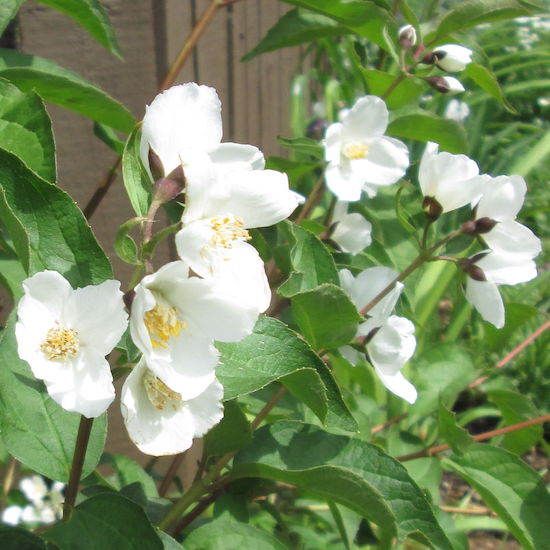 When I first moved to Middletown, a friend gave me a division of her Mock Orange shrub, so I have had one in my yard for 30 years. It is visible from the nursery and is non-descriptive until it blooms. Then I get several inquiries asking about it. Four petaled fragrant white flowers up to two inches across adorn my 6 ft arching Mock Orange. It is recommended to take older branches all the way to the ground after bloom. It is obviously long-lived, and last year Eric cut it back hard, which you can do to rejuvenate.
This deciduous shrub is a member of the plant family Hydrageaceae, so not on the deer resistant list. Although there are several species, we try to get Philadelphus lewisii, which is native to Western North America and can tolerate some aridity. It is the state flower of Idaho. It will grow in full sun but prefers part shade in our area. This is a low maintenance, cold hardy, climate-appropriate winner.