Open Labor Day Weekend 9-5
Monday 10-2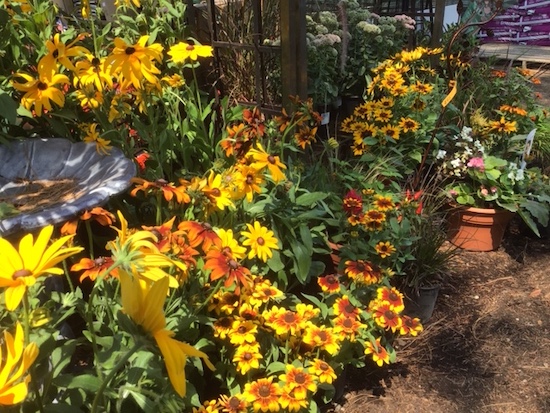 Where to begin… Is there anything left in our area to burn? Well, the answer is yes, but I am beginning to find that hard to believe. I have missed a lot of the smoke and anxiety being away for 9 days to see the grandchildren. Upon my return, the sight of the PGE lay down yard at the end of town for the second time in 5 years, bought tears to my eyes. So far, I only know one person who lost their home, but I fear the word has not reached me yet of others. There are plenty of recommendations for planting a fire-wise landscape and defensible space, but I know that is no guarantee when wildfires strike. I think most of us are chalking down 2020 as a year from hell.
All the stress of fires, elections, pandemics, no school, no work, no sports, distance learning, work at home, etc., bring home the therapeutic aspects of gardening. Getting outside in the sunshine, an integral aspect to your body producing vitamin D, creating beauty, planting pollinator-friendly gardens and wildlife habitat, being around oxygen-producing plant life, growing your own food, all help us to de-stress some. Many of you have discovered gardening to be one activity you can still do while sheltering in place or limiting your mobility.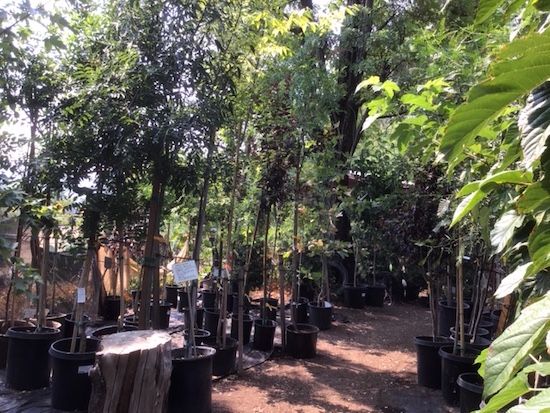 September/October should be a busy time for gardeners. Feed your fruit trees, including citrus. Do the fall feeding on your azaleas, camellias, rhododendrons, and blueberries with acid plant food. Feed your roses and flowers again to keep them blooming and healthy till the cold hits. Plant spring-blooming bulbs in the fall, and they should arrive at the nursery this month. Also due to arrive soon are garlic and onions. Potatoes will not be here until November (and then again in Feb). Winter flower annuals like pansies, violas, snaps, and cabbage are available now. Primrose and cyclamen will not be far behind, but they like it a little cooler than the 100 degrees expected this weekend.
Ready to pull out that zucchini patch? We have vegetable starts that grow through the winter. If you get them in early, they will be big enough to produce through winter. If you wait too long, they will go into a holding pattern in the cold and not produce till early spring. Either way, you can have some peace of mind knowing you have something to eat right out of your door. New to gardening, people might be surprised to learn you can grow broccoli, cabbage, chard, kale, and lots more now. We are here to answer any questions you might have. Do not forget to amend the soil again as vegetables suck a lot of nutrition out of the soil quickly. Although you should be on the lookout for aphids and birds eating your crops, winter growing is a lot less work once the weather cools and we get some rain.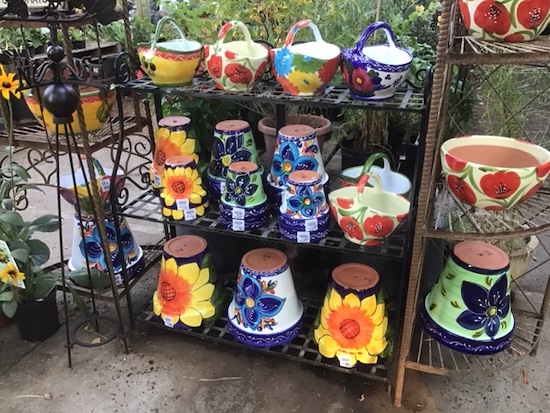 We are still waiting for our terra cotta order that was hopefully coming last month, so our selection of pots in that medium is dreadfully low. However, we still have a good selection of glazed pottery and just received a small order of the hand-painted Spanish pots. We are trying to keep up with houseplant demand, although we do try to sell down before winter as our salesroom gets pretty cold at night. We have new cement statuary in stock and just received another iron order and some cases of fairy garden items as that inventory were really getting low.
Looking for color? Check out the gallon containers of Black-eyed Susans, Gaillardias, and Mums. The Asters and Mums in 4-inch pots are looking good. Now is the time to start refreshing your containers, or wait till bulbs come so you can throw a few of those in too for a treat in the spring. Fall is the best time to get sweet peas going for spring bloom. Plenty of ornamental cabbage to be had, and as I mentioned before, 6-packs of pansies are just beginning to become available.
This year we started with all fresh pumpkins and squash instead of the jump-ups on Squash Mountain (our compost pile), and our harvest will be disappointing. Very few fruits to decorate the nursery. Too bad because being a big fan of the color orange, I have to say I love fall color and the golden light of this time of year. Our pumpkins always add a lot to the decor. I guess I will just have to buy some.
I want to thank all of you who have braved this new world and have contributed to a very successful year for us. Neither pandemic, heat, smoke, or economic collapse have kept us plant people from our love. Our hats are off to you.
SEPTEMBER SPECIALS
20% 0ff
DECIDUOUS SHADE TREES
THE ONES THAT LOOSE THEIR LEAVES
AND USUALLY HAVE FALL COLOR
Elms, Maples, Pistache, Ash, and many more
CRAPE MYRTLES
BOTH SHRUB AND TREE FORM
Summer Flowers and Fall foliage color
DECIDUOUS SHRUBS
Great shrubs that lose their leaves after turning colors
Quince, Viburnums, Spireas, Hydrangeas, and many more
Plant of the Month
Chrysanthemum x grandiflorum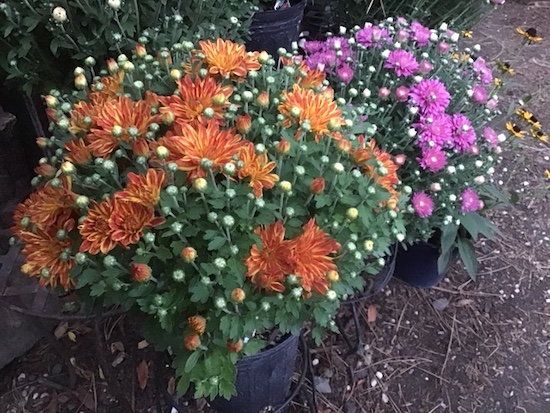 Mums are one of the most useful and varied late-blooming perennials to have in your garden for pots or in-ground. They come in a variety of flower forms and color and make great cut flowers. They grow in full sun and are on the deer resistant list. I believe they are often overlooked when planning a perennial garden and looking for season-extending color in the yard. They are fairly disease resistant, and my biggest complaint is they are prone to getting (black) aphids. Well, that, and if you want them to be full and bushy, you need to pinch back several times during early summer through July, and if you want big flowers, then you need to remove all the flower buds but one per stem. I, for one, do not need big flowers, just color. Even though they will get aphids, they actually can keep other harmful insects at bay.
Mums come in lots of different colors to fit any color scheme you might have going. We rarely have the fancier forms of mums like football, spider or incurve, but you can find singles, pom pom, and anemone forms in the 4-inch pots we have to offer. Once established in the garden, it is my experience you will have color on them for several weeks if not a month or two. If you do not have any mums in your perennial beds, now is an excellent time to remedy the situation.