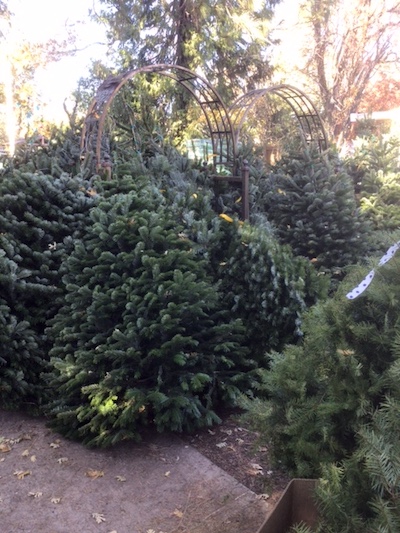 I am writing this on Thanksgiving, so it is only appropriate to start this letter out with some gratitude. It has been a trying, divisive, and uncharted year. Yet the nursery has flourished. We were put on the essential business list and were able to stay open. We have remained healthy. We live in a low population density area. We can be outdoors. We can garden, proven therapy for stressful times. Best of all, you, the customer, showed up and supported us. To the first time gardener and vegetable grower to our loyal clientele who have supported us for years, we say a big thank-you. Until we close for winter break on the 23rd/24th, the entire inventory sans the cut trees, fresh potted conifers from Oregon, wreaths, and garland is on sale at 25% off. The consignment items of Llama Beans and Quinn's original art are also not included.
So what is included in our annual year-end sale? Everything but the six things listed above. Bulbs, pottery, iron, tools, seeds, soils, sprays, fertilizers, garden art, stakes, trees, shrubs, annuals, perennials, succulents, grasses, citrus, olives, fruit trees, including the liner pots of various fruit coming Dec 3, ties, houseplants, macrame, cards, gift certificates, chimes, fountains, gloves, meters, hooks, baskets, benches, arches, trellis', statuary and anything else I forgot to mention. There is one caveat to the gift certificates. They cannot be used until 2021. But hey, they still make great gifts. A $50.00 gift certificate can be had for $37.50, and one for $25.00 is a bargain at $18.75. Throw in a glazed pot with a pot hanger, and you are almost guaranteed to make someone happy.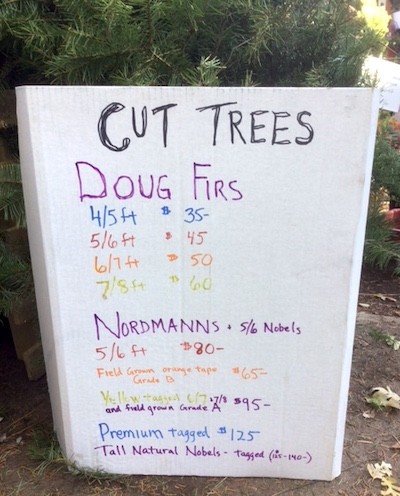 Christmas trees are in stock now. The potted living trees from Steffen's Conifer Nursery arrived Tuesday via a big semi as usual. We have Dougs, Green and Blue Colorado Spruce, Norway Spruce, and Cork Bark Fir. We had barely got them put away when Tony and Jim Nichelini returned from their trip to Sun Hill Farms near Eugene with our cut tree order. For the most part, we have Nordmann and Doug Firs to 8 ft tall. We did have to fill our order with a lot of Field Grade trees. We went through the Nordmanns and priced accordingly, but they sent a few field-grown Dougs that we have been culling as we open them. The majority look great, as usual. Be aware that the cut trees sell out in a couple of weeks, and it is not recommended to have your living potted trees in the warm house for very long.
Need some other gift ideas? All gardeners need gloves. I am always losing mine. That's why a garden tool belt might be just the ticket. How about a new pair of pruners to put in it? Check out our fancy Dutch hand tool assortment. Have you seen our fairy garden figures? Kids and adults both love these. Plus, we have garden tool bags for the little guys and gals. Houseplants often make nice gifts. Actually, lots of plants make nice gifts. Lemon trees and other citrus, blueberries, olives, cyclamen, camellias, cactus, and air plants (on the way), to name a few. Fire victims love to plant trees, and lord knows we need to replace all that we have lost recently. Benches, arches, and statuary are great accents. Chimes create positive energy. How about a birdbath or bird feeder? My husband and I love watching the birds at our feeders. A plus is they help keep the insect population down. The downside is we do have to protect some of our plants from them. Apparently, they like peas and lettuce as much as we do, but why some of the succulents and grasses?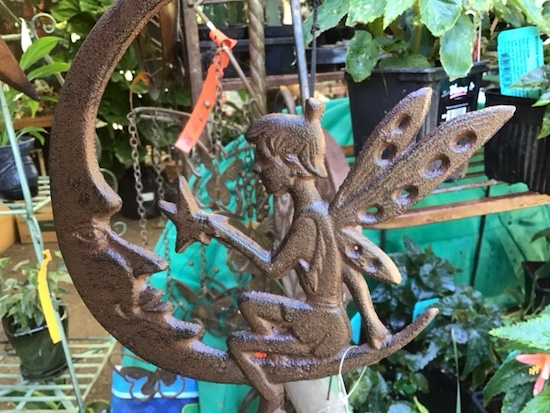 Small business Saturday is Nov 28th, so come out and support your locally owned businesses. Most have had a tough time this year and can use your support. Are you participating in Love (and Shop) Where You Live? Several businesses are participating, including us. Get your punch cards and info at the nursery or online at middletownareamerchants.com. Small business Saturday is double punch day, so you can fill up your cards twice as fast to enter in the drawing for prizes. No limit to how many cards you can enter. Speaking of our local downtown, Christmas in Middletown is still on with modifications. It will be a three-day event from Dec 11-13th. Friday 4-8 pm, Saturday 4-8 and Sunday 12-4. Find Santa game, double punch days, ornament making, tree lighting in the park, businesses open late, vendor booths, Santa mailbox, etc. More details to follow. Please mask and social distance, period. Let's make this fun and safe. The nursery will stay open till 6 on Friday and Saturday of Christmas in Middletown.
Okay, enough about the holidays. We need rain. The creek ran for a couple of days, but it is now dry again. Dry weather often means clear cold nights. So far, it has not been too bad, but in years past, we have seen lots of nights in the teens by morning. It also means you will have to water. Dry plants suffer more in the cold. I am sure some of you are familiar with the vineyard's practice of using water on frosty mornings as the vines are budding. The ice casing actually protects the buds. Well, the same holds true for the roots of your plants, in particular those grown above ground in containers that are more susceptible to freezing. To top it all off, we cannot get our favorite frost cloth, N-Sulate, as it uses the same raw materials used to make masks, and that is the priority these days. Landscape cloth is in the same boat, so we expect both to be in short supply for the foreseeable future. We do have a good supply of the lighter weight row cover, and you can double layer this for better freeze protection.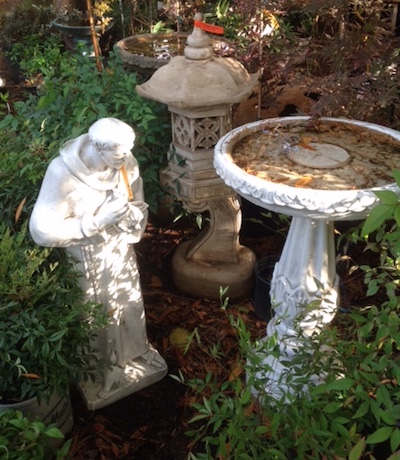 This dry period (hopefully short-lived) does give you a big window to do fruit tree and rose pruning, leaf and debris clean-up, and complete the first dormant spaying of your fruit trees. Make sure you dispose of any diseased plant material or foliage that was infested with whitefly or other insects. It is not recommended to put it on your compost pile. Usually, your trees are bare by this time, but mine still have a lot of leaves, so I will not spray yet even though this is the time of year to get the first of three dormant sprayings done. I like to spray my roses too. New to this? What is dormant spray? Lots of bacterial and fungal diseases along with insect eggs overwinter on your fruit trees and roses. You spray Horticultural Oil to smother the eggs and a fungicide like Copper or Sulfur for the disease. These are organic sprays that are part of the organic growers must-have arsenal along with a winter spray program.
With all the fires locally, Kathy and Alex will once again donate their time and energy to their Gifting a Tree program. Buy a live Christmas tree this year and bring it back to a participating nursery (like us), and they will see it gets to a fire victim. This is not limited to Christmas trees, but that was the original idea. Any tree or shrub can be donated, and people who have lost their landscape/home due to fire do appreciate this.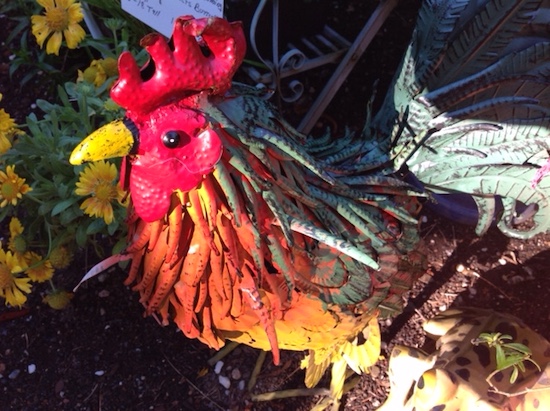 Well, that brings the 2020 Newsletter writing to a close. The next newsletter will come out in mid-January or so because the nursery takes a winter break. We are closed from Dec 24th thru Jan 17th for a much-needed break. However, I will be checking the message machine, so you will have the option of setting up an appointment. Until next time.
Open until 6 pm on Friday and Saturday of Christmas In Middletown.
Open by appointment only Dec 24th -Jan 17th
Big year end sale- 25% off the whole nursery except
Christmas trees, wreaths and garland
Consignment goods