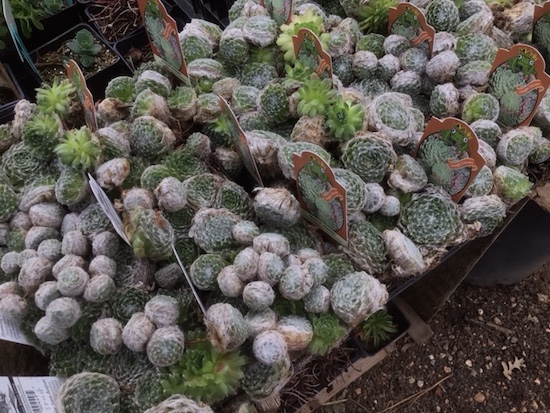 Welcome to the new decade. I am going to start this off with the 'Colors of the Year.' I have mentioned before that, for some reason, truly beyond me, the trade magazines I follow make a big deal about this, especially Pantone's choice. Well, they were going with Ultimate Grey but decided to add a second color for the first time, Illumination Yellow. Now I had a bike with this color combo once, and I never liked it. Paint companies picked Aegean Teal (like it), and another picked Brave Ground (a light brown, like it). I guess if we were selling patio cushions, this would matter, but we don't, and I still gravitate to orange for my flowers. I guess I am bringing this up because they say, for the first time, the previous year decided the color trends that are usually predicted a few years in advance. So wait for it…the pandemic is even influencing the colors you will see in home goods this year.
I am choosing Brave Ground, the warm brown color for us because if we do not get more rain, I am putting us in the serious drought category. I like Aegean Teal, and I suppose that reference to water might be a more positive choice. Yeah, if the outside is nothing but brown and dusty, then maybe water on my indoor walls will be just the ticket.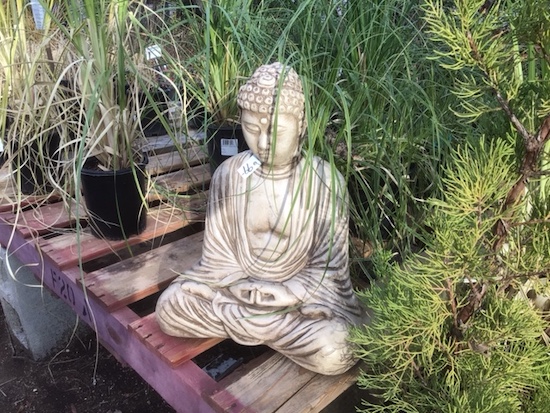 Joking aside, I think we are all a little worried about our lack of rain. I do not remember the creek behind us ever being this low in winter. Choosing the right plants, amending our soil to be more water retentive and mulching heavily should always be on our minds in California. Plants play an active role in our environment and are so much a part of our ecosystem. We need them to survive so people, pollinators, birds, and everything else can. So remember that even though we are heading into a drought year, trees and shrubs are still needed for habitat, shade, and cooling. Planting early to get things going before the hope of rain is gone would be a wise choice. The nursery is focusing on getting plant material in as early as possible.
Lake County is notorious for late frosts. We have beautiful weather in Jan and February, causing our fruit trees to flower early, and when the weather turns cold again and kills off any hope we had of eating peaches from our very own trees. Vineyards use kerosene heaters, wind machines, and coating buds in ice. These would all be options for you too. If your trees are small enough to cover with frost cloth, that could be another option. My trees are not flowering yet, but there is one yellow daffodil in front of my house, and Jan 21st is way too early to be seeing that.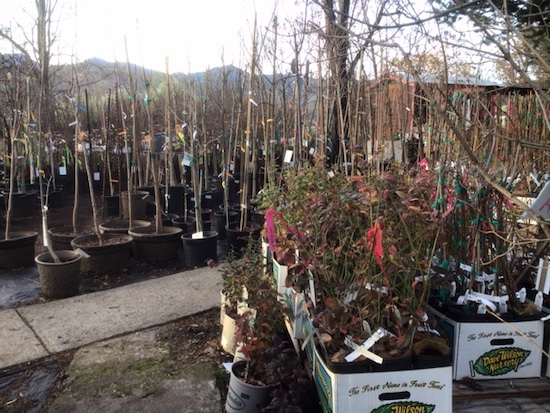 Bare root season is here, and now is the time to buy fruit trees if the previous paragraph did not scare you off. We have already sold out of Fuyu Persimmons, Harcot Apricots, and Pakistani Mulberries, along with some of the olive varieties. If drainage is poor at your house, plant your trees on foot high mounds. Dig holes just wide and deep enough that you do not have to bend roots. Add GreenAll Firmulch and EBStone Sure Start to the holes. Make sure you paint or wrap the trunks of your young trees. Dave Wilson recommends cutting the trees down to knee-high to get them started, so don't be afraid to cut back the central leader and all side shoots to get the tree to flush out nice and thick.
Pruning season is also here, but you might be surprised to hear now is not the time to prune apricots, cherries, or pluots. That should be done in early summer after its normal fruit production time. Go ahead and prune your apples, pears, peaches, plums, and nectarines. Just make sure you don't open up the center of the tree to sunburn. If you summer pruned to keep the trees manageable, you probably do not even need to prune now. Please try to dormant spray at least once, although three times is recommended. Berries are pruned differently. Fall raspberries produce on new wood so they can be cut to the ground. Summer-producing berry canes should be removed after they produce, leaving the new canes for next year's fruit. Tip the new canes back to 4 feet or so and cut back the laterals to 6 inches or, if an erect blackberry, cut back laterals to 12-18 inches.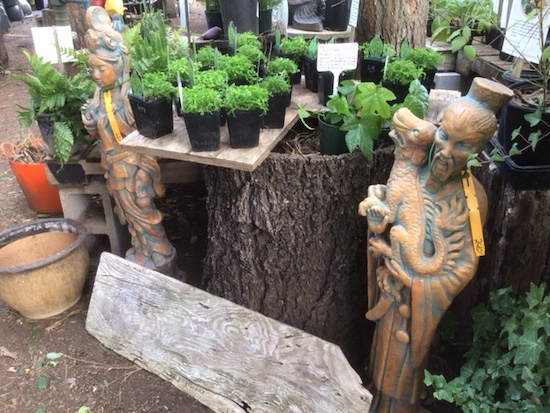 Organically grown seed potatoes are in stock now, with more due to arrive in a few weeks. Growing your own potatoes is easy. First, you will need to cut them up to pieces with two eyes each. Let them callous over for a day before you plant. You can dig a trench 3 inches deep and wide and plant 12 inches apart, cover with loose soil. You can even just set them on top of loose soil and cover them with 6 inches of straw. Either way, as the plants grow, keep mulching with straw thick enough that light cannot reach your forming spuds. If you are growing to store them, let them stay in the ground for two weeks after the greens have withered on their own or with help from you. Potatoes do not need any special fertilizer other than what you would feed your other vegetables.
Our first order of roses should be in transit as I write this. Our second shipment is due to ship next week along with our big stock up for spring seed order. I have been looking at suppliers' availability for hard goods, and I think many of our spring orders will be late, so supply will be an issue again this year.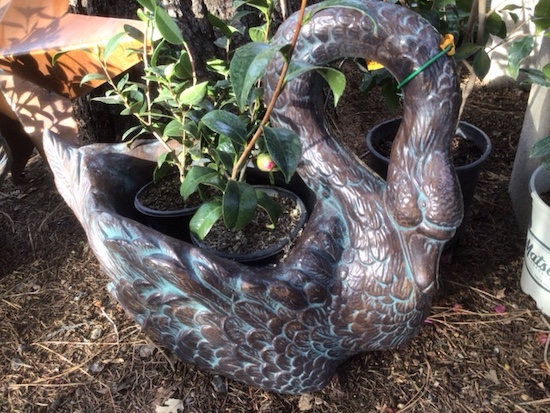 We just received a new cement statuary order. Check out the pics I am sending along with the newsletter. We still have a few bulbs for spring left at half off. We are trying to keep cool-season vegetable starts in, but our suppliers do not have much at present. We are starting some ourselves as well. Strawberry starts should ship in February. I think we are in for an early spring if the weather stays dry and warm like it has been. Of course, second-guessing mother nature is crazy, so who knows, it could still rain all March into April.
Last of Jan/February Specials
Wallflowers 1.00 off regular price
Buy 5 bare root trees or 5 liner pots and get 10% off.
Buy 10 or more bare root trees or 10 liner pots and get 15% off.
Bare root roses- buy 5 or more and get 15% off.
Tree Wrap-20% off
Green All Firmulch 10% off with purchase of any bare root
Gopher Cages- 10% off
Last Years Potted Deciduous Shade Trees-15% off
It's time to plant some trees!
Plant of the Month
Wallflowers-Erysimum hybrids
Early spring is when we find the best selection of Wallflowers at nurseries. The most popular and well known is Erysimum 'Bowles Mauve'. This variety grows very fast to three feet tall and four feet wide. Light purple flowers continue to form on the flowering stalks over a long period of time. They look best if you cut the bloom stalk off after it gets 6-8 inches tall; otherwise, it starts looking seedy. They are long-blooming but not particularly long-lived. Some say they bloom themselves to death. They are often thought to be a lavender when customers come asking for them. Smaller sized wallflowers have their place too. Every year new varieties are offered that grow from 12-24 inches. There are mat-forming varieties as well. An array of bloom colors in yellows, purples, reds, and oranges can be found. Although wallflowers will grow in full sun, they will hold up better if not subjected to our hot summer afternoon sun. You can plant them in light shade. Morning sun is probably best and moderate to regular water. They are on the deer resistant list.