May News 2021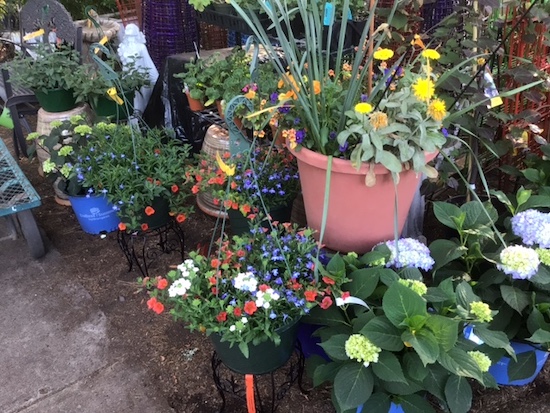 As I start writing this newsletter, it feels like the nights are finally starting to warm up as I am still in a T-shirt at my computer in my unheated back room. Plus, even the National Weather Service is calling for warmer nights and days for the near future. We might think this year is not normal but let me remind you that it is still accepted that May 1st is the average date for the last killing frost in Lake County. After all, we are located in the mountains of No. CA. Still, it is good practice to keep an eye on the weather reports if you are planting or have planted tender annuals. This is especially true for cucumbers, melons, and eggplant. Peppers are pretty tough, and your tomatoes and squash plants will hold up into the 30's as long as they have some size to them.
We are busy but nothing like last year. The vegetable tables are not getting wiped out hours after arrival, and our seeds are still plentiful. Of course, there is the odd seed or two that we can not get more of because they are sold out or unavailable, but the selection is still good. Still, supply has been an issue with some of our products. Ladybugs for one, pottery for another. Hoping to have some bugs for the weekend, and since the supplier is rationing, we will have to also. Plenty of mantyds, just not ladybugs.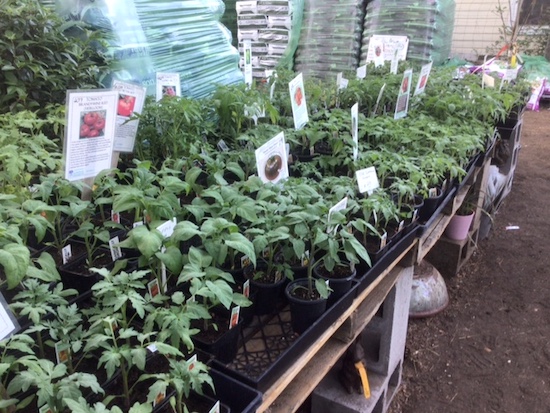 Speaking of bugs, we have not noticed much bee activity. Definitely a cause for concern. I did not have the big buzz on the CA Bay tree at all this year and only saw two bees trying to do all the work on the potted apple trees here. Chelsea says she has noticed a lack of bees at her place too. Anyone else have any observation on this? We need them to have a successful vegetable harvest too. With our order of ladybugs, we have added mason bees.
I guess I would be remiss not to mention our lack of rain and that we are in a drought. Those pictures of our local reservoirs are scary, to say the least. For my money, water is our greatest, most important natural resource. One of the reasons we support organic products here because the last thing we need is for our precious water tables to be contaminated with dangerous chemicals from the petrochemical industry. So what can we do to conserve? It is a standing joke here that my pots of flowers are on drought rations. I will notice a plant at the nursery starting to suffer and will drop everything to give it water. I will walk by my own plants, starting to wilt, and just let them. My pots only get watered every 2-3 days. The key is I have planted trees in my yard, and nothing has to be in all-day Lake County summer sun. So even if they are drying out a little, they do not turn crispy. I believe shade trees are one of the solutions. If you do not have trees, then consider umbrellas or shade cloth strategically placed. Mulch covering is key also. Put it on thick. If you are worried about fire, keep the mulch 5 ft from structures. Studies have shown that the 5 ft around structures is the critical area to keep free of highly flammable plants and material.
Now to the lawn. I guess you have an idea as to what my opinion is about this. Keep it to a bare minumum. Most of us do not need grass in our front yards, but some back where the family hangs out is fine. I still see a lot of lawn seed being sold here that has bluegrass in it. We are not Kentucky. Always look for sod or grass seed that is 100% fescue. It is more drought-resistant. Get those roots going down 6-8 inches, so you do not need to water every day. If you have a little shade on it, watering twice a week will be plenty.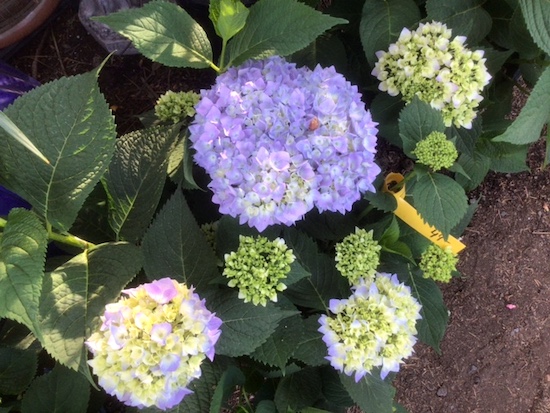 The nursery is guilty of selling plants that need water, like Hydrangeas. It is true. (Nice selection in now.) Roses are not known for their drought tolerance either. Do we have to go without because we live in CA.? Not necessarily. Just be mindful of a plant's water needs and do not plant loads of water-thirsty plants. Good soil conditioning, adding water-retentive materials like coir or Soil Moist granules to your pots, baskets, and containers, and adding mulch will go a long way in mitigating water needs. We also sell plenty of climate-appropriate plants from natives to the Mediterranean, Australia, and South African. All regions with similar climates to ours. Please note that newly planted plants still need to be watered and will only withstand periods of drought once they are established. To get your plants established quicker and rooting out faster, use EBStone Sure Start fertilizer. We highly recommend it. There is a list of drought-resistant plants for our area available on our website. www.stargardens.biz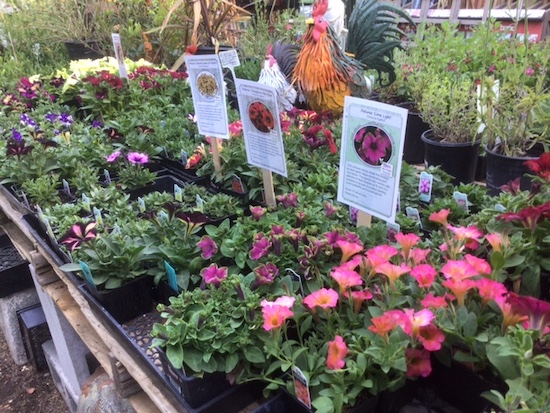 So what is looking good at the nursery? The Snowball Viburnums are budded. These are on the deer resistant list and are fabulous in bloom with huge white pom-pom flowers in spring. They lose their leaves for winter but have some fall foliage color. Another great Viburnum is Summer Snowflake. This is a rebloomer and is showing off its first round of delicate white flowers. The roses look good even though most of the new ones this year have not started blooming yet. Our custom baskets are full, blooming, and ready for sale, along with a few of our custom containers. Any of these would make a fine Mother's Day gift. The vegetable tables are fully stocked with numerous types of tomatoes and peppers. We have 6 packs of petunias and marigolds, but they are not showing color yet. The 4-inch are as well as Million Bells/Calibrachoas and Verbena. Also available in 4-inch pot-Gailardias, Echinaceas, Rudbeckias, Gaura, Lantana, and Salvias. All of these will give you color this year and are heat resistant and water-wise. Summer blooming bulbs are in stock now in the salesroom.
Looking for drought-resistant shrubs? Olives, Yuccas, and Oleander would work. Blue flowering, grey foliaged Bush Teucrium is another good choice. It gets about 5 ft tall and wide. Spring blooming Cistus/Rockrose is another. It comes in a variety of sizes and flower colors. Phlomis/Jerusalem Sage is another option. Whorled yellow flowers good in dry flower arrangements repeat if the spent blooms are removed. Although Russian Sage is not considered a shrub and gets cut back in winter, the full-size variety grows to 5 ft tall and is shrub-sized in summer. Long blooming, with spikes of blue. The large growing, red flowering Hot Lips Sage definitely qualifies for shrub status. It is our most popular Salvia. Hummers like it too. Do not forget the Sure Start.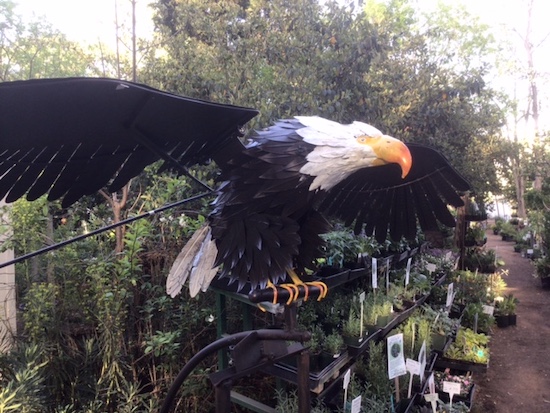 We are still waiting on a bunch of our pottery orders, including the popular painted Spanish ones. We have the Rocking Eagle and are waiting for the return of the big Rocking Owl. One customer who bought one last year said it is keeping small, destructive critters out of her garden. We have placed an order for more metal figures and arches but not sure when they will arrive. We just placed another cement order for birdbaths, but that will most likely take weeks. It is all made to order. For all you fans of our windchimes, we have mixed news. The manufacturer has decided to discontinue the Gentle Spirits line, so we will be upgrading to the Corinthian Bells. They are slightly more expensive but do come in a wider range of colors. The Midnight Blue chimes will be returning.
Lots of options are happening now at the nursery.
May Specials
Last month of our spring soil special:
Buy 3 GreenAll Organic Potting Soil 2 cu ft- 4th Free
Liner pots of Lilacs and Grapes- 20% Off
(save us from having to shift to larger pots)
20% off Deciduous Shade Trees in stock
encouraging you to plants more shade
Flowering Quince-20% Off
E B Stone Sure Start #4 lb bag $1.00 Off