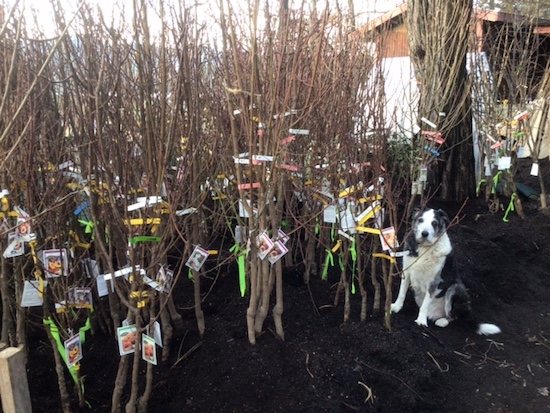 Winter break is over, and it is time to get back to business. The bare root tree order arrived while we were closed. There are several things we will not be getting that were on our list, or that sold out with pre-orders. We could not add anything to the original order we placed months ago as there is a nationwide fruit tree shortage. We were cut down on what we ordered, too. Demand for fruit and shade trees is off the chart right now. If you were planning on adding to your fruit tree collection this year, it would be best not to delay too long. Most of our fruit trees are on semi-dwarfing rootstock. They will still grow to 85% of a full-size tree if you let them but can also be kept to any size with summer pruning. Most of our trees are self-pollinating (aka self-fertile), but some are not. That means another variety of the same fruit is needed. Even self-fertile ones usually set more fruit if a second-like tree is within 100ft. We also have a selection of flowering ornamental trees and some great shade trees. We were able to keep most of the prices the same as last year. You can see our list of trees and berries on our website: stargardens.biz
The bare root rose list is on the website, too. These will be coming around the first week of February. As with the fruit trees, demand was greater than supply, so expect some shortages there and no additions. Please take a moment to look at the list and call us with your order if you want us to set it aside when they arrive.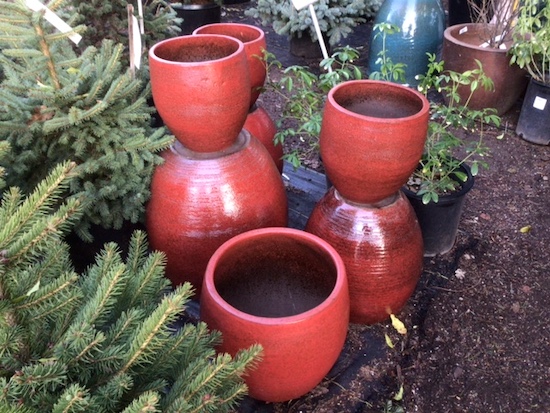 Last year we had some difficulty with pottery supply, mostly due to shipping back-up but also manufacturing. We were trying to hedge our bets and have quite a bit of terracotta in stock at this time. Some of our pre-order glazed pots came while we were closed as we asked for early ship dates, hoping to guarantee they would be here for our busy Spring.
We have some bulbs left at half price. It is still okay to plant them now, but I would recommend doing it by the end of Jan. The big order of 2022 seeds should be here by the end of the month, but we do have 2022 cool-season flower and vegetable seeds in now. Look for half-price 2021 seeds, too, if you like bargains. Seed potatoes are here, and we still have onions and garlic for planting now. Bare root strawberries will be here in February.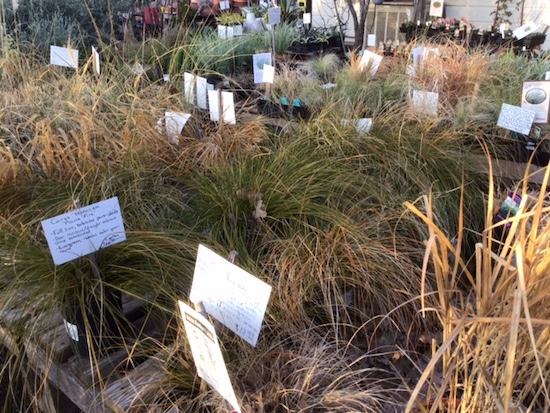 We will be placing orders this week for items we are low on, so give us a call if you have a special request. I know some have been waiting for a rainy season, and hopefully, it keeps coming. Still, we carry a lot of low water use plants here, including olives, natives, yuccas, hesperaloes, grasses, mangaves, agaves, elaeagnus, lavender, rosemary, boxwood, bottlebrush, and grevillea, to name some.
Have you been busy pruning? If not, you should probably start while we have a break in the weather. If you did summer pruning on your fruit trees, then you are probably okay. If you did not, then it is time to cut last year's growth back by at least one-third. If the tree is already as big as you want it, then I would cut the new growth back to two buds and remove excess branching. Prune young shade trees to shape. If it looks like you have excessive branching (often on a purple leaf plum or ornamental pear), remove some. If you are not sure about too many branches, imagine them as they enlarge to 4 and 5 inches in diameter with side shoots and then decide. You do not want your tree to be too crowded. Easier to corrective prune now than later. There is good information at davewilson.com or homeorchard.ucdavis.edu
Did you have disease or insect problems last year? Even if you did not, one of the best organic practices is to dormant spray your fruit trees, roses, and other ornamentals in the winter. We have already seen some disease issues on some of our evergreen shrubs due to the cold and wet weather. Our toyons, photinias, and choisyas are getting a brown spot and the disease that causes half the leaf to die back. Time to get out the copper fungicide, neem, or Seranade. Hoping to kill off overwintering whitefly eggs, aphids, and other pests? Horticultural oil is the ticket. If you only get in one spraying instead of three, that is better than nothing.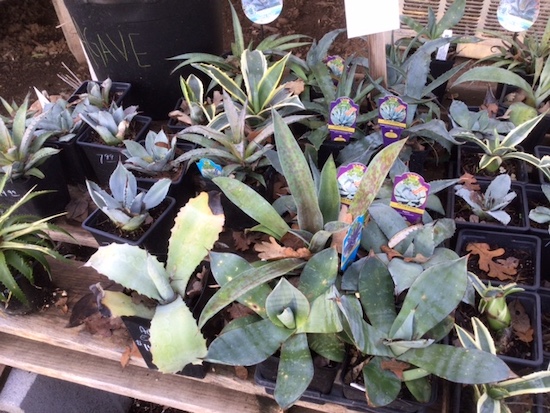 How many of you have an herb garden? We try to carry a good selection year-round, which is not always possible. Mostly we have culinary herbs but try to get in medicinal ones too. Right now, we have some white yarrow and Sativa nigra growing in the greenhouse. Chelsea is planning on growing even more varieties that we can not get from our usual sources. Still, there is a lot we carry year-round that can be used in teas and homemade healing salves. Never doubt the power of peppermint tea when you have an upset stomach or the calming effect of chamomile flowers. Did you know that lavender has antiseptic/antibacterial properties?
Almost everyone knows Aloe vera is good for skin irritations and burns, but Calendula is also good. Comfrey makes a good poultice for swelling and stimulates cell growth. Plants heal us both mentally and physically.
Continue with applications of True Blue for blue flowering hydrangeas. This acid treatment is what they need here as our water has a high pH. Scatter wildflower seeds. Start getting your beds ready for planting. Top dress your fruit trees, trees, and roses with steer or firmulch. Get those weeds down before they get big. Feed existing strawberries, asparagus, and artichokes. Plant sweet peas. Replant cool-season veggies like lettuce and broccoli. Yes, vacation is over. Time to think Spring. February is almost here.
January / February  Specials
Spring-blooming bulbs 50% off (while supply lasts)
Potted Doug Firs 30% off
Gopher cages 20% off
Firmulch 20% off (with purchase of bare-root trees)
Bare root trees
5 or more 10% off
10 or more 15% off
20 or more 20% off