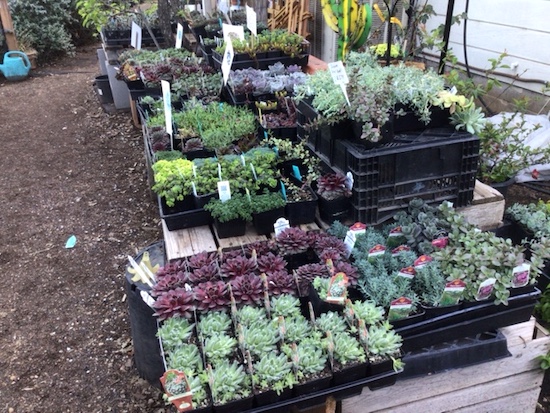 April is here, and that means things are heating up, literally and figuratively. Lots of orders arrived this week. Some of the highlights are succulents, ferns, and upright cold-hardy fuchsias from Little Prince. They have an amazing selection of sempervivens and 4-inch ferns. More metal arrived from Upper Deck and Mexico. Blooms has begun to deliver every 2 weeks so we can get more with the order. Tomatoes, basil, and peppers are available but still waiting on other summer vegetables. We refreshed our seed racks, and the summer bulbs are here. The Oregon order with dogwoods and Japanese maples is still delayed waiting to fill the truck to our area.
This week saw a good selection of 6 packs of petunias available, along with some lobelia, marigolds, and zinnias. Our custom baskets are coming along, and some of them are already out for sale, as are some of the 4-inch pots we grew from plugs like bacopa, petunias, calibrachoas, and lobelia. Things are really taking off now after a slow start to spring with our cold nights.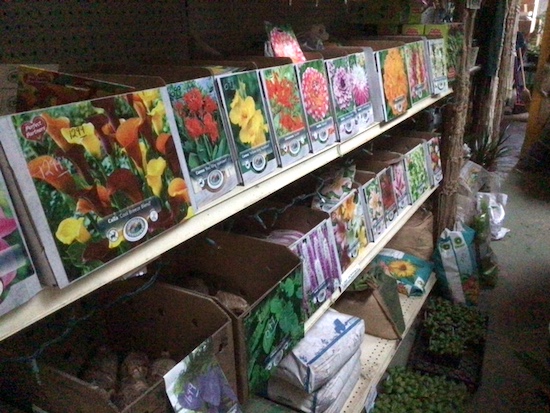 Speaking of cold nights, we saw temps in the teens for a couple of nights. We were able to protect the baby plants in the greenhouse, but we suffered some damage to our one and five-gallon plants here. Even though the citrus was covered, it took a hit, especially the grapefruit. Another victim was our oleander, and we had to cut a lot of it back. The bottlebrush was another victim, even though it was the more cold tolerant variety. My peaches and nectarines in flower are another casualty. No fruit this year. And just when I thought those types of temps might be a thing of the past here. HAH.
Speaking of the possibility of cold, we are still checking nighttime predicted lows and covering the tomatoes and peppers most nights. I know a lot of you are warmer at night than we are on the valley floor along the creek, but there are lots of us around that do not plant til closer to the first or middle of May. This might surprise some of you, but the average late frost for Lake County is May 1st -15th. Keep in mind that cukes, melons, eggplant, and basil abhor cold nights and cold soil. Welcome to spring in the coastal range.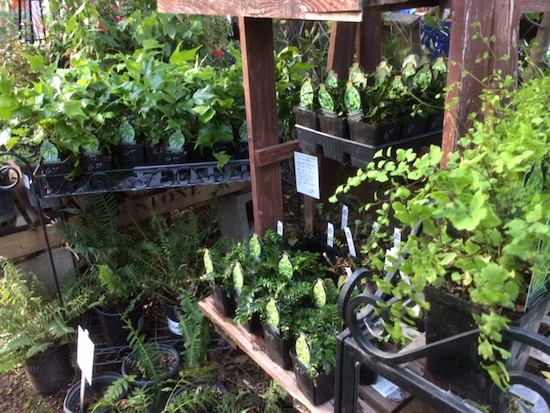 If you are heeding this warning but still want to get that vegetable garden going, the first thing you have to do is replenish your soil. Green-All Soil Booster is perfect for that. We also recommend worm castings as the plant nutrition in them is in a form your plants can use immediately. Plenty of you out there that solely rely on steer manure to do the trick. After all, it worked great for Grandpa. We sell that too, along with chicken. Chicken is a higher quality poo, but you need to be careful not to add too much as it can burn young plants, whereas steer, not so much. After you have amended, there is plenty that is totally safe to plant and harvest before the heat comes. Peas, lettuce, spinach, chard, celery, beets, broccoli, and kale will do fine on frosty nights and colder soil temps.
Bare root season is over, and all the shade and fruit trees are now in pots. We actually still have some to choose from, unlike last year when we pretty much had sold out of fruit by now, and we're trying to buy it in from other sources. The roses, at least most of them, are leafing out and beginning to look good. These will all bloom this year to bring you color, fragrance, and cut flowers for you.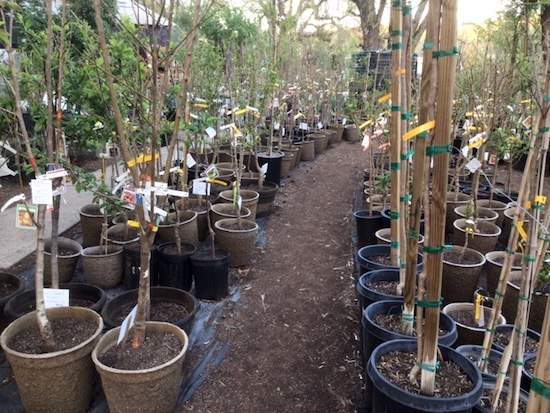 Plants put on their biggest growth spurt in the spring, so it is very important that you feed everything this month. We do not care if you top-dress your trees and shrubs with firmulch (recommended because it helps with moisture retention too), steer, dry, or liquid but do it! Top dress your big containers with firmulch every year as this will keep the soil level from dropping as the organic matter is used up. Our EB Stone All Purpose fertilizer is great for everything, but we use the Rose and Flower on our roses. Feed your Azaleas and Camellias as soon as they are done blooming with our acid food. Feed your citrus monthly.
Young trees need their trunks protected until their leaf canopy is big enough to do the job. Use tree wrap or watered-down white interior latex paint to do this. Monitor your apple trees for coddling moths and spray when your fruit is dime, nickel, and quarter size to avoid your fruit from getting too wormy. Neem should work. My pears had worms too. Keep an eye out for borer holes on your fruit tree trunks. You can manually kill them with a wire if you can get them soon enough. Once they are deeper into the tree, your only organic help is beneficial nematodes in the soil when they emerge and drop down to pupate in the ground. We have some on order and should be here this week. Other beneficials in stock right now are ladybugs and mantids. Aphids are here, and even though we get a lot on the roses, we never spray for them other than washing them off with a hard spray of water and releasing ladybugs. Chives are an aphid deterrent, and I like to have them planted with my veggies. Another trick is a handheld vacuum cleaner. They can suck a lot of beetles off plants if that is your affliction. That being said, we do carry several types of sprays approved for organic gardening for aphids and all those other pests out there. Bt for caterpillars and worms and Sluggo Plus for crawlies like the ever destructive nighttime damaging earwig are just about a necessity to have, along with a neem spray and Take Down. Remember to spray early or late in the evening to avoid hurting your beneficial insects.
And lastly, don't forget to plant pollinator-attracting flowers in or near your vegetable garden and, for that matter, all over. Bees, butterflies, and hummingbirds will thank you.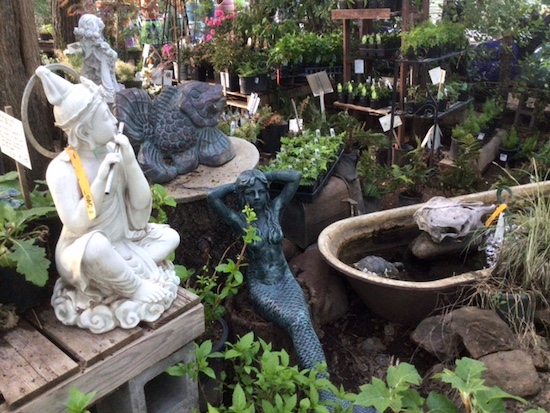 April Specials
Buy 3 bags of GreenAll 2 cu ft Potting Soil
4th FREE
Filberts/Hazelnuts-Buy one, get the second half off
(need two for nuts)
Buy 7 6packs-8th free
Buy 12 4 inch/quart perennials-13th free
Shop (and love) Where You Live
The punch card is on for April. Shop at participating local merchants. Fill your punch cards
to enter drawings for prizes. Get yours at Star Gardens.