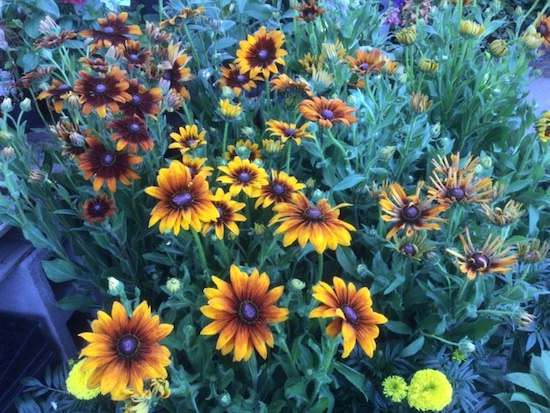 CLOSED 4th of July
How about that! Halfway through 2022 already and into the 'dog days' of summer. Good news, though. Just about all those great summer-blooming perennials that grace our yards for years to come are here. We are talking Russian Sage, Black-eyed Susans like 'Indian Summer,' and 'Autumn Colors,' Coneflower, Coreopsis and Dahlias for the more well-known ones. Let's find out about some others:
Calylophus drummondianus: Common name is Sundrops. Bright yellow one-inch flowers in summer on a 1.5 foot by 2 ft. plant with fine cut almost ferny foliage. This Western native likes well-drained soil and is a good choice for difficult areas in the sun. Looks great spilling out of a container too. To keep it looking good, shear back in spring before new growth starts.
Phygelius x rectus: Hybrid Cape Fuchsia grows 2×3 feet with tubular hummingbird magnet flowers. Varieties come in reds, pinks, and yellows. This is a shrubby perennial that deserves more attention that it gets. Plant in the ground or by itself in a container. Cut out old flowering stalks. Goes dormant in winter.
Lobelia laxiflora: Mexican Lobelia. Deer resistant and fairly drought tolerant, this plant is very different from what we usually think of as lobelia. Grows to 2 ft tall with tubular orange, and red flowers. Plant in the sun. Cut back in winter to the ground. Can tolerate bog.
Antennaria dioica 'Rubrum': Pink Pussy Toes. A water-wise plant that tolerates poor soil and difficult conditions. Grey leaves form a mat year-round, and fuzzy small pink flowers appear in summer. Keep it on the dry side in the sun or part sun. Different but very cool in flower. Good in rock gardens.
Helenium autumnale: Sneezeweed. Do not let the common name prevent you from planting this long-blooming into fall perennial. A good cut flower that is deer resistant but does like regular water. Plant in the sun or half-day sun. Flower colors range in yellows, oranges, and reds.
Heliopsis helianthoides: Ox-Eye or False Sunflower. A great sunflower-like perennial for the sun. Yellow flowers in summer. We have 'Sunstruck,' a fairly new intro with variegated foliage, growing up to 18 inches high and almost as wide. Moderate water. Our 4-inch pots are on special in July.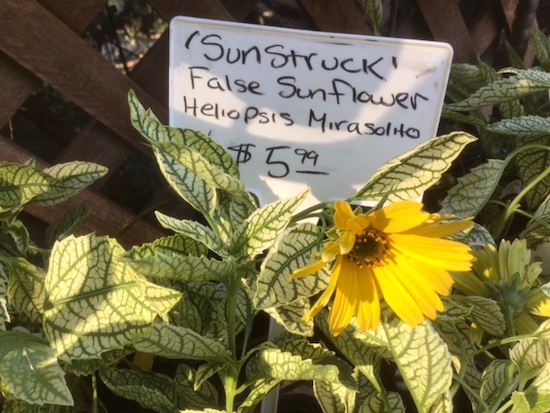 Enough about perennials. How about those warm-season annuals? We finally have some 6 packs of Catharanthus roseus, better known as annual vinca or Madagascar periwinkle. This is nothing like the perennial ground cover except that the flower shape is the same. I have never been a fan of the foliage, but this is perfect for deer-infested hot summer in Lake County. Blooms all summer with so many colorful flowers, the foliage is a non-issue. Takes a beating and keeps on ticking! Blooms Nursery has started releasing their exceptional 4-inch Dreamland and Magelan series zinnias. New Guinea Impatiens are in stock now. If you need a color that can take the heat, try scaveola, portulaca and lantana. Caladiums, Torenia, Browalia, and Coleus add annual color to your shade spots.
Coming into bloom soon: Hardy Hibiscus. This is the one we grow in our pond, but you can plant it in the ground too. It dies completely back in winter but returns once the soil warms up. Another Hibiscus that takes the cold is Rose of Sharon. You can not go wrong with this large growing shrub that blooms summer into fall when all those great spring blooming shrubs are long done. Crape Myrtles are beginning to flower too. These large growing shrubs can be grown into multi-trunked 20 ft trees. They are also trained in tree form for you on a single trunk. They have nice fall foliage colors and interesting bark as an added bonus.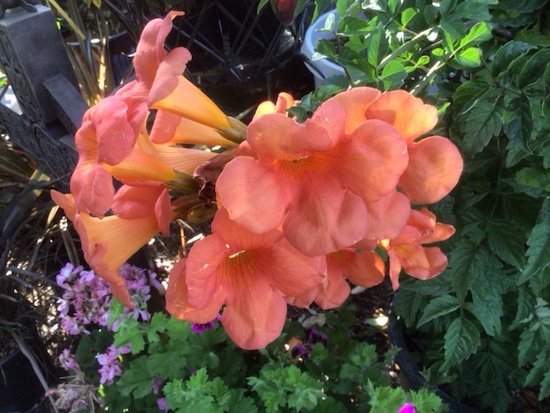 We have a few slower-selling shade trees that we will be offering at 30% off stock on hand til we sell out. Shade trees are a must here; otherwise, your other plants and home bake in the all-day sun.
Melia azedarach 'Umbraculiformis': Texas Umbrella Tree. A tough tree that tolerates wind, drought, and poor soils. Grows to 20-25 ft high and wide. Purple flowers followed by a berry that is toxic if ingested.
Liriodendron tulipifera: Fast-growing shade tree from the hardwood forests of the Eastern United States. Flowers high in trees are not seen well but are very showy. Will need regular water here. Nice yellow fall color.
Princeton Elm: Fast growth on this majestic American Elm to 65 ft. Shallow rooted, so do not plant in your leach field or near your foundation.

Zelkova: Good selection for heat, poor soils, and wind. Fast-growing tough elm relative that can have some interesting fall color in the right conditions.
Carpinus betulus: European Hornbeam. Iranian native so you know it can take some heat. Dense grower to 40 ft. that widens to same with age. Interesting grey bark with some shade tolerance but best planted in the sun.
Got bugs? Integrated Pest Management means keeping an eye on your plants, spraying after a small amount of acceptable damage happens. Here are some of the pests we are dealing with at the nursery. #1 is Earwigs. They hide out in cool dark places during the day and come out at night, and do considerable damage to certain plants. For us right now, it is our butterfly plants and black-eyed susans that have the most damage. We use the natural bait Sluggo Plus for that. Those tiny leafhoppers are out too. These attack our grapes and catmints, to name a few. They do not chew holes but pierce and suck the green out of the leaves, giving it a stippled look. I have them along with some whitefly on my tomatoes. It is hard to tell the difference when I shake my plants, and they fly out. So far, I am using the yellow sticky traps as long as it does not get out of hand. At that point, I will start to use one of our many organically approved toxins. We have budworm on our geraniums and have started spraying with Bt for that. They eat the flower while still inside the bud. All caterpillars leave black poo droppings on the foliage, and this is one way to know you have them. This will also come in handy if you get tomato hornworms eating your tomato leaves. Look for the black droppings, and you will know what you are dealing with. Tomato hornworms are well disguised on a tomato plant and are often hard to find even when you know they are there.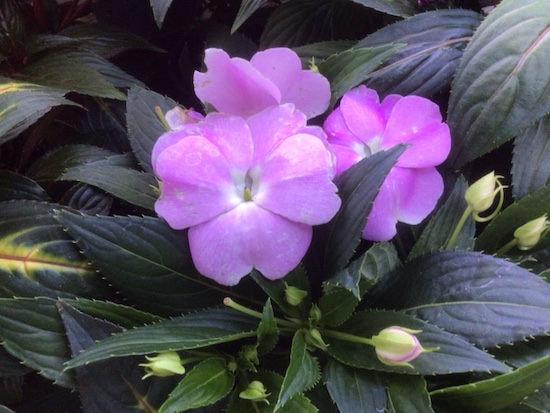 I was looking at my fruit trees down below, thinking 'time to do some summer pruning.' I am trying to keep my trees small, compact, and loaded with fruit-producing wood, and in order for that to happen, I need to prune back a few times in summer but never open the tree up too much or the sun will scorch the shaded inner branches and leaves. It is also time to feed my vegetable garden and containers. Even though I amended the soil at planting time, it is time to follow up with more granular fertilizer, manure tea, compost tea, or a liquid fertilizer like fish emulsion. I like to use Agrothrive. It is more balanced than fish, having more phosphorus and potassium. For roses and flowers, we think our EB Stone Rose and Flower food is exceptional.
July is the month of the year with the highest transpiration rate. Transpiration is moisture loss from the ground and the leaves of the plants. Remember, mulching can really help with the soil, but plants can lose moisture out of their leaves faster than they can bring it up from the ground. This is why your big-leafed plants like pumpkins and zucchini wilt in the middle of the day but perk up again later. If you are really struggling with some plants, consider our shade sails, bulk shade cloth, or umbrellas.
Many of us are feeling the cost of travel is too high right now. We will be staying close to home this summer. Make your yard into a staycation paradise. Kick back in your own paradise and place of serenity. Watch nature unfold in your own backyard.
July Specials
Recipe 420 Potting Soil $2.00 off
Summer veggies and bulbs 50% off
False Sunflower (Heliopsis) $1.00 off
Coleus $1.00 off
Specialty annuals (Sunflowers, Nasturtiums, Morning Glories, and more) $1.00 0ff
Selected Shade Trees 30% off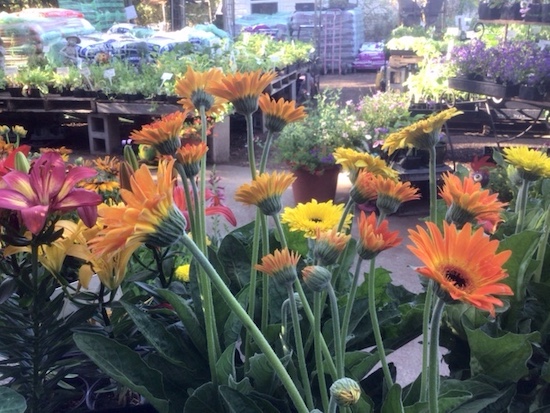 Closed July 4th