How about that! Cooler weather and Fall conditions have arrived. Here at the nursery, we have been pretty close to a killing frost 2 nights now. There is frost damage on the squash plants in the lower greenhouse/growing area, but not in the retail area yet. We have covered the citrus with N-Sulate cloth (available here) and brought in all the houseplants we could squeeze into the salesroom. Unfortunately, we have way too many. That means houseplants are 25% off from October 29th till we close for winter break on December 24th. Our sales room just gets too darn cold at night in winter for their good. In stock now: Hoyas, Micas, Prayer Plants, Mini Monster, Monstera, Pothos Neon, Rik Rak Cactus, Peace Lilies, Heartleaf Philodendron Brazil, String of Hearts, String of Turtles, String of Pearls, Sting of Dolphins, Ruby Pearls and many more.
Holiday time is growing near, and with an early Thanksgiving, it is coming up fast. Expect us to have cut Christmas trees on the day after Thanksgiving if all goes according to plan. 8ft Nordmanns and Nobles will be in short supply for us, but we will have Dougs. No tall field-grown trees either. Even if you do not plan to put your tree up right away, it is best to buy early for the best selection. Wreaths will be here a few days before Thanksgiving. Potted living Conifers from Oregon usually get here before the 20th, but last year they were later. Most potted trees will be anywhere from 2ft to 4 ft (not including root ball/pot), with only a few taller ones available. Again buy early for the best selection, and do not plan to have it in the house for more than 2 weeks.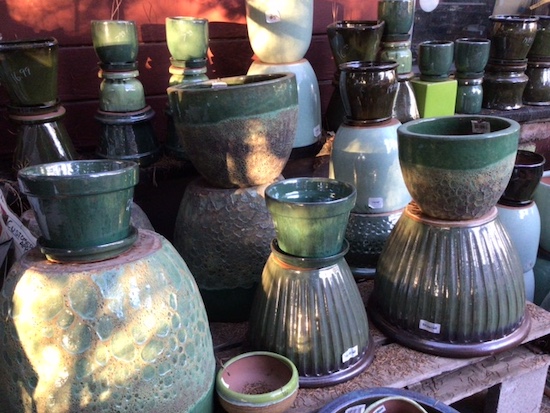 November is also the month the Farmers Market liner pot fruit usually arrives. This is part of our 2023 bare root order. It includes berries, pomegranates, olives, and some grapes. The bulk of the bare root order arrives in the first two weeks of January and if on schedule, will be here when we reopen after winter break in mid-January. Dave Wilson has not posted the 2023 order yet, but if you want to check out what we typically order yearly, you can view that on our website. http://stargardens.biz/2022/01/2022-trees-bareroot/  There will be some changes for 2023 but not a lot. We are accepting pre-orders with no deposit necessary.
Did you have insect infestations like whitefly or scale? Peach leaf curl or Fireblight disease? November is the first month to do a series of 3 'Dormant' sprayings. You need Copper or Sulfur for disease and Horticultural or Neem Oil to kill overwintering insects and their egg cases. These are used as a preventative also, so it is recommended that you spray your fruit trees and roses no matter what. Make sure you clean up all fallen leaves around your fruit trees and remove all the leaves from your roses when you prune. Removing those leaves will force your rose into a rest period which sometimes does not happen naturally in our CA. climate. Also, those leaves are magnets for rust and blackspot during cooler, wet weather.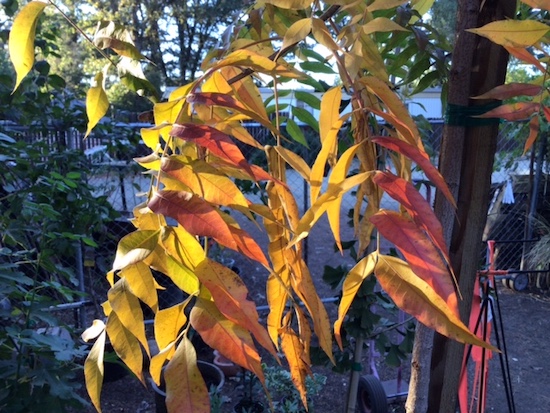 Other November chores include planting spring flowering bulbs, dividing perennials, bringing in your battery timers, and draining and shutting off your irrigation valves when freezing weather starts. This might be tricky as La Nina is predicted to continue through the next few months, at least with little or no rain predicted, so you might want to keep your irrigation on. However, if you do, you do not need it coming on as often as before, so please adjust. Once or twice a week, this time of year, with the current daytime temps, should be enough except for pots. November is also the month to treat your blue or hoping for blue Hydrangeas with GreenAll True Blue for the first of several times. Next year's flowers are starting to form in the canes already. That should give you a pretty good idea that you do not prune Hydrangeas to the ground. You can remove older canes if necessary to reduce the size or prevent overcrowding. Remove spent flowers to the second bud down. These are often starting to swell with next year's flowers already. Still, time to plant onions and garlic, and organic seed potatoes should be here next week. We have a good selection of starter vegetable plants that will be included in the Nov. sale.
Many of us love this time of year. One reason I do is that on November 1st, our hours go to 10-4. That is a good thing because it is still pretty chilly here at 9 am these days. Mostly I love the warm light of Autumn with the color changes in the landscape. I mentioned some of the best trees and shrubs for fall color here last month, but I will go ahead and list them again. After all no such thing as too much fall color. Trees: Chinese Pistache, Raywood Ash, Crepe Myrtle, Ornamental Pear, Maples, Dogwoods, Hawthorne, Zelkova, Mulberry, Persimmon, Ginkgo, and Sweet Gum. Shrubs include Lilacs, Barberries, Burning Bush, Spireas, Blueberries, Oak Leaf Hydrangeas, Smoke Tree, shrub Dogwoods, shrub Crape Myrtles, deciduous Cotoneasters, and Viburnums like Snowball. Many grasses and perennials add to the fall landscape too. After all, in the flower world, nothing says fall like Chrysanthemums in bloom.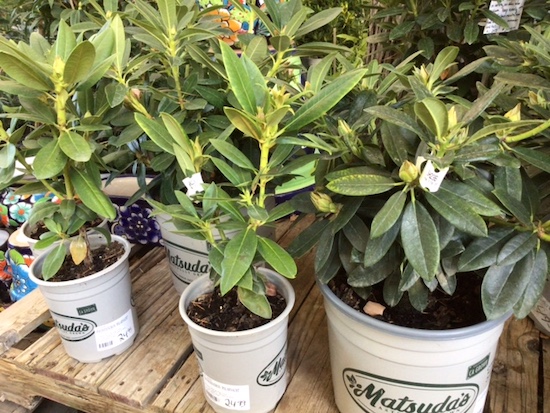 As many of you have noticed and appreciated, we love plants of just about all kinds here at the nursery. We have lots of inventory coming into our slow season and have continued to put in some orders just to get special orders filled or get something we have not had all year. Case in point is that we now have some Rhododendrons for the first time all year, restocked on Mangaves, have lots of glazed pots with glazed birdbaths due this month, plenty of CA-grown conifers, and so much more. It is time for us to cash in. We have decided to start some of our year-end sale a month early for all our potted plants. We usually do glazed pots and houseplants in November, which are also included in the 'early' year-end sale. Remember, this time of year is the best time to get your plants in the ground before the soil gets cold. They will be twice the size at the end of next year compared to one planted next spring and require less water as they are already established. Plus, at 25% Off, you save and get the jump on higher prices next year. Win-win for you and us.
Reminders
Winter hours start November 1st. 7 days/wk 10-4. Closed Thanksgiving Day.
Trick or treat at participating Middletown Business' October 31st, 2-6. We will do it from 2-5 closing.

November Specials
(starting October 29th)
25% off
All houseplants
All potted plants (from 6pks on up to the largest sizes)
Glazed pottery