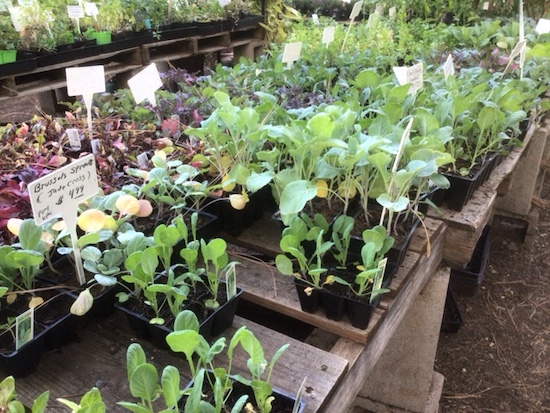 Notices: 
 October 8: Closing at 2pm for Staff function
October 31st:Trick or Treat 2-5 pm
Here we are into the last quarter of 2022. Another year of now normal, abnormal weather, including cloudbursts this month bringing over three inches of rain to some places, temperatures in the teens this spring when fruit trees were in full bloom, and the hottest period of weather in September. The seasons are all mixed up.
Every year I remind you that the best time of year to plant trees, shrubs, and hardy perennials in our climate is now. Plants in the ground this month will be twice the size of something planted next spring by this time next year. Plus, you will use less water to get them established. Not only will you save money there but I can almost guarantee your prices will be up next year. Lots of things are discounted towards the end of the year too.
October and April are the prime grass-seeding months here. Perhaps you want to establish a new lawn (hopefully on the small side) or just need to refresh what you have by overseeding. This is the month to do it. Many of you know I do not think grass is necessary in the front yard, but a patch in the back for kids of all ages and pets is often in the cards. Look for a 100% fescue blend for a more drought-resistant grass. Stay away from a mix that contains bluegrass (fine for Kentucky) or too much rye. If you expect a lot of wear on the lawn, then you want the thicker bladed fescue, but if not, you can go for the finer bladed dwarf fescues.
October is the time to apply Ultra Bloom to your spring bloomers. We also call this fertilizer 0-10-10. Zero for nitrogen because your trees and shrubs do not need it for winter, but lots of phosphorus and potassium for fruit bud formation and disease resistance. Use it on flowering shrubs like lilacs, wisteria, quince, bridal veil spireas, viburnums but especially fruit trees. By now, I hope a lot of you have done summer pruning on your fruit trees, so you will be encouraging flowering bud formation on the wood you have. It is actually encouraged to prune some through the summer months but especially apricots and cherries after you harvest them. Pruning now leads to fewer disease issues in the rainy season. Check out our new tree netting. It is a little late to protect most of your fruit from scavengers this year but keep it in mind for next year.
The Ponderosa pines are dropping their needles, and our oaks are beginning to shed some leaves. I noticed one of my Pistache trees is starting to show some color. Fall cleanup is starting. We just stocked some great leaf and debris tarps for garden cleanup. I used these a lot when I was doing landscape maintenance, and my son loves them for his tree business. They last longer than typical tarps, and they have handles! We love our adjustable rakes too. They work in tight spaces closed down and larger spaces fully open. Very versatile.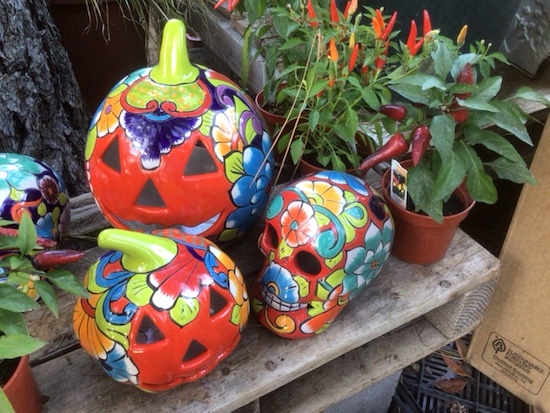 We are keeping our seed supply stocked, but FYI the perennial sweet peas have been a no show. Did you know fall is a good time to plant sweet peas here? The roots get established, so even though the tops do not grow that much, they overwinter and explode in spring. We have starts and seeds.
I can not get seed potatoes til November, but onion sets and seed garlic are here, as are most of the fall planted, spring blooming bulbs like tulips and daffodils. Do not miss the opportunity to have daffodils and other bulbs blooming again next spring. These are planted now. Paperwhites and Soliel d'Or Narcissus are here for forcing indoors, as are hyacinth.
Ready to yank the summer garden? We have you covered with a great selection of cool-season vegetable starts. Love broccoli or kale? We have it. Brussels your game? Plant now, as these take 100 days. Beet greens and beets your thing? Plant starts or seeds this month. Want to make your own saurkraut? Get those cabbages in the ground this month. Spinach, lettuce, chard, and cauliflower are all available.
Now is a good time to check out our perennials that bloom late into the season. Many people tend to do spring nursery shopping, grabbing anything in color at the time only to be disappointed nothing is in color by mid-summer. If you want almost year-round interest with at least a few things in color for most of the year, you have to visit a nursery every season for ideas you can use in your garden.
We just received a new batch of cement statuary and birdbaths, including a big (surprise to us) dolphin, a beautiful angel, small spirit houses, little Hoteis (Budda-like), and animals. Check out the Talavera pumpkins and skulls. We also have some fall yard decor. Tis the season.
Our houseplant selection will be winding down this month, but we are still stocked with things like Dallas ferns, ric rac cactus, braided ficus, snake plants, mini monstera, hoyas, string of hearts, pearls and turtles, aglaonema, pothos varieties, cactus and more. Our succulent selection is pretty good too.
Thank you to all our customers who showed up for our Customer Appreciation Days. The winners of the windchime and 8 $50.00 gift certificates have been contacted, so if you did not hear from us, that means your name was not drawn.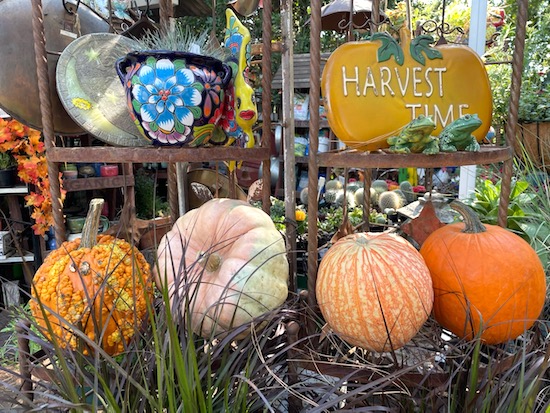 October Specials
20% Off
Ornamental Grasses
Deciduous Shade trees
All types of Hydrangeas
Deciduous Viburnums
Roses
30% Off
Deciduous fruit trees and vines
(Does not include citrus or olives)