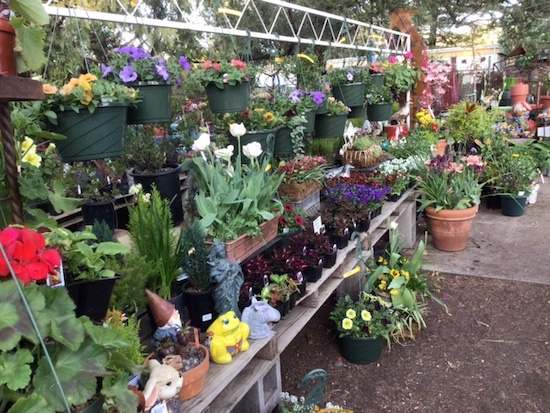 I don't know about you, but this abundant sunshine with heat is taking its toll on me.  I will adjust with time, but for now, it feels too fast, too soon.  The good news is the ground is warming up, so we can plant our warm-season vegetables and colorful annuals.  We have had a fairly good selection of tomatoes and peppers for a few weeks now, but we are starting to get in more of the summer and winter squash, several varieties of cucumbers, eggplant, beans, and a few melons.  Still, I will caution you to watch the weather in case we get a cold snap that drops night temperatures to frosting or freezing again.  This can be particularly troublesome for our higher elevations and the valley floors.  Average morning temps at the nursery are still just above 40, and some of our little baby starts can look a little sad in the morning.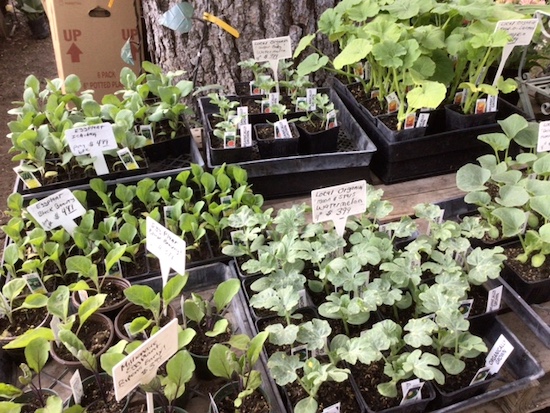 As many of you know, we buy in plugs to make our baskets and flats of popular plants like calibrochoas, bacopa, some sages, and cutting-grown petunias.  The cold has delayed rooting and flowering, but they are starting to come on now.  We just put the 4-inch petunias out even though they are not in color yet.  We have several colors of the speckled ones among our selection.  If we brought these types of petunias from our suppliers, they would have to be $6.99 each.  Because we grow most of them ourselves, we sell them for $4.99.  Even though the colors are not available in 6 packs, I know the cost can be a little hard to swallow for a single petunia.
We have been selling out of the 6-packs of the popular annuals every week.  These include marigolds, snapdragons, cosmos, and alyssum.  For you cut flower enthusiasts, Blooms is doing several varieties in 6 packs.  These include stock, larkspur, statice, pincushion, black-eyed susan, and campanula.  We are beginning to have zinnias too.  We just received some good-looking dahlias and trachellium in gallon containers, both good-cut flowers.  Our roses are really coming on with lots of new growth, although no flowers yet.  The downside means aphid season is here, particularly on roses.  As many of you know, we usually just hose them off and release ladybugs.  We just received a new shipment of these beneficial insects along with preying mantyd egg cases.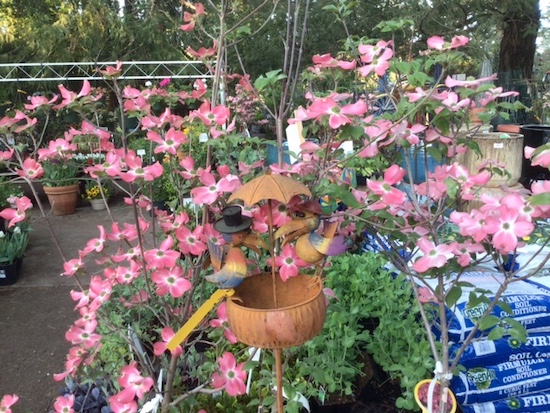 The tulips are done, and if you missed them, they were gorgeous.  We now have our dogwoods on display in full color along with the weeping redbuds.  All my lilacs in the ground are in full bloom and loaded with flowers after all the cold and rain we received.  We have a large selection of lilacs, so you, too, can have these remarkable shrubs in your yard.  They are deer and drought-tolerant once established, have nice fall foliage color, and smell heavenly in bloom.
It is time to get your irrigation checked out and make sure it is ready to start.  You can probably hold off on established trees and shrubs for another week or two, but the newly planted ones are going to need you to get the system up and running asap.  I always seem to have to make a few repairs to my drip lines after winter.  Make sure your battery timers have fresh batteries and that your backup batteries in your electrical timers are fresh too.  You can set things for fewer days and/or time now and increase as the days get longer and hotter.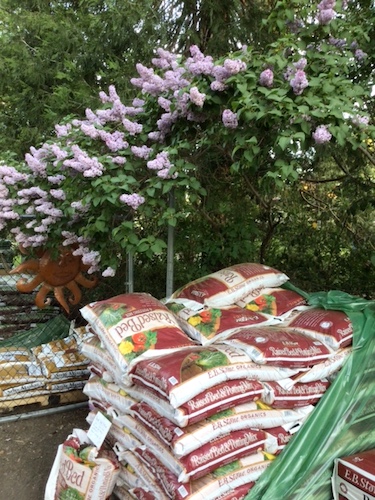 For those of you who love our raised bed 3cf bales, we have been informed we will not be able to get them for a while.  Something about not being able to get some of the ingredients.  We did stock the raised bed bags, which are a completely different beast altogether.  The bags are 1.5cf for $10.99, and it looks like they are a grade above our regular potting soil but not quite as premium as our 420 soil.
We are still trying to sell down our liner pots of berries, so they will continue to be on sale this month.  After selling out of some of the varieties immediately last year, saying I overbought this year would be an understatement.  We will have all the liner pots on sale as we do not have the time or space to shift them to larger containers.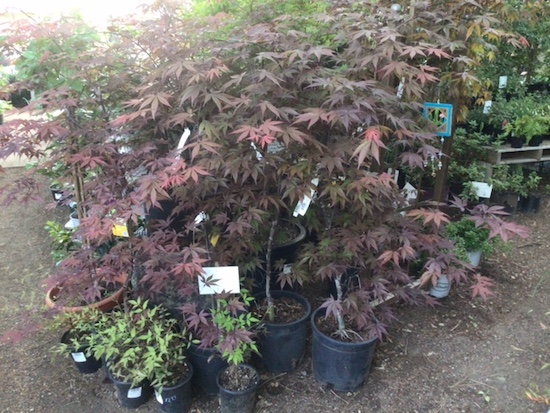 Have you fed your yard yet?  Spring is the time of year to feed everything as they are putting on the most growth right now.  Citrus, roses, trees, shrubs, and perennials all need some TLC.  Our EBStone granular fertilizers are awesome.  If you are a liquid person, we have Maxsea, Fish, Fox Farm, and liquid organics.  Top dressing with GreenAll Firmulch is another treat you can give to your plants.  Don't delay.  Feed today.
The Spring Sharp Event is back!
Saturday, April 29th
One day only!
Razors Edge will be here from 10-1 to sharpen your tools and knives.
The nursery will offer 15% Off any sale over $100 to sharpen up your yard.
Liner pots of berries and some closeouts at 50% Off.
May Specials start April 30th
Liner pots of edible plants 20% off
This includes olives and pomegranates
GreenAll 2cf Organic Potting Soil
Buy 3, 4th free (last month for the deal)
Lilacs, Azaleas and Camellias- 20% off