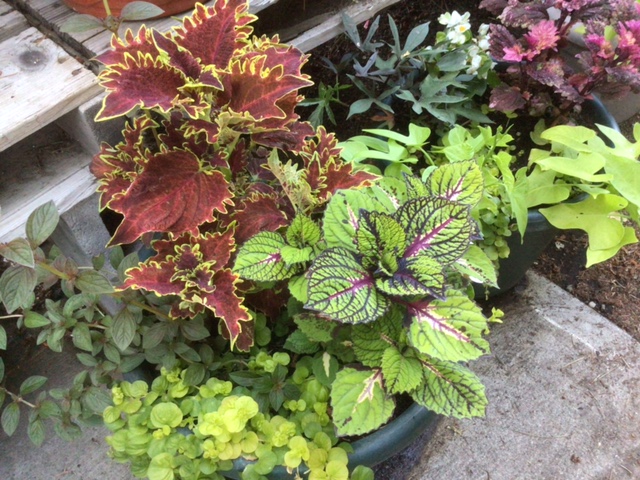 Closed 4th of July
My computer is not cooperating tonight. It just took me 50 minutes to get to a blank sheet of my Pages program. First, I sat down, and the computer had to reload. That takes forever on a good day, but it refused to open my writing program. Shut it down again, and it still took 20 minutes to get a frigging blank canvas to write this on. Our iPads at work were not responding this morning either. Solar Flare? 5G nightmare? Big hack? Deb's phone service is all whacky too. What the bleep is going on? Is this why I just want to be out in the nursery with plants? UGH.
Has it been so long since we had a wet year that I forgot what it was like? Besides all the native shrubs like Ceanothus, Yerba Santa, and Lupine putting on a spectacular show, I actually got a few cherries on my volunteer cherry tree. Debbie never realized her son had a cherry tree in his front yard, and it was loaded this year. Alas, still no nectarines on my tree that once again was in full bloom when a freeze hit. Another thing is we are still getting some powdery mildew on our roses. Granted, air circulation is not the best, and we do water every day, but usually, that is an early spring deal here, not going into July. I usually do not have problems with allergies, but this year is different. The amount of pollen that came off the pines and oaks was over the top. The air was thick with it, not to mention my car.
So we are getting our first heat spell, and at least it is a month later than last year. July is the month of the highest transporation. Some of you might recall that it is a combination of the words transpiration and evaporation. Transpiration is moisture loss through the leaves of plants, and evaporation is moisture loss from the earth/bodies of water, etc. Factor in the long days and the intense sun here, and plants, specially new ones, have a hard time this time of year. We do have sprays that help seal moisture into plants, but they are made of pine resin and cause damage to the leaves of things like roses. It will work on conifers and other evergreens. If you recently planted last year's living Christmas tree, we recommend it. If you have a plant that is really struggling try to shade it for part of the day. Umbrellas work. So does shade cloth. (We sell shade cloth by the foot if you need some.) Now is not the best time to plant trees, but if you find yourself baking this summer, you need to put shade trees on your 'have to get' list. Sept/October are great months to plant them. You can plant them now but expect transplant shock and some leaf loss.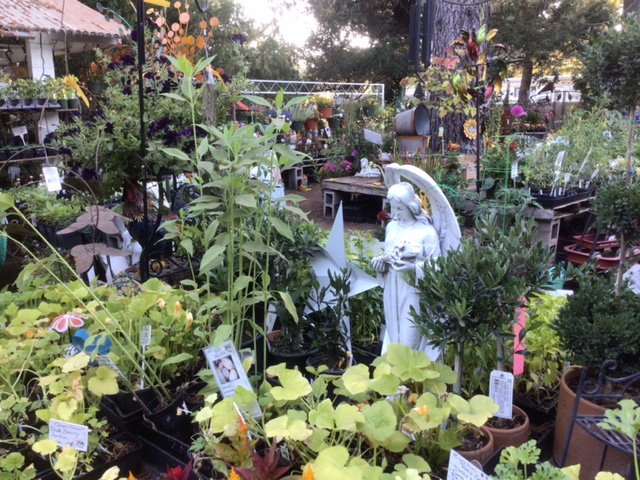 So what is happening here? We just received an Art Craft order, so Buddhas and Quan Yens are back, along with some birdbaths and other statuary. We have some new fairy garden figures, including farm animals, at a customer's request. July is when the Crepe Myrtle and Rose of Sharon start to show their color. We have lots of both in stock. Other great blooming shrubs for summer include Vitex, Smoke Bush, Lavenders, and Sages like Hot Lips and Russian. We just got annual Vinca in. This is a summer annual that is deer resistant, loves the heat, and does not require grooming to keep blooming til frost. It has the common name Madagascar Periwinkle. One guess where it is native. Other great heat-loving annuals are Scaveola, Portulaca, Lantana, and Zinnias.
Natives, climate-appropriate, beneficial and pollinator plants continue to be in demand. Besides Lavender, Catmints and low-growing Teucrium are bee magnets. They can't get enough of the Gaillardia with its big pollen center. Hollyhocks are another bee favorite. Blooming natives include Sticky Monkey Flower, Milkweed, and Coyote Mint. The CA Fuchsia is not blooming yet but should be next month. Hummers love it.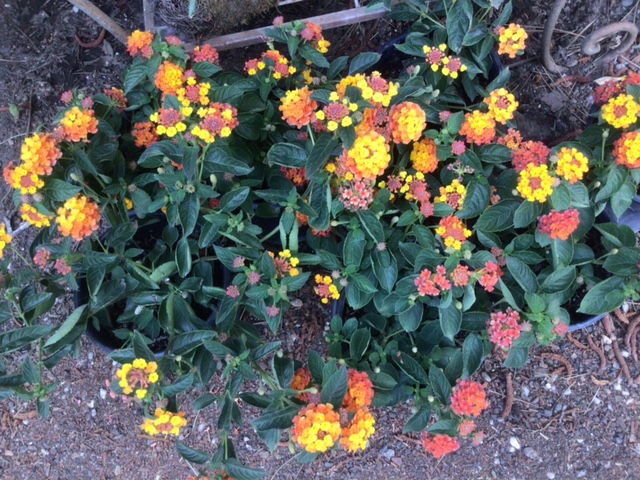 Still, have a few spaces for vegetables in the garden? All remaining 4-inch summer veggie starts are half off. Succession planting of beans is recommended, not relying on your first planting to get you through the summer. Another vegetable you could consider doing a second fresh planting of from seed is summer squash. Some of our customers have discovered Madagascar Spinach. Not a true spinach but a heat-loving vining green for summer when other greens are not hacking it here. Purslane is another. Some of the tomatoes we started from seed weeks ago are finally taking off, so we do have some fresh stock for you. The selection of varieties is limited to stock on hand.
Now is the time to do summer pruning on your fruit trees. We need to do it here at the nursery too. Cut back this year's growth by half or more, being careful not to open up the center of the tree to sunburn. This is to promote next year's fruit forming low and pickable and gets a nice full-looking tree. It will also cut down on the tree's water needs and transpiration loss. We go through the nursery and trim back a lot of our shrubs for water loss through their leaves. Spring-blooming shrubs are specially good candidates for this, again being careful not to trim too much if they receive a lot of sun. The interior leaves and branches that have been shaded by the exterior leaves will burn.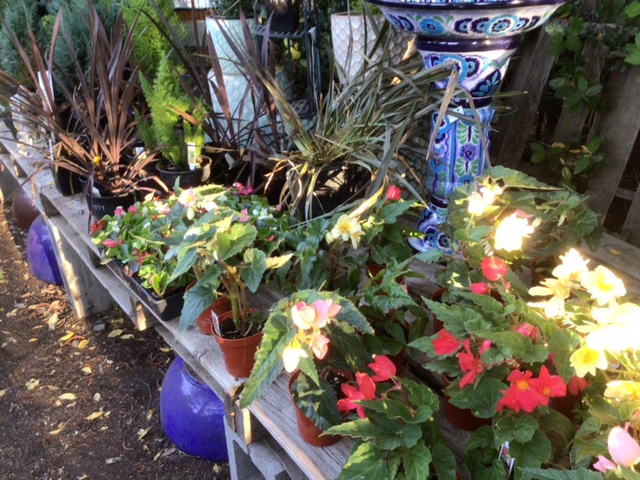 Keep feeding your citrus monthly and roses after every flush of bloom. It is good to feed your vegetable garden every month with a granular fertilizer and, more often if you are using a liquid. If you need to spray for bugs, make sure it is (early or) late in the day. It might be time to do some trimming and feeding of your containers and hanging baskets to keep them performing well and looking good. If not now, then soon.
The dog days of summer are here. Keep yourself and your plants hydrated.
July Specials
Half Off
4-inch summer vegetable starts
Summer bulb packages
20% Off all berries
$1.00 Off all 4-inch sages and lavender
20% Off glazed pottery