Plant of the Month
Gazania hybrids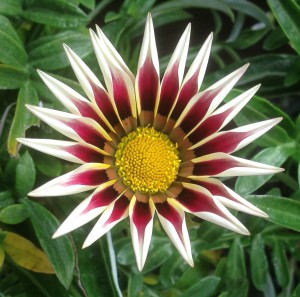 Gazanias are native to South Africa, making them climate appropriate, blooming over a long period of time. They come in two types- clumping or trailing. The flowers open on sunny days but stay closed at night and on cloudy days. They take the heat and occasional watering and are deer resistant. Trailing gazanias are available special order in ground cover flats. In individual pots we offer the Daybreak series, solid colors on a low spreading plant, the Tiger Stripe that start out one color and fade to another so you get multiple color on one plant and the Sunbather series which sports extra large flowers. Gazanias are borderline cold hardy in our area so treat like an annual and be pleased when they do perennialize in your garden. We get half our plants to come back after winter.
March Specials
Green-All Organic Potting Soil 2 cu. ft. bag Buy 3, 4th FREE
Green- All Soil Booster Buy 3, 4th FREE
Cool season annual veg starts 20% OFF
Gazanias 20% OFF
March Checklist Items
Seed indoors-tomatoes, basil, peppers, eggplant, lettuce, cilantro.
Towards the end of the month start cukes and squash.
Outdoors-Plant potatoes and other cool season veg.
Feed your blueberries with an acid food.
Continue to prepare your soil.
Top dress trees roses and shrubs with Firmulch.
Spray peaches and Nectarines with copper at 2/3 petal drop for peach leaf curl.
See our complete Garden Checklist on the website.
March 2016 Newsletter
Another sunny, warm February has everything running ahead of schedule. We have had to pot up a lot of the bare root already as flowers and leaves were emerging. There are a few things left to be had bare root-mostly the later fruit trees like apples, pears, prunes and persimmons along with a lot of the shade trees and walnuts. Grapes have yet to be potted, but we will have to do the berries in the next few days. There are still liner pots of figs, goose berries, goji and pomegranite. We have been doing the roses as the leaves emerge so there are still several varieties available at bare root prices.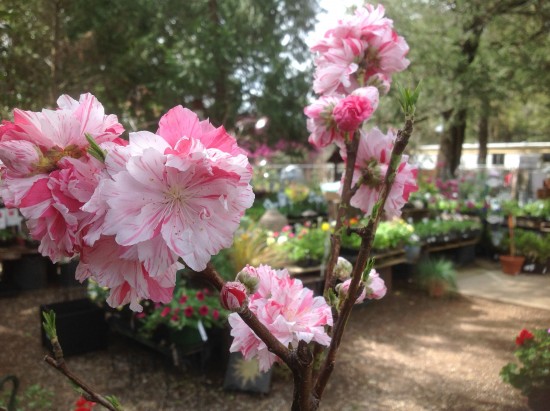 The nursery has awakened from its winter sleep and is beginning to look quite colorful. For those of you who did not get daffodils planted we did plant some in one gallon containers which are budded now. The Forsythia, Quince and Shoe Button Spireas are in full bloom. Lilacs should be following soon. The hellebores look good with flowers showing. The ornamental and regular fruit trees are in full flower. For instant color we recommend pansies, violas, ranunculus and primrose. We received the first early petunia starts. For those of you worried about your fruit trees and other tender things you could consider spraying with Cloud Cover or if small enough protecting with frost cloth.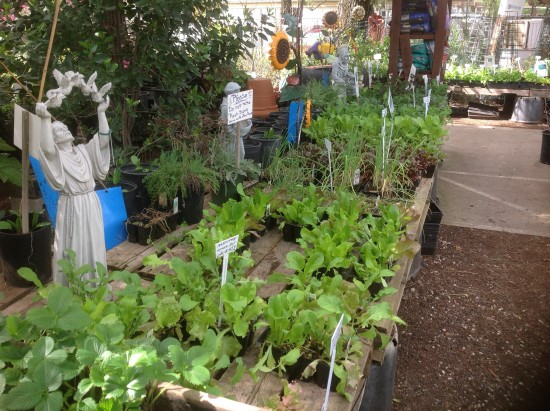 Not too late to get in that early vegetable garden. Perfect time to plant onion transplants (we have wallas and reds), potatoes, peas, lettuce, kale, broccoli and the array of frost hardy annual edibles. To encourage you to foray into the other side of food production (as opposed to tomatoes and squash) all 'winter' veg starts are 20% off this month. We have lots of fresh herbs in but no basil yet. Unless you plan on growing inside it is way too early. Speaking of way to early, we did get in a few tomato and pepper starts for those of you who want to baby them. We sell the Season Starter 'wall o water' if you want to give planting them out a try. We will be covering the tomato starts with frost cloth nightly.
We are busy potting up our Proven Winner plugs and making our custom baskets, which should be ready around April 7th depending on the weather. The greenhouse has a fresh covering of poly on it so they should do well but it can still frost in it if it gets cold. We are already seeing temps close to 90 inside during a sunny day.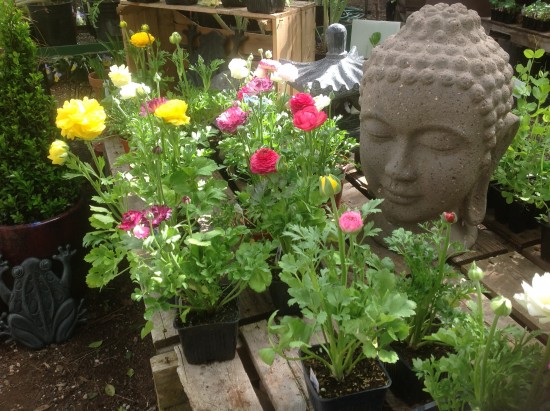 Good news- one of our local growers, Spring Thyme, has started to grow his herbs organically and will be growing organic tomatoes and such also. Bad news- As weather turns wet again fungus issues are likely to happen. Potentially deadly diseases are downy mildew in roses, peach leaf curl on peaches, and fire blight on pears. Copper can be effective for all three. You might need something stronger for the roses like Agri-fos. Downy is an internal disease which will make funny looking and off colored leaves and cause cane death.
We have received a fresh batch of terracotta pots and the Tusco brand heavy duty faux terracotta and stone. We are awaiting our PHG pottery which should come soon. We have wine barrels and wood planters and an assortment of Smart Pots. These might be perfect for those of you in temporary housing.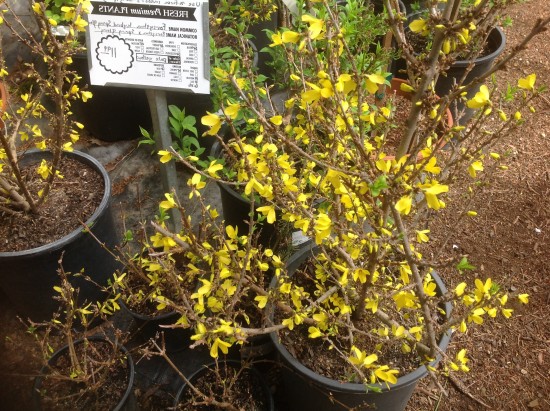 Many are looking for fast growers. For trees we recommend Chinese Elm, Zelkova, Fruitless Mulberry, Raywood Ash, Chinese Pistache, Maple 'Autumn Fantasy' and Deodar Cedar. For fast growing shrubs look to Photinia, Italian Buckthorn, Eleaganus, Hardy Bottlebrush, Grevillea, Cotoneaster and Rockrose. For fire resistant look to hardwoods like oaks, and deciduous shrubs. Fire resistant evergreen shrubs include Rockrose, Ceanothus, Manzanita, and Cotonester.
Happy Gardening,
Tanya