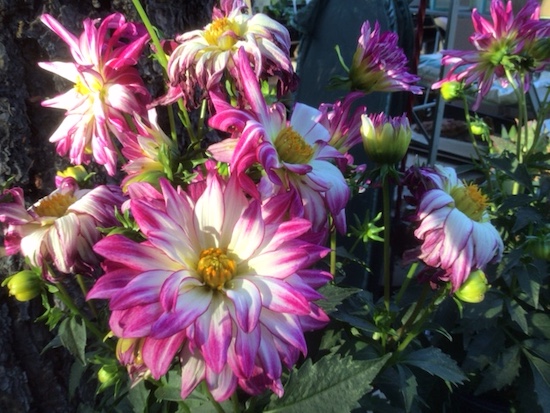 June is here, and the nursery is looking good if I do say so myself. We are still experiencing some supply issues like pottery, peat moss, some of the bagged soils and barks, some sprays and citrus. We did buy some fruit trees, but the selection is limited from our suppliers, and I expect there will not be much left by fall. We are still waiting for our colorful Spanish pots to come but did get in a few Talavera pots for substitutes. Check out the Talavera birdbaths. Stunning. The big run on vegetables where we would sell out in hours did not happen this year, and our vegetable start tables are still full with a good selection of most of your favorites. I know some of you waited until June to plant as this has been a cool night's spring. We had frost on the lower part of the property just last week. Newsflash: We have Pequin peppers in stock for the first time.
Speaking of vegetables, you might have heard about companion planting and that certain vegetables like to be planted together. On the flip side, there are ones you should not plant together. Here are examples of plants to avoid combining. Beans-avoid onions, fennel, and marigolds. Beets-avoid beans. Chard-avoid pole beans. The brassica family (broccoli, cabbage, kale, etc.) and strawberries do not mix. Carrots don't like dill. Leeks -no beans or sage. Melons-keep potatoes away. Onions and chives- no sage or beans. Peas and onions do not mix. Peppers hate kohlrabi and fennel. Potatoes hate sunflowers. Radishes-avoid hyssop and grapes. Tomatoes do not mix with dill or potatoes. Surprising how many things do not like beans. Something to keep in mind. The chart is on the wall at the nursery.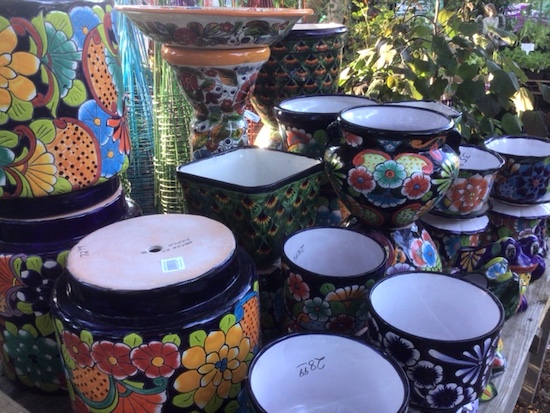 We are entering our hottest part of the year in extreme drought conditions, but at least we do not have to worry about Cicadas. The East and Midwest are bracing themselves for the Brood X hatch. 17 years pupating in the ground before they hatch by the millions. I read they recommend that people in the affected areas plant no woody ornamentals until after the Cicadas have done their damage.
Speaking of drought and water issues (not a new topic in this state), I had some tips on some steps you can take to help your yard survive on less water in the last newsletter. The newsletter is available on our website for those who did not get a chance to read it. Grouping plants and areas in your yard by water needs is an excellent way to cut down on water usage. We sell many climate-appropriate plants, including CA. natives, but I thought I would mention some other choices we have for an area that will get little to no water. We have olives, but right now, we have some Palo Verde shrubs too. These are widely planted in Arizona, where it gets extremely hot and dry. We also have Texas Ranger, aka Leucophylum, another Southwest native. It has silver foliage and light purple flowers, growing to 5 ft or so. Yuccas and Hesperaloes are good choices, and our selection of Quart size cold-hardy Agaves and 4inch Hens and Chicks is the best it has ever been. Other shrubs gaining in popularity here that would be good choices are Teucrium fruticans called Bush Germander and Phlomis fruticosa aka Jerusalem Sage. Need more color? Check out the Lantanas. These bloom all summer and, if you are lucky, will make it through the winter. Perennials like Russian Sage, Yarrows, and Evening Primrose are also great choices. Annuals like Scaevolas and Portulacas are in bloom and would do well in containers planted with Gauras, Grasses, or Salvias/Sages. As I mentioned in the last newsletter, getting your plants to root out quickly and deeply is key, and using our EBStone Sure Start is a good way to achieve that goal along with drip irrigation.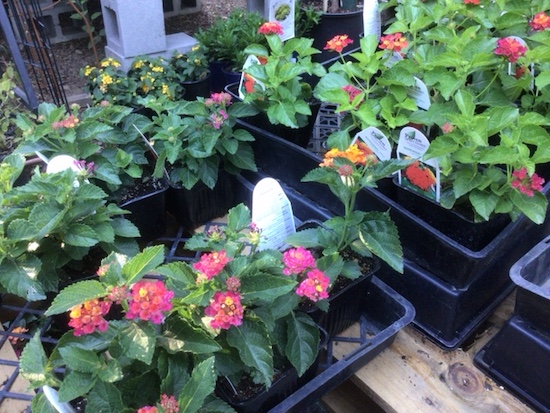 Summer means Crape Myrtles and Rose of Sharon here at the nursery. Our best selection of the Hibiscus syriacus (Rose of Sharon) is now before they bloom, as we bought a lot in on our Oregon order this year. We are starting to stock up on Crape Myrtles. The #15 white blooming Natchez we just got is already budded, and the Lavender Muskogee will not be far behind. These two varieties always bloom first for us. We sold out of most of our roses but have been buying in a select few so that we have some. Looks like the Astilbes are starting to bloom. I believe we over-bought the starts this year and will be putting them on special this month. They do like regular water but are really quite nice for a shady spot for summer color. The foliage is ferny looking, and the blooms are colorful feathery plumes. They are deer resistant too. They go dormant in winter.
June is the month to finish planting your summer flowering annuals along with the vegetable garden. Refresh your spring-blooming pots with summer-blooming flowers like petunias and zinnias. Remember that deep soaks less often are better and make your plants root deeper, so make sure your irrigation and timers are working properly. Mulch heavy to conserve water. Straw is good in the vegetable garden. For everything else, Firmulch or bark is recommended. Feed your acid-loving azaleas and camellias again, and feed your citrus monthly. If you want to keep your fruit trees manageable, then start summer pruning by reducing new growth. If you have not protected the bark/trunk of young trees, you better get on it. Tree wrap or watered-down interior latex paint will do the trick. The leaf canopy is not big enough to shade the vulnerable young bark from sunburn. Mulch them too.
We have more ladybugs on order, along with the ladybug/lacewing combo. We also are getting a fresh batch of nematodes. Nematodes are great for attacking bugs that pupate in the soil. These include soil gnats and tree boring beetles. I use them on my fruit trees and my pines. The mantids are all in the process of hatching, and we have been releasing them here but still have a few left.
Remember that Monday, Memorial Day, we are only open 10-2. It is also the last day of the soil special.
June Specials
Vegetable starts- 20% off
Astilbe- 20% off
Daylilies- 20% off
Daphne- 20% off
Calibrochoas-20% off