December 2018 Newsletter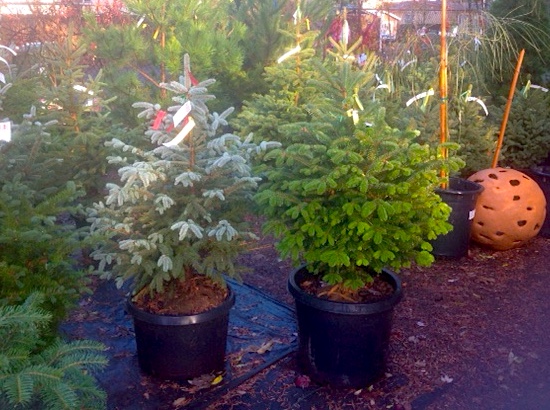 The rain has finally arrived, the smoke has cleared, plants are going to sleep and it looks a lot like Christmas at the nursery. The cut trees are available now till we sell out so best to buy sooner rather than later even if you are not ready to put it up yet. The biggest Nobles we could get this year were 6/7 ft, but we do have bigger Nordmann firs and they are lovely. We have Doug firs in all sizes up to 10 ft, starting at $30 on the low end of the scale. Nobles start at $60 for a 4/5 ft with 8/9 ft Nordmanns going for $135 at the high end. Our wreaths look great and there are lots of smaller holiday potted greenery like Alberta Spruce, Norfolk Island Pine, Cyclamen, Christmas Cactus, Gaultheria loaded with red berries, Osmanthus and of course Pointsettias to add to your special decorating needs. Time to get festive.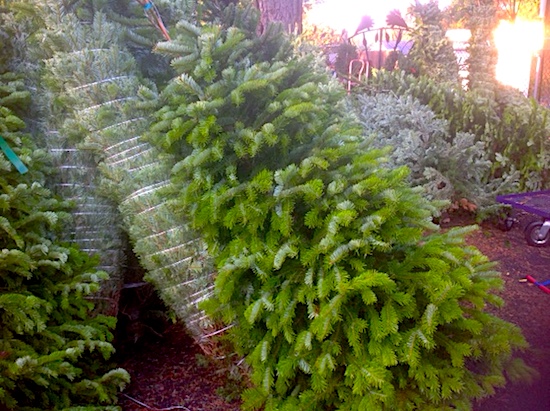 The living trees have arrived from Oregon and 5/6 ft Spruces and Firs were not available from our chosen supplier. There are some healthy 3/4 ft. specimens of Norway, Blue, and Green Colorado along with some Cork Bark Fir, Serbian Spruce and Douglas Fir. For less traditional we have Incense Cedar, Scotch Pine, Deodar Cedar, and Redwood in larger sizes. Kathy Blair is again doing the tree give away for local fire victims so you can donate them back after Christmas by returning them here and she will pick them up.
This week the beginning of our bare-root order arrived, but they are not actually bare-root. It is Dave Wilson's Farmers Market liner pots. Kiwis and cane berries are back in along with blueberries, olives, figs, wine grapes and concords, gooseberry, pomegranites, dwarf mulberry, gojis, and hops. They only offered red (no black) currants this year and they were too small and we only got 5 wisterias of the Issai Perfect so far. You can check out what varieties we have and what is still to come by going to davewilson.com or using the link on our website, stargardens.biz. The majority of our bare root order is not due to arrive till January, with roses the first of February. The rose orders are in but I am still waiting on the Weeks confirmation to post what we are due to get.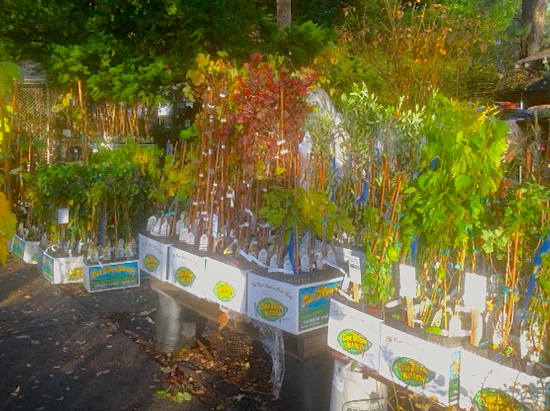 The season of giving is here and we like to help out by putting just about all of our inventory on sale for the month of December. Deciduous trees, shrubs, roses, perennials, annuals, and vegetables are 50% off. Evergreen trees and shrubs are 25% off. Bulbs and seeds are 25% off. The 2019 newly arrived liner pots from Dave Wilson are also 25% off. Just about the only things excluded from this sale plant wise are the cut Christmas/holiday trees, Oregon grown potted conifers, wreaths, and garland. All of our non-plant inventory is also on sale at 25% off, including gift certificates. That means you can get a $25.00 certificate for $18.75, etc. It includes benches, all pottery, soils and fertilizers, garden statues, bird baths, wind chimes, garden art, arches, hanging baskets, trellis' and whatever else you can find here that is for sale.
Looking for winter color? Often a tall order but primrose, pansies and violas are your best bet. Rosemary blooms in winter, along with Grevillea and the Euryops Shrub Daisy. The big wallflower Bowels Mauve could work too. The Candytuft at the library starts blooming in mid winter, along with Hellebores and Euphorbias. Purple leafed Loropetalum can add some interest along with the colorful foliaged Heucheras. Some shrubs change color or tints in the winter. These include Nandina and low growing Euonymus. The Oak Leaf Hydrangeas turn a Mahogany color and hold their leaves well in to winter. This is the time of year when evergreens with variegated foliage prove their worth, adding interest to an otherwise green and brown color palette. Another form of winter color are berries and they provide food for wildlife. My female Pistache tree attracted several species of birds I rarely see when the berries were ripening. I often get Cedar Waxwings cleaning out my Cotoneaster shrubs in the spring if the robins and jays don't beat them to it. Some of our Barberries have little red fruit visible now that the fall foliage has dropped.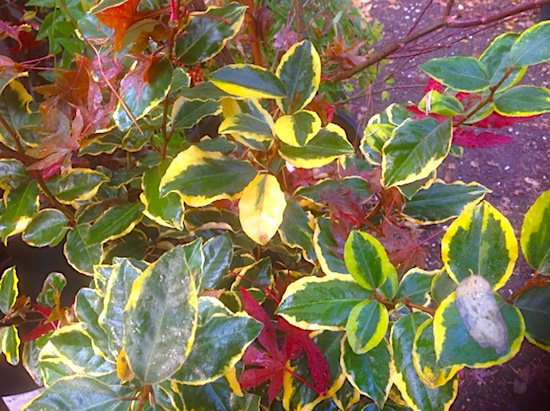 Spray your cold sensitive plants like Citrus and Oleander with Wilt- Stop anti-transpirant. This also works well on your Christmas tree and other greens to keep them fresher longer. Cover your cold-sensitive plants with a Frost Blanket like N-Sulate. We cover at the nursery with good results. Start pruning when the weather is fair. Cut back perennials and do general clean-up in the yard. We still have lots of leaves coming down. Keep an eye on the weather because the temperatures can really start dropping at night.
The sales room is loaded (overstocked) with indoor plants. They filter and clean toxins from the air in our homes. These are invisible gases being emitted from our rugs, furniture, paints, flooring, etc. This would be especially true for new homes. Now that you are spending more time indoors its a good time to think about their benefit. Indoor plants make great gifts. Of all the Christmas presents my father gave me I remember my snake plant the most. Stock up while they are on special this month.
From all the staff here at Star Gardens…Wishing you Happy Holidays and a Fantastic New Year.
December Sales and Notices
Open 7 days/week till we sell out of cut trees
Closed from Dec. 24 thru Jan 12
50% OFF
In stock perennials, deciduous shrubs, and trees,
including 2018 deciduous fruit and nut trees
annuals and vegetables
25% OFF
2019 Dave Wilson liner pots, olives, citrus, evergreen trees
(not including cut trees, wreaths, garland or living Oregon grown conifers)
Indoor plants, cyclamen, all dry goods, containers/pottery
Metal, stakes, wind chimes, bulbs, seeds, feeders, birdbaths, etc.
Gift Certificates
Featured Plant of the Month
Hellebores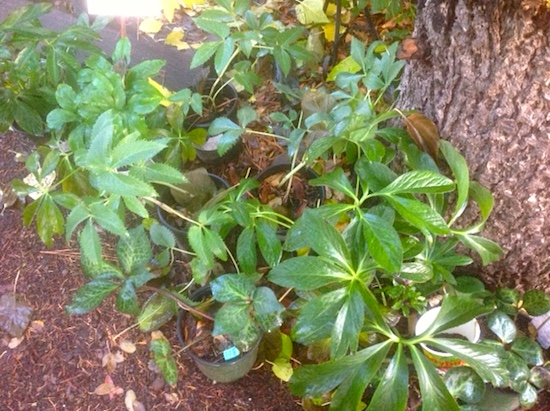 Hellebores are rodent and deer resistant, long-lived perennials for full to partial shade. They bloom in winter and early spring. They are on the pricier side for a perennial so I thought it might be nice to remind you of them while you can get them for half price. They are perfect planted under trees, along a north or east facing wall or in beds where they are shaded from the hot sun. They do not require much water as summer is their dormant period. Flowers are in shades of whites, pinks and now purples, usually nodding but some face out. The flowers are long lasting and can be used in arrangements if you seal the ends over a flame or just floating individual blooms in water.
Corsican Hellebore- H. argutifolius: This variety is more sun tolerant, with upright sprawling grey-green foliage, self-seeding with large clusters of creamy flowers.
Hellebore x ericsmithii- These have super dark green foliage with white or pink flowers that face out.
Helleborus orientalis hybrids: Every year it seems a new series is coming out of these strains of the Lenten Rose. Leaves are stemless. These are bred in several different flower shades, often with freckles like the parent plant.